This post may contain affiliate links which may give us a commission at no additional cost to you. As an Amazon Associate we earn from qualifying purchases.
New to SITS? Welcome!! Go read this to get started.
Welcome to the weekly blogging tip and comment game! This week I'm talking about keywords.
Keyword usage is confusing to many bloggers. You want to optimize your blog and get some Google juice, but you're not sure what keywords to use, where to put them, or how often to use them. Today I'll try to take away some of the mystery for you.
The first thing to remember is that keyword usage is not an exact science. Google regularly changes the "formula" it uses to rank blogs in its search results. They do this as they refine their technology and also so web site owners are less likely to be able to game the system. That said, here are some basic tips.
Make a list of words that describe your blog content. If you want someone to find your blog, what words do you think they should use in a Google search?
Go to Google's keyword analyzer, put in your keywords and click "Get Keyword Ideas." This will tell you how popular your keywords are and give you similar keyword ideas. Now click on the column that says "Global Monthly Search Volume" to see a list of similar keywords in order of popularity. Click again to see it in reverse order – from least popular. Use this to refine your list and decide on a handful of final keywords to describe your blog. It's fine (and good!) to use popular keywords, but try to have some not-so-popular ones, too. Try to balance common, yet not too competitive words. Make note of the phrases that the Google tool suggests – this is also important. The more specific and niche you can get, the better. For example, if your blog is about soap, maybe you can use the keywords soap, making, herbal, recipe, and gift. Five to ten words is sufficient.
Now that you have a few keywords and phrases, you need to get them into your blog. Use the exact words and phrases. They key here is balance. If you flood your posts with keywords, Google will flag you as spam. I've heard the rule is to use no more than one keyword out of every 100 words on your blog, but no one really knows the exact formula (except maybe Google insiders!).  Try to use your keywords and phrases in your posts and in your titles when you can. But don't try too hard or your posts will just sound repetitive and ridiculous.
What about "META" tags? They are part of the code that is placed in the header of your blog. You can access them in your template code.  They are invisible to your blog visitors, but search engine spiders and bots do see the info. According to the Google Webmaster Blog, Google's web search "disregards keyword meta tags completely." But there is always a chance that could change, so it doesn't hurt to have those tags and keywords in place if you are comfortable with editing your blog template.
Unless you have a very unique niche or product, you're probably going to get more traffic out of your social interactions than your "bot" interactions. In other words, don't stress over getting Google to put you in the top five. Spend your efforts making personal connections in social media: commenting, Twittering, Stumbling, Facebooking, etc. And, of course, spend most of your time writing great content!
Now, let's play a game! Here are the rules for the SITS Saturday Sharefest:
Leave a comment here with a link to one of your best blog posts (or just your main URL if you prefer).
After you leave your comment, visit the link of the person who commented BEFORE you.
Comment on their post and be sure to say "Happy SITS Saturday Sharefest" in your comment.
Now, go leave some comments! And please visit my blog, Mom, Reinvented.
We are coming to Baltimore! Join us.
Want to subscribe to SITS and get an email each time we post? Just click here.
And, as always, when you see this: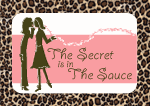 LEAVE A COMMENT.