This post may contain affiliate links which may give us a commission at no additional cost to you. As an Amazon Associate we earn from qualifying purchases.
Google+ is the latest social media / SEO craze these days.  With over 90 million users (as of January 2012), it is shaping up to be one of the biggest wins in Google history.
What makes Google Plus unique is that it integrates social and SEO with your identity into the Search Engine Results page.
But what?
Yes.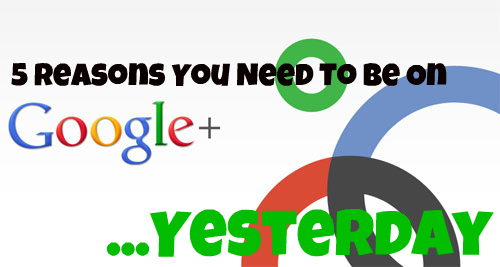 SEO as You Once New It Is No Longer – It's All About Real Relationships
Did you hear that?
Relationships.
If you've been blogging for at least a year, you know the importance of:
keyword research
making sure your site architecture is sound
making sure your content reflects the keyword you are aiming to rank in Google for
making sure you build links and yada, yada
Not that the above are no longer important because they are.  However, links are no longer as important as they once were.  Now your relationships to other Google Plus users will determine your Google rankings in the near future.  Google is still the 800 pound guerilla of search marketing, so you need to be aware of what's going on and jump in.
If you've been blogging a while you've heard about Google Page Rank.  This is Google's way of determining the importance, authority, and trustworthiness of a website via a link algorithm.   Over time PageRank has been diluted as spammers have figured out ways to game the Page Rank algorithm.  Google+ is one way for Google to weed out spammy SEO tactics that have gotten in the way of good, useful, and trustworthy search results.
A Little History on G+
Google knows the importance of social recommendation (Facebook).  So in mid 2011, Google introduced the Plus One Button.  With each +1, Google began tracking your interests to make sure it kept note of the content you liked so it could serve you Search Engine Results that reflect your interests and are relevant to you.  The more you plus one the more Google will get to know your overall interests, wants, and desires.  Not to make it sound overly creepy, but Google wants to provide search results that are highly relevant to you.  How else will they keep us happy and coming back to them for more information?
Shortly after Google introduced the Plus One Button came the launch of Google+, Google's social network.  This continued with the addition of personalized social shares from your network in your Google search results AKA Google Search Plus Your World.
If you frequently use Google as your search engine of choice, you now see the "Plus One" Button in your search engine results when you Google something.  In fact, you might be noticing your social peers' mugs in the search engine results.  How'd they do that?  The enabled authorship.
This is where the importance of identity comes in calculating your search engine results…
Are You Building Your Author Rank?
With the emergence of Google Plus came the rel=author tag, which verifies you are the author of content you write.  If you've noticed photos of people in your Google Plus networks and were wondering how they got their headshot in the Search Engine Results Pages, that is why.  They've linked their Google Plus profile to their content and have told Google they are the author of that content.  Check out the snapshot below.
You will see my personalized results, since I am logged in to my Google account.  The lady in the Search Engine Results page below is moi.  When my peers are logged in and the keywords they type reflect content I've either created OR shared (not necessarily my content), my photograph is displayed as having been the person in their network that shared that material.
Top of Mind Search Marketing
The more they see YOU, the more they associate you as an authority in your field.  For me, that is the industry of SEO, Social and Analytics (inbound marketing).  I've received comments that I am everywhere, which boosts my brand, authority and authorship.
If you're just starting out and learning SEO, this levels the playing field for you.  
It provides you with added visibility in the search engine results pages.
What's more Google has a patent on a technology that would create a new kind of way to monitor the validity of content called AgentRank or AuthorRank.  The more you publish, share, +1 and build relationships, and the more others share your content, the more you build your authority and trust (AuthorRank).
It's a whole new world out there.
Even SEO's have been griping about things like the loss of data, which is partly due to Google's changes.
Your Keywords in Google Analytics Will Be Disappearing
For you super geeks out there who access Google Analytics to see what keywords your visitors are typing in the search engines (Google) to find you, you will see less of that data in the months to come.
In October of 2011, Google began encrypting keyword searches that normally would appear in your Google Analytics reports as "(not provided)."  Google spoke of doing this in the name of "privacy."  Well, if you are logged into Google Plus or any Google service, your Google searches are encrypted.  The number of "not provided" keywords has increased over time since last October and will continue to do so.
This data will be drying up the more your visitors use Google+ and are logged in to Google's services when they search.  While it will take months to develop, you want to adjust your strategy now.
Google Analytics is Coming for Google Plus Pages!
You know Google+ is serious business if you will be able set up analytics for your Google Plus Page.  There are even rumors that Google Places will be transitions to Google+ Business Pages.  Google has more in store, so keep up with the changes.
I'm sure you see the game changer Google+ is turning out to be, so embrace the change and adapt your SEO strategy accordingly!  Feel free to ask questions about these changes and circle me on Google+.