This post may contain affiliate links which may give us a commission at no additional cost to you. As an Amazon Associate we earn from qualifying purchases.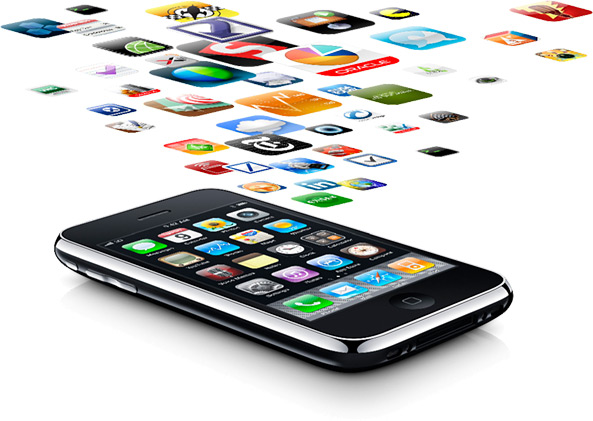 It would be rude to assume that everyone has an iPhone let alone a list of top iPhone apps. Truth be told, many of us have very ordinary phones or manage just fine with devices that won't make us poor. My husband has been a droid fan for awhile now and I have been fighting the digital phone/mini computer craze for years now. I didn't need another distraction and I sure as heck was not interested in any top iPhone apps.
Until that is…I got my iPhone. And now? I'm a full fledged iPhone lover. I had NO idea what kind of world was about to unfold before me when I liberated my precious phone from her box. I don't leave home without her.
So what is it about these phones that has everyone buzzing? Here are my top iPhone apps that make living with an iPhone oh so much fun and totally worth sacrificing my husband's 401k for. (I kid. But sheesh they're SPENDY phones!):
1. Words with Friends
I confess. I'm a Scrabble addict. Words with Friends is a party on the Scrabble dance floor that just will not stop. You simply find your friends, start a game, and wait for them to play their words. This comes in handy in the lobby of the doctor's office, during commercial breaks, and at church. SUCH a life saver! (and kidding about church!)
2. Hanging with Friends
If Scrabble is not your cup of tea than maybe Scrabble's kissing cousin Hanging With Friends will suit you! This app has essentially the same qualities as Words with Friends, but for Hangman! I could go on and on about how addicting it is, but instead I'll just have you know I am currently playing 14 different people. It's not addicting at all. *cough*
3. Instagram
I used to see links to Instagram photos all the time on Twitter, but I had no idea it was it's own social networking system. On the iPhone when you download Instagram you can build a profile, find friends, like their photos, and comment on their photos right from your phone. It's yet another way to connect, build a following, and reach out to members of your community. Not to mention it's SUCH a fun way to turn your photos from drab to fab in a matter of seconds.
4. Angry Birds
Are we SO tired of hearing about Angry Birds?? I was too! Until I started playing it to see what the fuss was about. The question that begs to be asked is, Who DOESN'T want to catapult birds into strangely constructed buildings filled with pig heads? Okay, I know it sounds strange, but there's something oddly gratifying about destroying those pigs and moving to the next level. At least it's not Farmville. THOSE people really have a problem.
5. Pandora
Color Me Badd anyone? Pandora is the mother of all radio stations. Simply type in the name of a song, singer, or musical group that you're a fan of and let Pandora do the rest. You'll be graced with all kinds of music you forgot you loved as Pandora finds any and all songs, singers, and musical groups that relate to whatever you added to your station.
6. Around Me
This app is a blessing for those of us who happen to get lost no matter where we go. Not only is Around Me equipped with a GPS system that will locate your position and give you precise directions to where you are going, but it will also find anything you happen to be looking for. Want coffee while visiting your Aunt Jane in California? Search for Starbucks and Around Me will display a list of the Stabucks nearest you and direct you to one right from Aunt Jane's house!
7. Facebook, Twitter, YouTube, and Flickr
They're the four most popular social platforms online right now and they all come with apps that make them extremely easy to navigate, connect, and share via your tiny phone.
8. Best Alarm
Not only does it have the charming appeal of your high school alarm clock, but it comes equipped with your local weather status and when you shake it, it becomes a flashlight! Super handy on those nights when you find yourself roaming around the house in the dark…looking for chocolate…don't act like I'm alone in this.
Now if only someone would materialize Scary Mommy's iPhone Apps for moms…I could really utilize that Insta-Sitter App!
What app do you love to use on your phone?