This post may contain affiliate links which may give us a commission at no additional cost to you. As an Amazon Associate we earn from qualifying purchases.
I've said it before and I'll say it again, Buffer is my boyfriend. In this post, I will teach you how to use the Buffer social media tool to schedule your social media posts – as a bonus, I will also share how I leverage Buffer's Power Scheduler so you have a constant drip of content, both old AND new, being shared to your followers. You'll look like you're on top of your game, always on, and in the know.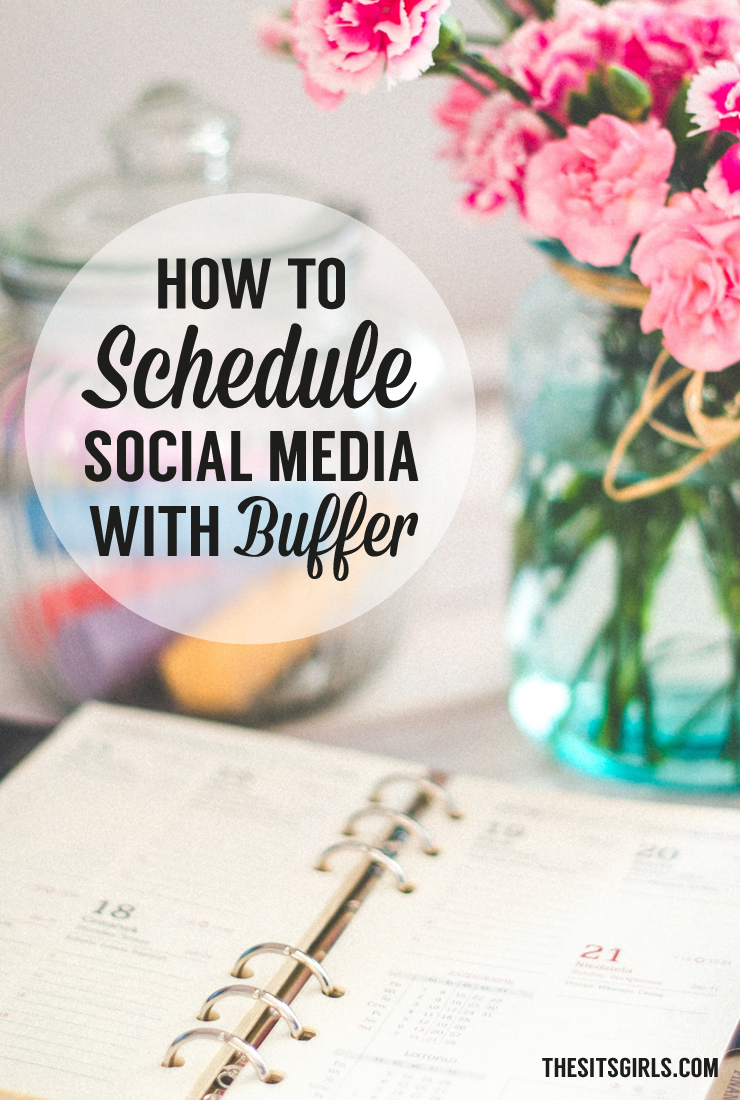 How to Schedule Posts With The Buffer Social Media Tool
1. Get the Buffer extension.  The Buffer extension allows for you to add your posts to Buffer with the click of a button, as opposed to copy / pasting a link and then pre-filling your information. Get it here.
2. Connect your social accounts.  Connect the social networks that you are active on. You can absolutely connect Pinterest too!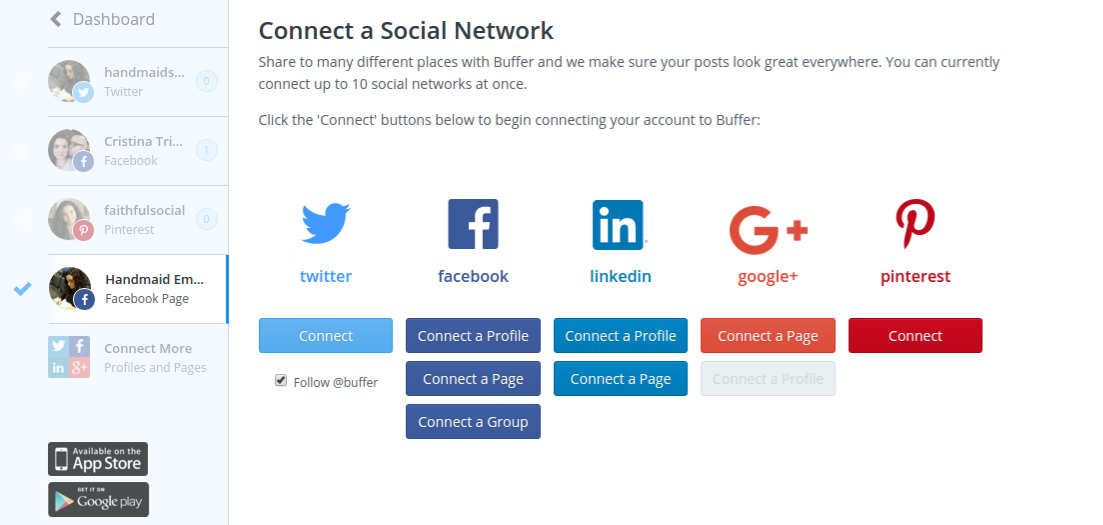 3. Choose your schedule. You have the option of posting your link once in the Simple Composer across your social networks:
4. Open your blog. You're going to want the front end of your blog, not the back end where you actually write your posts. Why? Because you're sharing the link to your blog posts for people to read and not your kitchen sink!
5. Determine schedule. When you use the power scheduler, Buffer has a preset schedule to start you off. You can use this to start, or you can change it. The best bang for your buck is the Power Scheduler, where you can post your link 9 different times (including NOW). Assuming you'll want to use the power scheduler, here's how it will work and what it looks like: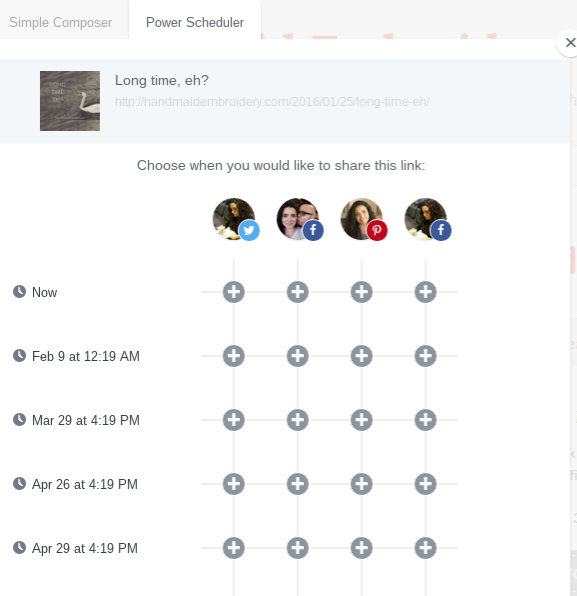 When you land on this pop up, and decide you'd like to add another platform, click on the greyed + (the one next to my Facebook profile). Buffer will allow you to add whatever platforms you've connected.
When you click on the greyed in + (the one just beneath my Facebook profile) Buffer will provide a pop up to add a short description of your post and any relevant images you'd like to. If you need help to choose which social media images you should share with which platform, I've got you covered.
6. Use hashtags pertinent to platform. Remember to add pertinent hashtags dependent upon the platform you're using (Facebook 2-3; 3 if you MUST, Pinterest 0, Twitter 2-3; 3 if you must, Google+ 3)
7. My secret sauce schedule. Now I can't take the credit for this schedule, as it belongs to Co-Schedule. However, I will add a tip on the back end.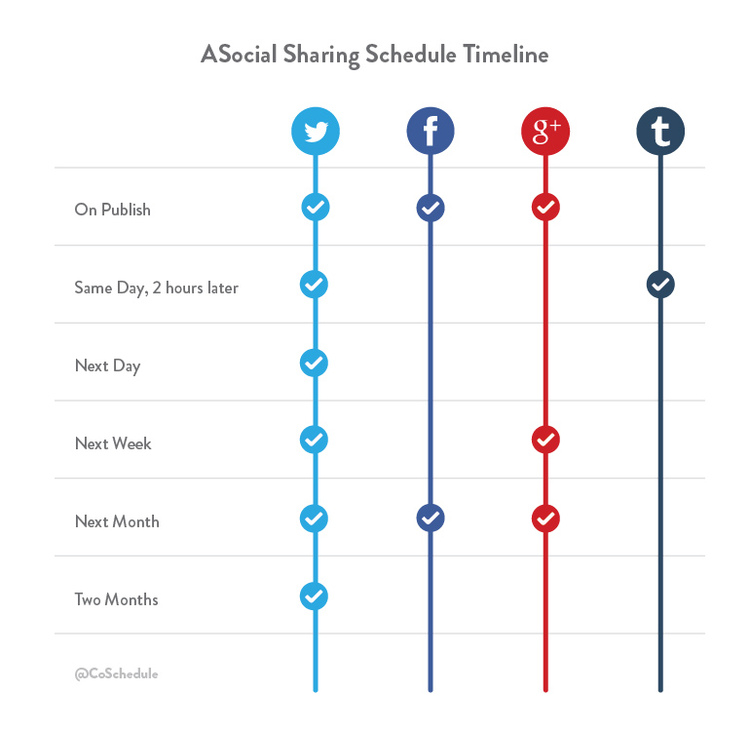 As you can see, you're posting to Twitter quite a bit for the same post; why is that? Well, think of how quickly Twitter moves. You have to consider your audience and catching other people that are not a part of your audience that may be interested in your content.
If you share your blog post at these different intervals over the course of two months, and once a month after that, you're getting eyeballs on your content at least once a month. If people retweet or share your content, you're increasing that footprint and making your post work for you long after it was published.
Extra Tips For Using The Buffer Social Media Tool
Using the sharing schedule above, rotate the images that you have in your blog post. So if your audience sees the tweet come through more than once, you have another opportunity to snag them with your visual content. For more tips on how to boost your visual content, have a look at this post.
Don't use the same hashtags for each post. Come up with 6 or more and rotate them into your schedule to reach a wider audience.
Don't post at the same time. Buffer gives you the option of choosing the date and time you'd like to post. Alternate between morning and evening slots to see which time works better for you.
One last tip: don't ever click away from the scheduling tool, or you'll lose your entire set up. The same is true even if you click on the screen outside of the tool. Trust me.
I could share so many tips and tricks with you about Buffer, but you have some scheduling to do! Try out the power scheduler and definitely use my souped up schedule for your next blog post, and tell me what you think! Be sure to keep track of your findings and see what times/dates work best for your audience.
More Social Media Tips
Check out all of our Social Media Tips here and visit our social media Pinterest board.
Follow The SITS Girls's board Social Media Basics on Pinterest.