This post may contain affiliate links which may give us a commission at no additional cost to you. As an Amazon Associate we earn from qualifying purchases.
Facebook fan pages have everyone worked up into a frenzy lately with all the changes they have been making. Yet, we think some of the changes are for the better.
How Not To Fear Facebook Change
Keeping up with the latest on Facebook may seem overwhelming, but we are here to help you figure it all out every step of the way.
See the Fan Page Updates You Want In Your Facebook Feed
If a person likes 100 pages and every single post showed in their feed, they would be in for hours of scrolling. So, Facebook created a default setting to filter some posts.
When you like a page, you have to make sure you have selected "show in news feed." All it takes is a click!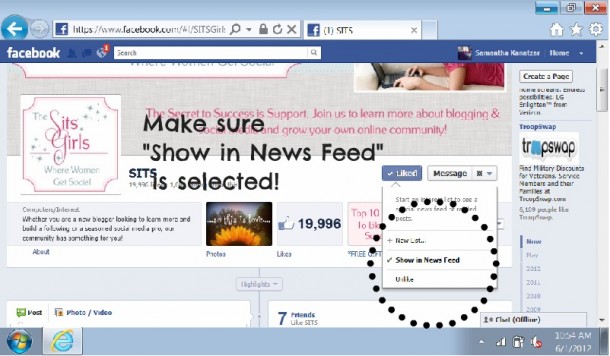 Simply click on like, scroll down and select show in news feed. Posts from that particular page will now be visible in your news feed.
Go ahead, give it a try with The SITS Girls on Facebook!
Scheduling Posts on Facebook
Pages now allow you to schedule posts in advance. To schedule a post, simply create the post by updating the status on your page like you would normally do. Once your post is typed in, a clock will become visible in the bottom left hand corner. Select the clock icon, choose the year, month, day and time that you want post to publish, then hit save.

It is important to note that if you select a date and time in the past, your post will show in the appropriate place in your timeline.
What are the Different Types of Page Admins and What Can They Do?
Page Admins can have 5 different roles, each with different abilities. Only managers can change what type of admin role each person has. You are the manager of your page by default.
The table below outlines the 5 admin roles that are now available and highlights what each role is able to do: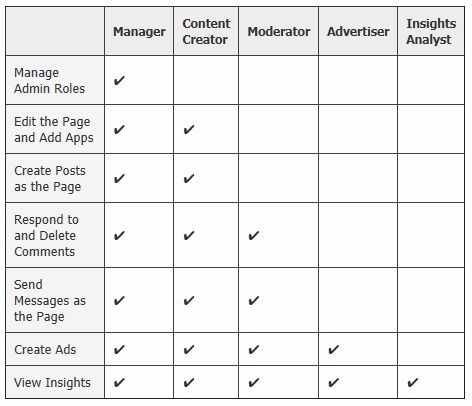 How Do I Add Other Admins or Change Admin Roles for Pages?
Only managers can edit admins for a Page. To add another admin to your Page:
1. Open your Page's admin panel.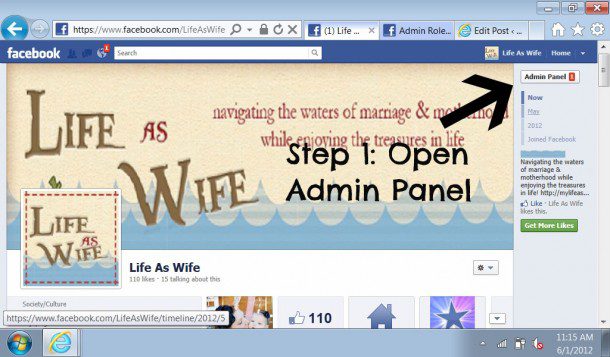 2. Click Manage.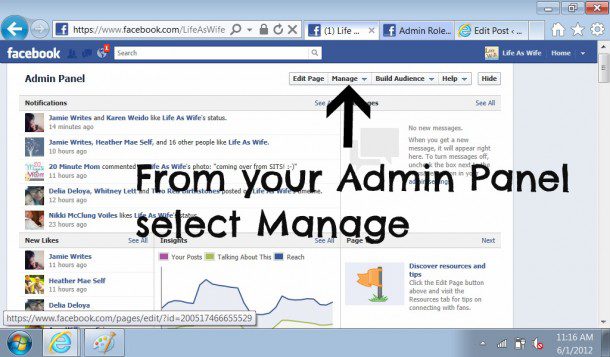 3. From the left column menu, click Admin Roles.
4. Type the names of other people you'd like to add in the open field.
5. Click Manager below the name to choose what kind of admin you want to add.
6. Click Save Changes.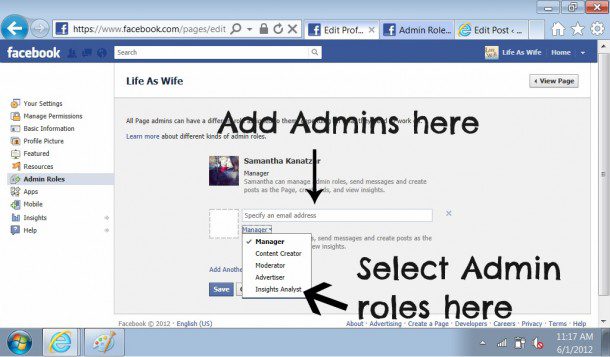 To change what kind of admin someone is, follow the steps above but skip step 4. You'll need to enter your password to confirm the change.
For more information on the different Admin roles for Facebook pages, explore the popular features page on Facebook.