This post may contain affiliate links which may give us a commission at no additional cost to you. As an Amazon Associate we earn from qualifying purchases.
You've heard all the hype – Pinterest is driving hordes of visitors to other blogs. Your blogging buddies can't stop singing its praises, and you spend way too much time there yourself. But you're not seeing the same results.
It's like Pinterest just doesn't like you.
You've wracked your brain and read countless articles about how to fix this. What's a blogger to do?
Maybe there's a reason. Are you making these Pinterest mistakes?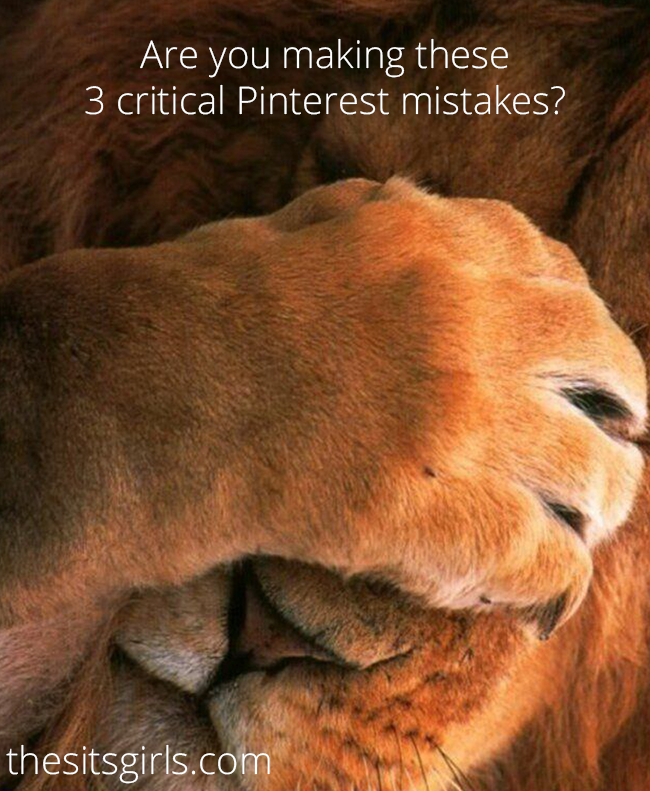 3 Critical Pinterest Mistakes You May Be Making
Mistake #1 – You're not creating great pinnable images.
If your pins are very small or they're not eye-catching, people aren't going to repin or click through. You've got just fractions of a second as they're scrolling through their feed to capture their attention. You must have great images to get repins and traffic!
Pins should:
be taller than they are wide (I make mine 700 x 1000 pixels)

have a text overlay showing the title of your post (not a must, but highly recommended)

have some color. If your pin is very washed out, monochromatic or too dark, it will be hard to see and pinners will scroll right by.
Watch this video tutorial of how I create my Pinterest pins for more specifics.
Mistake #2 – You're repeating the title of your post as your pin description.
If you do this, you're missing out on a huge SEO opportunity. Instead, create a conversational description with several keywords relating to your post. Pins are often shown on Pinterest based on keywords (either through search or in the smart feed where Pinterest shows pins based on your title and description).
Here's an example of a keyword-rich pin description: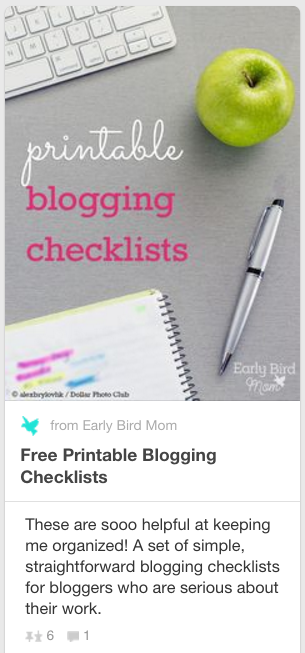 Mistake #3 – You're not pinning to any large group boards.
Join some large group boards in your niche. Start with 5-10. Group boards are the best way to get your pins in front of lots more people. Look for group boards with high quality pins (like what we talked about in #1).
You can find large group boards by going to some of your favorite bloggers and seeing which group boards they belong to. Then see if you can request an invitation to the same board. Here are instructions on how to do that.
Certainly there's a lot more to Pinterest than just these 3 points.
But if you work on these 3 things, you'll see an increase in your traffic.
I've got 19,000 Pinterest followers and climbing and I am currently receiving 3,000-4,000 visits a day from Pinterest. But just 4 months ago, I was getting under 1,000 visits a day. The potential for growth on Pinterest is tremendous.
Want Pinterest to drive more traffic to your blog?
The Pinterest How-to Manual for Bloggers e-course (due out next month!) will show you step-by-step instructions. Learn how to set up your blog for Pinterest, how to create a signature style for your pins, how to find great images to use for your pins, how to create pinning strategies that work, how to interpret Pinterest analytics, and more! Want a pre-launch coupon code for the course? Sign up here and I'll send it to you in a couple weeks.
Using Pinterest for your blog doesn't have to be complicated.
Plus, it's such a fun place to be!
What questions do you have about using Pinterest for your blog?
I'd love to answer them in the comments. 
For more advice to help you rock Pinterest, check out our Pinterest Tips board!
Follow The SITS Girls's board Pinterest Tips on Pinterest.