This post may contain affiliate links which may give us a commission at no additional cost to you. As an Amazon Associate we earn from qualifying purchases.
You have a website all set up and ready to go. Now, it is time to think about going forth with social media. One of the largest social media platforms is Facebook.
You probably already have a personal Facebook profile, but for your website, you need to branch out and create a Facebook page just for your blog.
But how do you go about setting up a Facebook Page that is not only functional, but creative and aesthetically pleasing, as well?
You want to use your Facebook page as your own personal social media on a small scale, but also as a billboard to advertise your website to its fullest and grandest scale. You have 851 pixels in width and 315 pixels in length to do just that.
This photo is the first thing anyone coming to your Facebook page will see. It will be the deciding factor if they will stick around and possibly even like your page or just dismiss it completely.
So, you want to make a good first impression here.
But how?
First things first, you will need to use a photo editing program, such as Photoshop. If you have no prior training with Photoshop it can be overwhelming to say the least. Don't worry. Let me introduce you to my monkey friend.
PicMonkey (affiliate link) is an online photo software I swear by for novices and even those who have a bit more photo editing skills.  It is fairly easy to use and very user friendly with both free and premium "royale" subscriptions. They also have an option to create and edit Facebook cover images that are pre-sized to the above mentioned Facebook cover image size, making your design process much easier.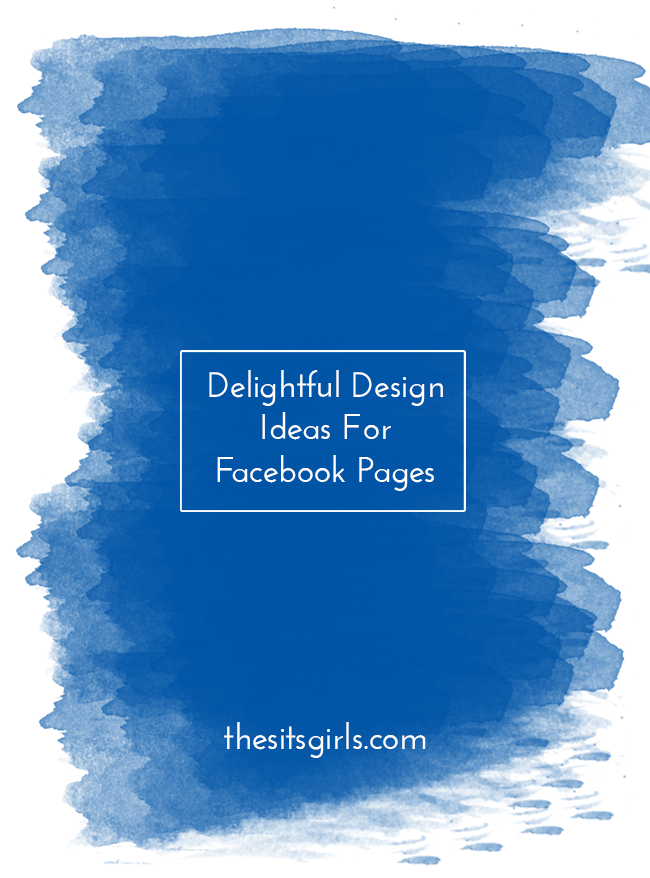 12 Delightful Design Ideas For Facebook Page
Now that you have a place to create a killer Facebook cover photo, here are some delightful Facebook cover photo design ideas…
1. Let Your Logo Speak for Itself
Most websites have their own unique logo designed. It makes sense if you want to use this logo for your Facebook page, as this is the way most people who already follow your site know or are familiar with your brand. As long as you can fit your logo in Facebook's pre-made cover photo size, you should be good to go as far as Facebook cover photos go.
2. Show Yourself Off
If there is something your website is well known for, or if you have an article that has a pretty grand reach, you may want to showcase that instead of just your logo by using image(s) from this instead. Flaunt your brand!
3.  Give a Sample
If you sell an actual physical product or service on your website, you can most certainly mock up a prototype and use that as your Facebook cover image alternatively.
4.  Simply Be Direct
You can use a plain color background and words that simply state what your website and Facebook page is all about. This one is pretty much the most simplistic, but very direct way to show visitors who you are.
5. Give a Call to Action
This one is also direct, but also sends a clear cut message as to what you want your potential follower to do once they land on your page. You can ask them to buy a certain product, contact you, sign up for your mailing list, or almost anything else of which you can dream.
6. Put a Face to The Name
Use the cover space to show the potential follower who the person(s) behind the scenes are with a photograph of yourself or those that work with you on your site.
7. Stand Out and Be Different
The Logo cover page is always the surefire safe route, but if you are a bit daring, you could play with your design and let your creativity flow for this by using different fonts, varying colors, shading, angles, patterns, borders and so much more.
8.  A Full Intro
Don't only include your logo, a photo of you or others who work on your website, but also add in a short bio or even sampling of products, services, and more.
9. A Gallery Display 
You may want to show more than one thing that your page is about. In this case, you can use a gallery layout to display a few images. Just don't let it get too busy.
10. Overlay Design
Another alternative to put your work on display is to utilize an overlay design for showing off more than one thing that your brand is known for.
11. Monochrome Is The Thing
Instead of using colors, you can go a more traditional route by designing your cover photo in black and white to give it a more classic, yet sophisticated edge.
12. White It Out
Yet another alternative, is to have white space with a frosted white background that has a bit of color pop out to the eye in the actual image you are trying to convey.
Whatever option you choose, remember there are really no rules here. The sky is the limit, so let your creativity and imagination run free and wild to come up with the best and most suitable cover photo for your own Facebook page. And don't be afraid to swap it out for something new regularly. You don't have to stick with just one of your design ideas.
Keep Reading
Want more tips for social media and design? Check out these posts!