This post may contain affiliate links which may give us a commission at no additional cost to you. As an Amazon Associate we earn from qualifying purchases.
Bloggers, entrepreneurs, and small business owners are told all the time that social media is important…no, crucial, to the success of their business. But when we are only a one-woman show, how are we supposed to juggle our business, our family, our home, our content, AND our social media?
The answer is: work SMARTER not HARDER. There are lots of tools you can use to manage your social media to make things easier on yourself. These are a few of my favorites, the essential tools I find most helpful to keep my social media channels buzzing without stressing (or burning) myself out.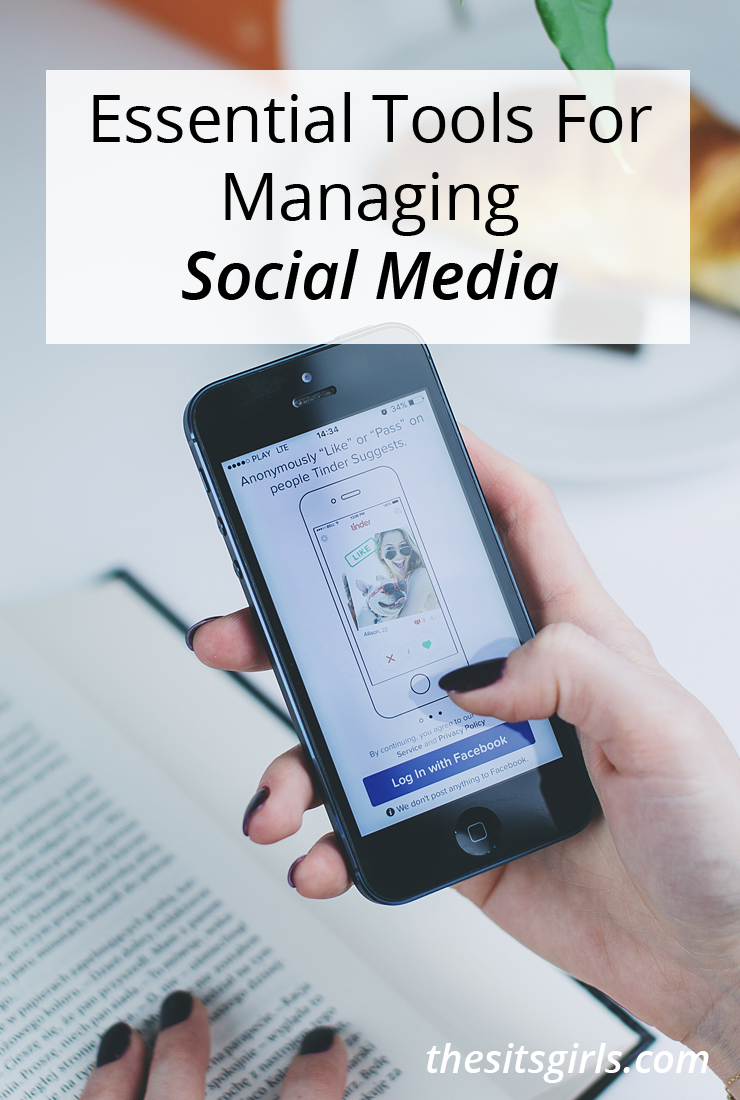 Essential Tools to Manage Your Social Media
Facebook
For Facebook, I recommend only using Facebook's native scheduler (you'll see the option to schedule when you click the arrow next to publish). A lot of people will say to use Hootsuite, but Facebook's algorithm has been known to penalize use of third party scheduling applications. It's best to only use their built-in scheduler. Thankfully, it's simple to use, and very effective. There are other options out there, things like Edgar, Hootsuite and Buffer. If you want to use one of these schedules, I would suggest experimenting to make sure it doesn't harm your reach.
Twitter
Twitter scheduling can be done manually within Tweetdeck or Hootsuite. Hootsuite has free and paid options, and it works perfectly for Twitter. I also use a site called If This, Then That (IFTTT) which can be used for a multitude of things. I recently started using it as a free Twitter scheduler and I love it!
Evergreen Post Tweeter is a plugin which you can set up to tweet out older, evergreen content at set intervals. Triberr allows you to join "tribes" and share content from other folks in your niche on Twitter.
With all of these tools, my Twitter account practically runs itself! I do live tweet and follow, as well, but these essential tools make it so much easier!
Pinterest
I am currently loving Tailwind. I use it for my own Pinterest account, as well the accounts of my virtual assistant clients. It makes things so much easier when you sit down in one session and bang out all the posts for the week (or weeks!) at once. Much more productive.
Now Tailwind also offers "Tribes" where you can join bloggers in your niche and share each other's content easily. It's a fantastic tool. Another great one I have tried is Board Booster. They have a loop feature that will basically re-share your content on a "loop" to help keep old content visible on your boards. Both are great tools with free and paid options.
You can also use IFTTT for Pinterest, as well, but I haven't personally tried it yet.
Instagram
IFTTT and Hootsuite both have options for Intagram. If you use Hootsuite it does require an extra step due to Instagram's API, but it's still worthwhile to try out. I like Crowdfire for Instagram because it allows you to grow and clean up your Instagram followers (and non-followers). Regram is another great app that allows you to "re-share" other people's Instagram posts while including proper credit back to the original poster.
If you're looking for more in-depth Instagram analytics, try using Social Rank (which also works for Twitter). It will break down your follower's demographics and help you hone your marketing efforts.
These are my current favorite tools for managing social media. Using the above essential tools, you'll have a better handle on your social media management, as well as a better idea of what your followers are interested in.
If these tools seem overwhelming or perhaps your social media and/or business has grown to a point where you feel you can't possibly keep up-another fabulous "tool" to consider is a VA or virtual assistant. Look to hire one who specializes in social media management and consider offloading some of those tasks to a dedicated professional. It can be a worthy investment in your business if it frees up your time to devote to other important tasks!
What are your favorite social media tools?
Keep Reading
Want more social media tips? Check out these posts!