This post may contain affiliate links which may give us a commission at no additional cost to you. As an Amazon Associate we earn from qualifying purchases.
Everyone involved with social media has a favorite application or plug-in.  For some, it is Tumblr.  Others can't live without Twitter.  For me, I'm a Facebook girl all the way.
Facebook is my go-to place on the web.  I can quietly stalk people or become a commenting mad woman, leaving my profile picture everywhere I go.  I also don't feel as overwhelmed by the updates as I sometimes do on a site like Twitter.
As you may have seen, Facebook recently changed its layout for fan pages.  This is a big deal primarily because the new format impacts the way you as a brand can interact with users.  Below is a quick overview of the changes that you can currently preview on fan pages and will ultimately go into effect for everyone on March 10:
Added a photo strip above the Wall, similar to personal profile pages.  (These images are coming from the most recent photos you posted or tagged.)
Tabs will no longer appear at the top of the page.  Instead, they have moved over to the left panel, in the form of a list.  (Maximum of six tabs above the fold.)
Profile picture was reduced from 200 x 600 pixels to 180 x 540 pixels.
Blurb box that was below the profile picture has moved to the Info tab.
Pages can Like other Pages, not just favorite them.
You have the ability to interact on Facebook as your Page.  In other words, as an admin on SITS, I can now visit your personal page and comment as SITS Girls.
Page admins receive a news feed of updates from Liked Pages.
Page admins can opt to receive email notifications when users post or comment on their fan page.
The photo strip above the wall is proving to be somewhat problematic for us on SITS.  At first, I was very excited, thinking that we could create something fabulous similar to these examples Kat found on Refaceme.com.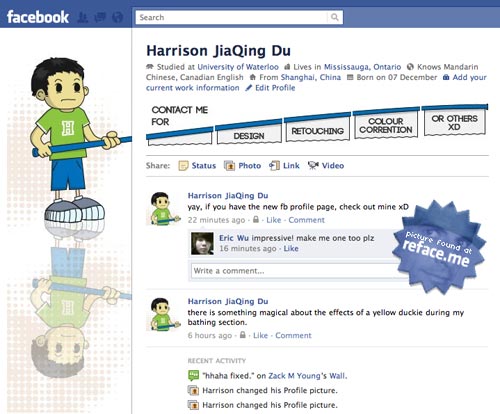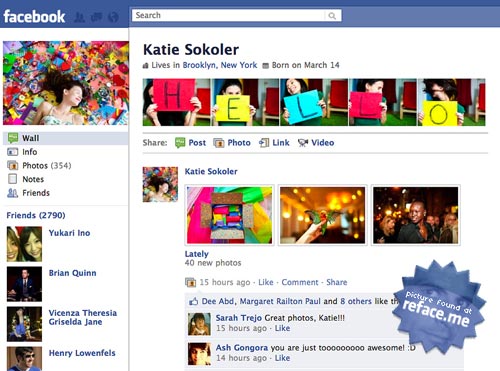 The problem with this plan is that it doesn't appear possible to keep the photos in the order that you want.  In other words, rather than posting a fun visual for the word, "H-E-L-L-O", we could very easily end up with "O-H-E-L-L", which isn't really the brand message we're going for.
So we thought and we thought.  Ultimately, we realized that SITS is so much more than simply Kat, Angie, Tiffany and me.  It's a community fueled by the women who come by this site, leave comments, participate in the forum, chat with us on Twitter, and Like our posts on Facebook.
The face of SITS is really each and every one of you.
That's why when we update the SITS Facebook page over the weekend, we want our photostream to include your picture.  If interested, head over to our fan page and upload a picture that represents you.  It could be a personal profile shot, a picture of your kids, your favorite place, your blog button, whatever you want.  What we plan to do is compile all these images into an album and display them in our photostream.  Going forward, we'll rotate through all the pictures we receive, making sure we show off everyone in our community.
So go…and make us look good on Facebook.
Want to Learn More About How to Master Facebook?
Then you definitely do not want to miss these posts…