This post may contain affiliate links which may give us a commission at no additional cost to you. As an Amazon Associate we earn from qualifying purchases.
When running a blog or business, there are many different things that clamor for your attention. One of the jobs on your plate daily is to share things on all of your social media platforms, including Facebook.
I actually held out for a long time on scheduling content on my Facebook page for my own blog. But in recent months, I finally gave in and started Facebook scheduling. I couldn't be happier. It really has come in handy.
But why schedule Facebook social shares?
Read on now to find out…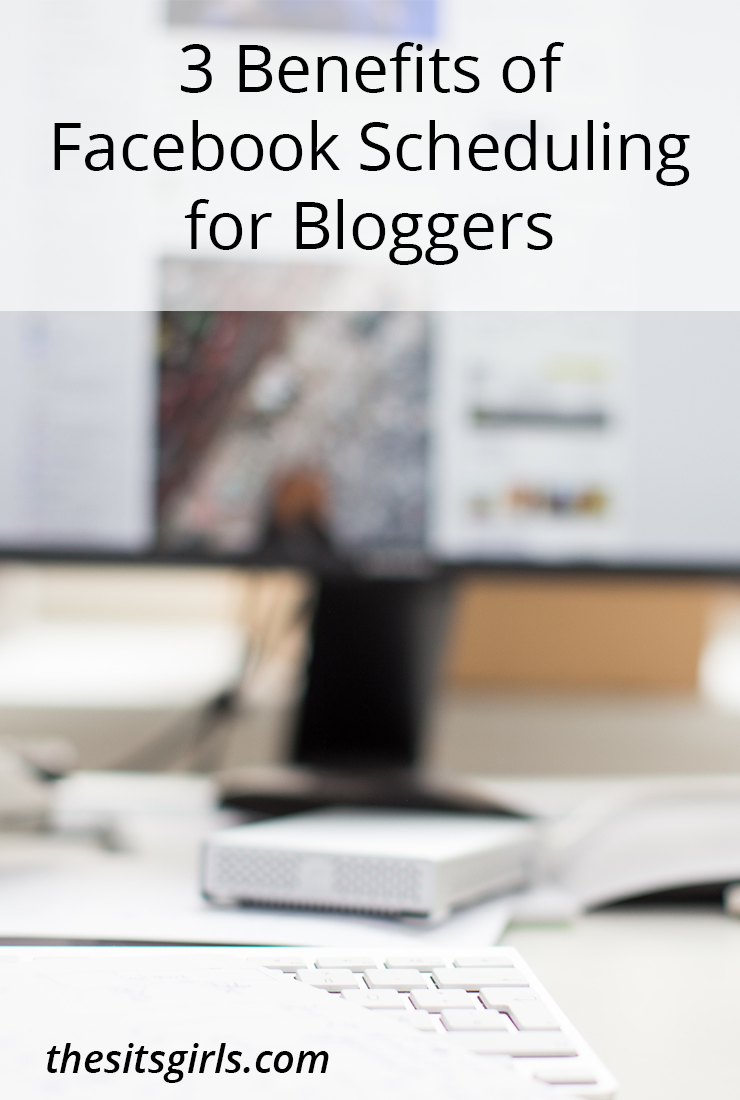 The Benefits Of Facebook Scheduling
1. It helps to have a blog schedule
When I first started to blog, my daily schedule was insane — it was honestly all over the place. Slowly, but surely, I set a schedule for the approximate times I would tackle specific tasks each day of the week.
But without planning ahead for what I needed to accomplish work-wise, including sharing socially on Facebook, I would end up finding myself on Facebook way more than I wanted to be on there. It was such a time suck and left me struggling to get other jobs done.

But now, I actually have a schedule for what I want to work on daily with blogging, as well as a time set aside each day for Facebook scheduling.
2. I'm able to spend less time on Facebook
Like I shared earlier, there once was a time where I spent hours on Facebook trying to keep my Facebook page active. But by scheduling Facebook posts ahead of time, I am actually able to be offline more than ever. And all that time I'm offline, I still have my Facebook page follower and engagement numbers increasing daily.
How is this possible?
I have used Facebook insight tools to see what type of content (memes, videos, articles, etc) my audience likes, what times they are online, and the target audience that have the best engagement numbers on my Facebook page.
I also use a paid service, called Post Planner, that has made sharing on Facebook even easier than ever. Post Planner not only helps me schedule Facebook social shares, but it helps increase engagement on my Facebook page, too. Most importantly, it cuts down on the time I would be scrolling Facebook feeds for social content to share.
Tip: There are other free and services for scheduling social media.
Check out the links at the end of this post if you want to see more options!
So, even though I have spent less hours on the whole on Facebook, my Facebook numbers overall have never been better. A win-win in my eyes.
3. I also can have consistency with other social sharing networks
Facebook is only one of the social sharing networks available to bloggers. For instance, I have social accounts on not only Facebook, but on Twitter, Pinterest, Instagram and Google+, as well.
While I am scheduling posts on Facebook to share, I am also able to schedule social shares on other networks, such as Twitter, at the same time. I don't always share the exact same things, but it helps to share similar types of content to keep some consistency across my social networks.
Many of my followers on Facebook also follow me on Twitter, as well as my other social networks. When it comes to sharing my own blog content, if a follower misses it on Facebook, they might catch it on Twitter. It's important to share the things you most want to get seen across all of your channels. Scheduling them at the same time helps to make this process faster, and ensures that you don't miss any shares you want to send.
These are just three reasons to schedule Facebook posts. But for the sheer fact of saving time and energy in the long run, I think you can agree that Facebook scheduling for bloggers is truly beneficial.
And if you have any other lingering questions or need help with learning how to schedule content on Facebook, please feel free to reach out and contact me.
Keep Reading