This post may contain affiliate links which may give us a commission at no additional cost to you. As an Amazon Associate we earn from qualifying purchases.
Social media is so accessible. Have smartphone, will tweet, pin, post, or comment. Those minutes you spend giving social juice to others can work for you, and I have 5 tips to help you squeeze more social media juice from the time you spend on it. If you are hoping to get results on social media, you need this latest post in our blogging tips and tutorials series.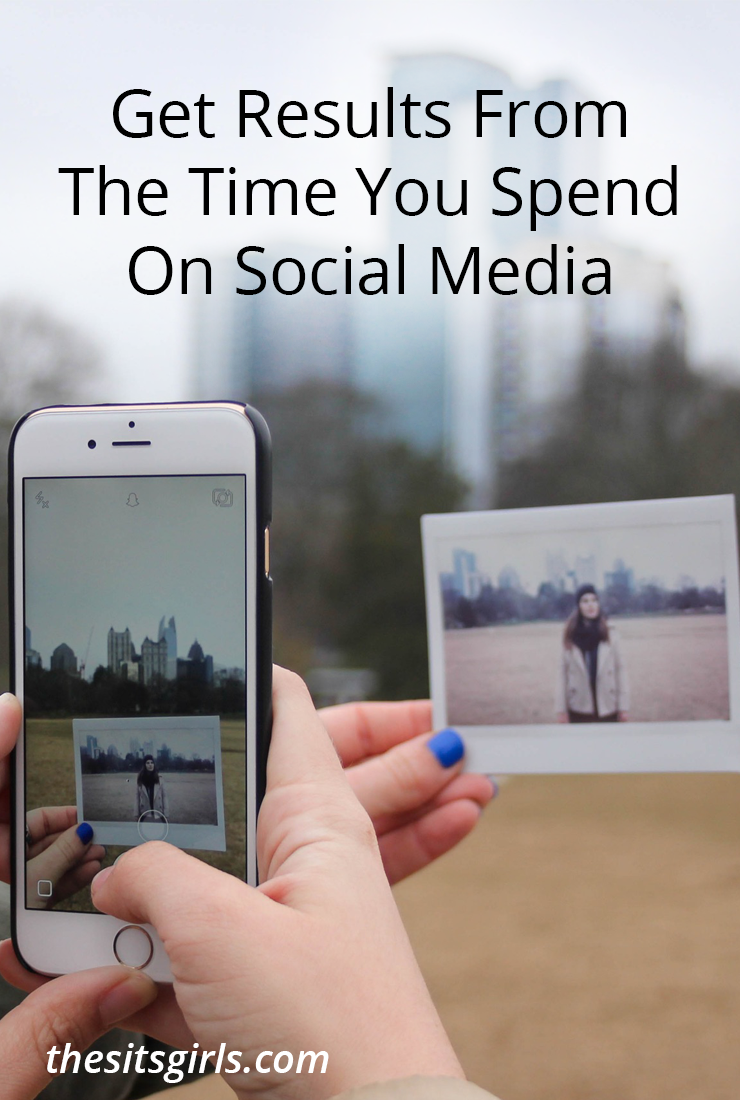 How To Get Results On Social Media
1. Read and Curate
Thought I was going to go for the gusto here? Nope. I know, what you're thinking, Who has time to read? YOU do. You have to make time. The only way to keep up with the changing algorithms, ahem Facebook, latest apps, tools, blogging tips and others in your niche is to read wide and often.
Set up an RSS reader (Bloglovin' or Feedly) and start following blogs and sites that are focused on social media trends, blogging, marketing and advertising as well as those sites that interest you personally (crafts, DIY, Dinosaurs, Big Mac's – no judgement).
If you're using Feedly, promote key influencers in social media, blogging, marketing, advertising and your niche to "Must Read". This way, if there are those days where you just can't read every piece of content you've collected, you can get the gist. Don't know where to start? Do what I did and get a Top 10 list of influencers and add them to a feedly collection. I used Social Media Examiner's Top 20 Social Media Blogs of 2015, clicked through each one and added them to my feedly, promoting them to must read status.
Here's a tip, listen to the podcast where our very own Tiffany Romero was interviewed. She shares some must read sites to keep yourself and your content relevant!
Save for later those posts and articles that you want to use for something else (share with a friend, client, or your Grandma because she's a social media maven.) Again, Feedly makes this easy by giving you the option to save directly within the app, or connecting it to Pocket and saving all of your must reads there.
2. Automate
If you can automate, why not! Just don't solely automate. We're looking for a mix of automation and real, live YOU. That's what your audience wants. We all know you can't be on all the time. That's where all the saved content comes into play. You can do this while you're reading before bed, like I do, or you can schedule time in your day to schedule your curated content.
Using Hootsuite or Buffer (I prefer Hootsuite) you can take those posts that you found, that are relevant to your niche, and schedule them to Twitter using the auto schedule feature. In fact, when you're browsing the web, if you have the Hootsuite bookmarklet installed in Chrome (or your smartphone), you can browse, share and schedule on your Facebook page too, creating a constant drip of content to both of those platforms.
Don't have or want to use Hootsuite, or Buffer? We should talk, but you can use Twitterfeed. Set up RSS feeds to publish to your Twitter account when your trusted blog friends and influencers post. I emphasize trusted because you don't want your Vegan audience to flip when they see you published a mouthwatering steak recipe, for example. You can customize the tweets to include their handle and a relevant hashtag.
3. Share more than once, more than twice, more than three times
Did you know that the average time of a tweet is an hour?
The average lifespan of a tweet is one hour! @Ekaterina #SMMW15 pic.twitter.com/VvrmfX43Ab
— Kim Garst ツ (@kimgarst) March 26, 2015
Sure, you can pin that tweet to your profile so if people are checking you out they can see what you want them to see right off the bat, but why take chances? Schedule your latest post at least 4 other times. Co-Schedule has this great graphic that I keep on my phone (because Mommy brain).
For tweets, Co-Schedule suggests you tweet upon publish, two hours later, the next day, the next week, the next month and two months out! You can schedule all of this the day you publish in just a few minutes using Hootsuite or Buffer.
Here's a tip though, test out which titles work on that first day. You can use the title of your post, a variation on the title or stellar quotes directly from your post! Twitter can take it – and then whichever gets the most retweets and favorites, use that to post to Facebook (which CoSchedule suggests you share on publish, and the month after).
4. Batch, batch, batch and use the Pomodoro technique
The Pomodoro technique is a productivity technique where you set a time for 25 minutes to work on a task or set of tasks, then take a 3-5 minute break and repeat.
Batching your work is as simple as only writing posts for two hours on Tuesdays and Wednesdays, scheduling content to your social media platforms on Fridays for an hour, brainstorming blog posts for an hour on Sundays, or as simple as responding live on social media for a set 15-20 minutes a day. You focus on one task for an extended period of time – and schedule it. This way you're not frazzled, you're getting everything done, and your brain will thank you. Not to mention your family because you've set some boundaries and you're not on all the time.
5. Create an editorial calendar
I know you've heard the rumblings about editorial calendars and I know you're tight on time. You just have to stop, drop, and make the time. If you're serious about blogging and social media, you need a strategy or you're going to drown in all of the everything. There is absolutely no way you can create and effectively manage and implement a blogging and social media strategy without one. I am a spreadsheet girl and have recently begun to cheat on my spreadsheet with Trello. It's free and it's amazing. Peg Fitzpatrick recently shared a post on how to creatively boost your editorial calendar and included a free Trello editorial calendar template that I use now.
Those are some of my best tips to help you get results on social media, and here are a few more. I'd love to hear yours!
What does your social media strategy look like?
Looking for more help with social media?
Check out our strategy for all the major social media platforms!