This post may contain affiliate links which may give us a commission at no additional cost to you. As an Amazon Associate we earn from qualifying purchases.
If you're like me, you know you need to be on Google+. In fact, you WANT to be on Google+ but you just don't know where to begin. Your need a Google Plus guide to help you set up your profile and circles.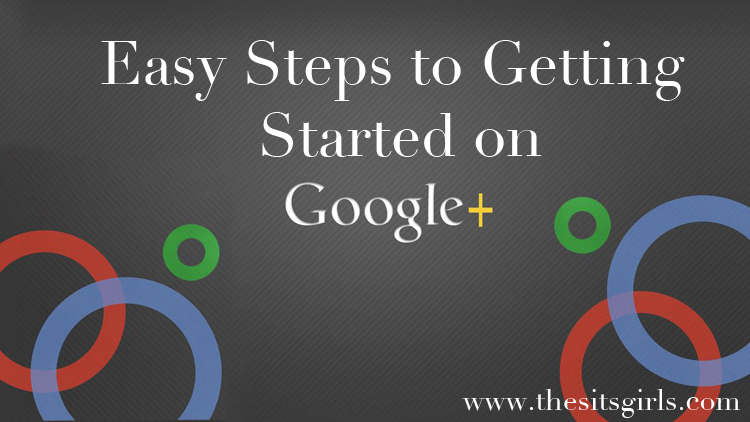 Google Plus Guide: 5 Easy Steps To Getting Started
Let's talk a little about getting started with Google+ and why you need to be there. At present, Facebook and Twitter are still the powerhouses of all things social media. Although that may not change anytime soon, Google+ is still a social media hub to be reckoned with. Google+ is the primary social media platform of choice for many. One reason for this is Google ties all your accounts into one; Gmail, YouTube, etc. Not only does it tie them together, but it also connects your website to your Google+ profile which gives you authorship credibility and can boost your SEO stats. And what blogger doesn't crave more SEO, like a hormonal woman craves chocolate?
Getting started with Google+ is easier than you might think.
1) Creating a Google+ Account
Go to plus.google.com and click "Create an Account".
At this point you can add a profile photo. I highly recommend using the same profile photo on all your social media platforms (website, Facebook, Twitter, etc.), so you are easily recognizable. Once you've selected and adjusted your photo, click "Next Step."
Congratulations, you now have a Google+ account!
2) Learning the Layout
Go to plus.google.com again. You should see something like this: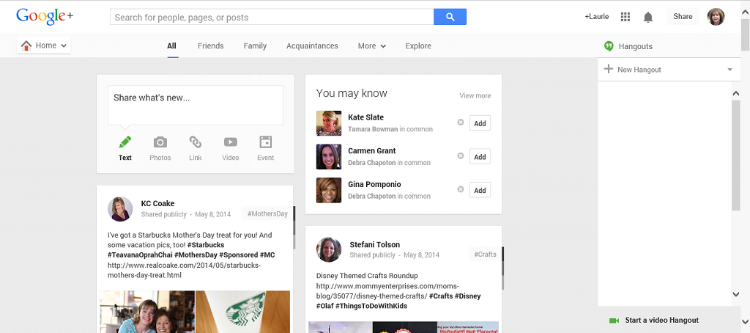 This is a stream where you can see all the incoming posts from others. The gray bar at the top allows you to switch between feeds from your circles (keep reading for more on Circles).
On the right is Google+ Hangouts, where you can text, voice, or video chat with your friends.
Hover your mouse over the word "Home" on the top left to reveal the navigation panel, from which you can access Home, Profile, People, Photos, Communities, Settings and more.
3) Setting up Your Profile
To navigate to your Google+ profile, click on the dropdown menu in the top left corner, and click on profile. You can also reach your Google+ profile from within Gmail or other Google services by clicking on your picture in the navigation bar, and clicking on "View Profile" in the dropdown.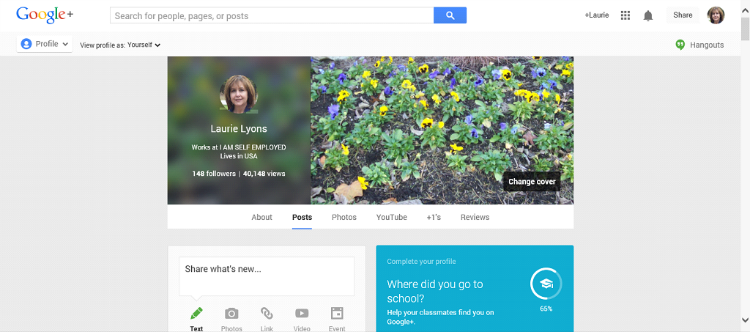 When you are at your profile, click on the About tab.
This is where you can add information, such as an introduction, work, education, links to social media profiles and sites where you contribute, and more. The more you fill out your profile, the better!
Be especially sure to enter "Contributor To" Links, because they are essential for setting up Google Authorship.
4) Build Your Circles
The most important and useful part of Google+ is Circles. Circles allow you to categorize your friends, family, business acquaintances, and everyone else, in the most appropriate ways. When adding a friend, they go in any of the categories you want to put them.
Why set up circles?
Organization: As you connect with more and more people on Google Plus, it is nice to be able to remember how you connected with them. A circle called, simply, "Bloggers" will help you to do this, or a circle called "SITS Bloggers" will help you to connect with just those bloggers in the SITS community.
Ease of Browsing: If you want to find recipes that are being shared, you can easily choose to look at just the updates from your "Food Bloggers" circle, or if you want to be inspired to work on your photography, you could look at the updates from your "Photographers" circle. There is no limit to the ways you can organize your circles to make your Google+ experience more enjoyable.
Targeted Sharing: You don't want to share vacation photos with your business contacts. Having your personal friends in a circle together makes it easy to ensure you can share your vacation photos with only those you want to see them.
As nice as it is to share with only a specific circle (like sharing those vacation photos with just your in-person friends), you mainly want to post to Public – ESPECIALLY when sharing a blog post – so you are getting the most views possible for your post.
To add people to your circles, select "People" in the left dropdown. You can connect your address book to find friends who already have G+ profiles and search for friends by entering your company or school name.
You can also just type someone's name into the search bar. For example, I searched Tiffany Romero and this is what I found. Click Add To Circles.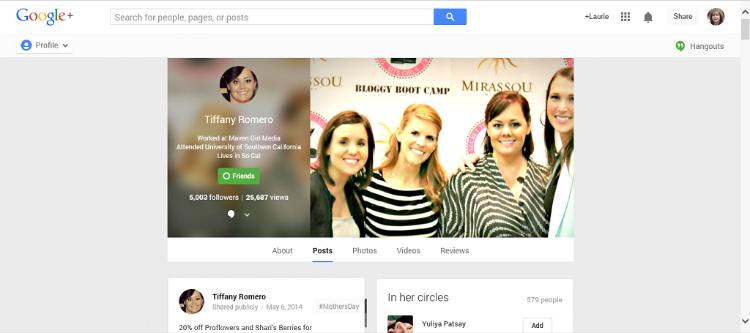 You then have the option of adding them as Friend, Family, Following, etc. I put Tiffany in my Friends circle.
If you've filled out your profile info well, Google+ provides you with suggestions based on common interests. Google+ is similar to Twitter in that just because you add someone to your circles, they don't have to add you back.
You will find Your Circles under People as well. This is where you can organize your circles. You can make new circles (like: Mom Bloggers, Book Lovers, Classmates), or delete current circles. At the top, you'll see all the people you've circled; you can click on their pictures and drag them to whatever circle you desire. People can be added to more than one circle.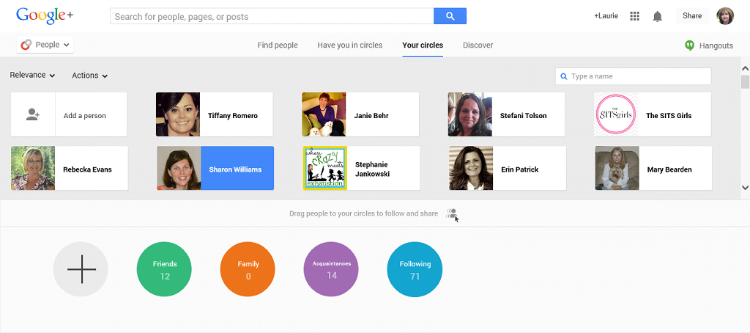 When you add someone to a Circle:
You can share content with them.
You can chat with them if you are also in their Circle.
They will be notified when you add them.
There is a red bell icon in the top right corner of almost every Google service you use. This icon tells you how many notifications you have. When you click on the bell you are able to see your Google+ notifications.
5.) Posting Content
This is pretty basic and self-explanatory.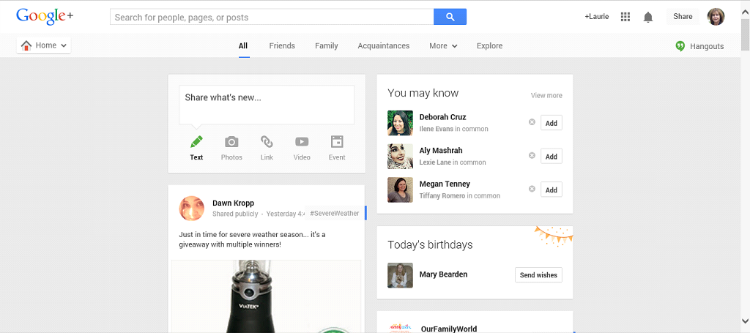 You can share whatever you want in the Share What's New space: links, photos, favorite posts by other bloggers; you get the picture.
I know this is very basic getting started on Goggle+, but it really is this easy. If you haven't taken the plunge on this user-friendly platform I hope you found this information useful to help you get started.
Now go make some friends on Google+!
KEEP READING
Looking for more information about using Google+? Here are a few posts that you'll find helpful: