This post may contain affiliate links which may give us a commission at no additional cost to you. As an Amazon Associate we earn from qualifying purchases.
Google+ should be an important piece of your social media strategy. Once you set up your profile and get involved on Google+, you will be ready to explore the other options it offers. One great feature is Google Plus Hangouts. There are so many things Hangouts can be used for. It can be a little daunting for beginners, but breaking it down into bite size pieces is helpful, and you will see it is really quite simple.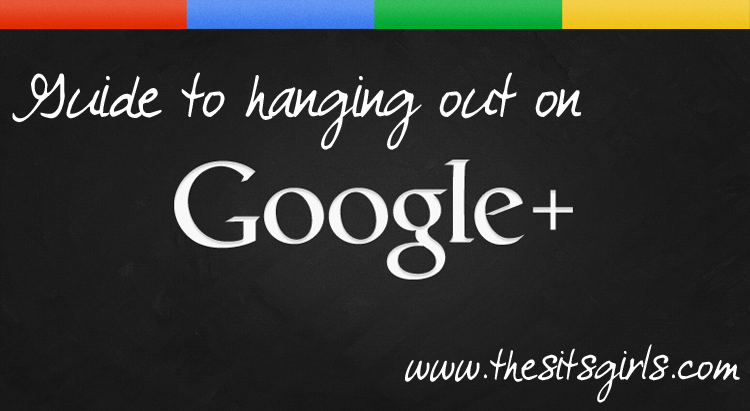 Google Plus Hangouts
Recently someone told me about a young girl who does a weekly hangout with a friend who lives out of town. They use an app called Scoot and Doodle which allows them to draw on the screen at the same time, so they can collaborate on art projects or play games together. Sounds like fun! There are lots of apps to be used which you can research if you're interested.
Another fun thing to do is share a screen, and watch a movie with long distance friends and family. How cool is that? Hangouts definitely offer a variety of ways to keep in touch.
But it's not just about fun and games. There are some practical things Hangouts can be used for too, such as teaching in a virtual classroom and other professional aspects. Businesses often choose to use Hangouts for meetings with clients and employees because of the number of people who are able to connect on Google+. These are just a few examples of private Hangouts.
Google Plus Hangouts On Air
Hangouts on Air (HOA) give you the ability to broadcast your hangout to a large audience, creating a video that can be viewed on your Youtube channel or embedded on a website. Think of this as a chance for your talk show debut, or a great way to share the conversations you are already having with your blogging community!
A few weeks ago I participated as a guest on Julie DeNeen's Hangout. She has a weekly show that she and her husband host on Sunday nights where they talk about marriage using different topics each week. I won't go into details about the 30 minutes that I spent there with them, but suffice it to say the hangout was fun and useful.
Take a look at this screenshot. Hangouts is located in the top right corner. If you hover there you will see a list of the Hangouts that you have participated in. Looking down to the bottom of the shot notice the Start a Video Hangout with camera icon. This is where the fun begins!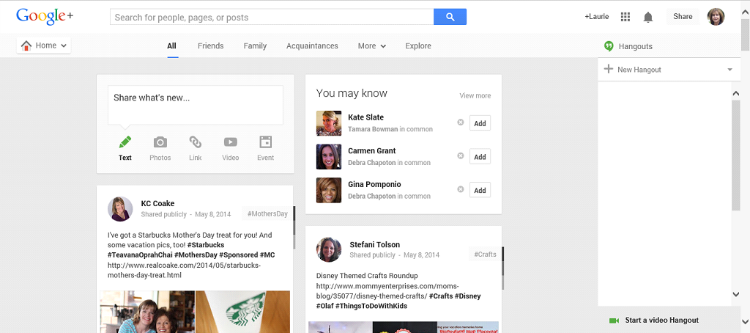 How to Start a Hangout on Air
We've talked about the uses of a Hangout or HOA, now let's review the steps you need to get started. First, you have to be sure that you have a Google Plus account and a YouTube channel that are connected to each other. If you have never been involved in a Hangout or HOA, you will have to download the app to initiate and agree to the terms to continue.
Now that you're set up, let's get your Hangout started!
Go to Google+ and click Start a Hangout.
Give your broadcast a name, and add an appropriate description.
Choose whether you'd like to host the Hangout right away or choose a future date.
Select the Google+ users that you want to invite to your Hangout. You can add circles or individuals. To add individuals, just click on the person with the +1 and type in the specific people you'd like to invite.
Once your audience is set, click Share.
When the time arrives to broadcast your Hangout, you will invite or "call" all participants.
Once everyone has joined the Hangout and you're ready to go live, click Start Broadcast at the top of the screen. After that click, you're officially "On Air" and the public will be able to watch your live broadcast as you interact with your guest.
Please note that you can't invite the public (non Google+ users) to join a HOA, but you can still share the YouTube URL with them so they can watch the live stream later. Since individuals can start watching at any time, remember to promote your broadcast via social media to get more viewers.
Hangouts on Air are automatically added to your Youtube channel. You can make the Hangout unlisted, meaning it won't be searchable on Google+ or Youtube, and only people you share the link with will be able to access it. But it is important to note that the video will be visible to anyone who has the link, so it could still be shared publicly.
Edit Your Video
If you would like to edit your Hangout on Air, you can do so in your YouTube account by clicking Video Manager. Once you've edited the video to your liking, it now becomes like any other YouTube video. Embed the video on your site or blog, grab the URL and share away!
I also want to add that if you aren't comfortable with vlogs or video, HOAs are a great way to get started. You have someone to interact with which could make you feel more comfortable and help get rid of those awkward, jittery feelings you may experience.
Tips for first time users
To ensure that everything is working properly, have a trial run. This will help you get comfortable with all the settings.
1.  Make sure all windows are closed before starting your HOA. Restarting your computer before you begin isn't a bad idea either.
2.  If possible, don't use Wi-Fi. Instead hardwire to your router.
3.  Ear buds or headphones for the HOA will eliminate the inevitable echo which makes it difficult to hear the recording.
4. Keeping a drink close by is a good idea.
5. Remember that the camera will be on the person speaking, even if you just laugh or clear your throat, so just be aware.
6. Invite your guests to log in 15 minutes before the start of the HOA just to make sure all systems are go before you begin broadcasting.
7. Relax and enjoy the experience, and before you know it you'll be a Hangout expert.
There are a lot of things to learn about Hangouts and HOAs. One of the best ways to become familiar with it all is to go there and play around, and while you're there, don't forget to have some fun!
Keep Reading
Looking for more information about Google+? Here are a few posts that you'll find helpful: