This post may contain affiliate links which may give us a commission at no additional cost to you. As an Amazon Associate we earn from qualifying purchases.
Social media is a huge aspect of our lives. According to Statista, there are over 2 billion social media users worldwide. That translates into 2 billion individuals you can connect with on social media. The connections are really relationships with people who are interested in what you have to share. They want to engage in a conversation and develop a deeper connection. But how do you create the relationship and encourage engagement on social media?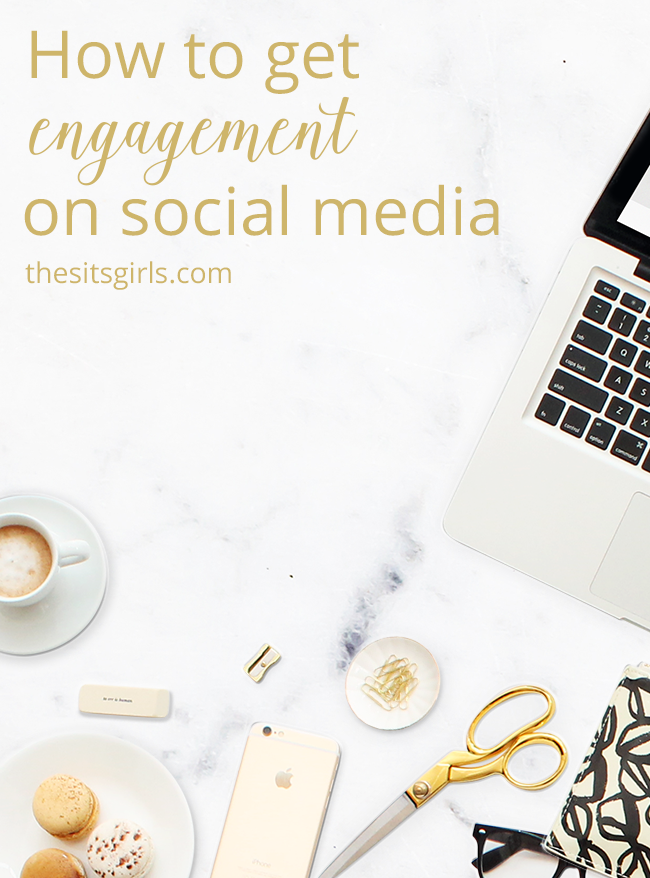 How To Get Engagement On Social Media
The way you interact on social media will determine the kind of engagement you will get from your followers.
Content
Your content is the stepping stone to conversations. Share something your audience wants to hear, learn, or experience. Without great content, your conversations lack a starting point and direction. You will share your own content, of course, but you should also share links to other people's content throughout the day.
Be Consistent
Consistency is key in social media. Followers are more likely to engage or look for your posts when they get used to seeing updates from you on the same days and times. Some social media platforms, like Facebook, even reward you for your consistency in their algorithms, by showing your posts in more of your followers' newsfeeds.
Network
Connect with other bloggers and develop relationships. Share their content, comment on posts, link to content, and tag them in your social media. There is nothing more important than developing good professional relationships with other bloggers.
Creative Questions
Ask your audience interesting and unexpected questions on social media. Rather than asking typical questions like "what's your favorite color?" think creatively. We've all seen the questions, "Which Star Wars character are you most like?"
Channel your creativity, "If you had to define yourself with a color, which one would it be and why?" or "Which mystical creature are you? I'm a rainbow unicorn because…"  Audiences love the unexpected, surprising, and fun questions.
Visuals
Do not underestimate the power of a great visual. Again, tap into your creativity. Share visuals that will generate conversation. Post a collage of mystical creatures with the question "which one are you?" Are you a gardener? Share a visual of unusual, bug-eating plants with a fun comment. Use your imagination to generate a conversation through visuals.
Respond
Make the conversation two-way. Reply to comments, share a follower's content, tag followers, and keep the conversation going.
Contests and Giveaways
Social media loves a great contest or giveaway. Examples are fill in a form, write a comment about why they love your brand, or post an image with a specific hashtag. Depending upon the social media channel, you can customize the perfect contest for your readers. The key is to engage users with a terrific prize, comments, and conversation while making sure to stay within the bounds of all platform rules and terms of service.
Games
Don't forget to have fun! Your audience wants more than promotional posts. They want a relationship that includes fun. Social Media Today suggests great games like Hangman, Mad Libs, and Boggle for your Facebook followers. Your audience will truly enjoy a fun game that takes the seriousness out of their everyday lives.
Authenticity
We hear this word a lot today. It means to be your true self. Don't hide your personality from your audience. They want to engage with the real you. The more authentic and true you are, the more engaging and honest the relationship. Share yourself honestly with the people who are interested in what you have to say.
Tracking Tools
Use social media tracking tools to help you assess engagement. Measure engagement and interest on a variety of platforms to help you adjust your social media plan. Here are a few tools you could try:
Hootsuite
TweetReach
Buffer
Engagement on social media doesn't just happen. The conversation starts and is maintained by you. Thinking of creative ways to engage your readers, sharing your authentic self, and having fun with the relationship are all keys to successful social media.
Keep Reading
As we said above, a great way to encourage engagement on social media is to set regular times to post (both on social media and your blog). Check out this post for tips to maintain a consistent blogging and commenting schedule.