This post may contain affiliate links which may give us a commission at no additional cost to you. As an Amazon Associate we earn from qualifying purchases.
Just because social media is 24-7 doesn't mean you have to be too. For many mom-bloggers and work-at-home-moms alike, we have additional commitments outside of our job including mom and wife.
To help find balance between family time and work time, and successfully grow your business with a continual presence online, you'll need a social media management tool that will do the work for you. A tool that will help you stay on top of the social trends that work best for your company, and let's you enjoy the free time you deserve as a business owner. Hootsuite is a social media management tool that allows you to schedule social media messages in advance and target your audience on the social channels you choose.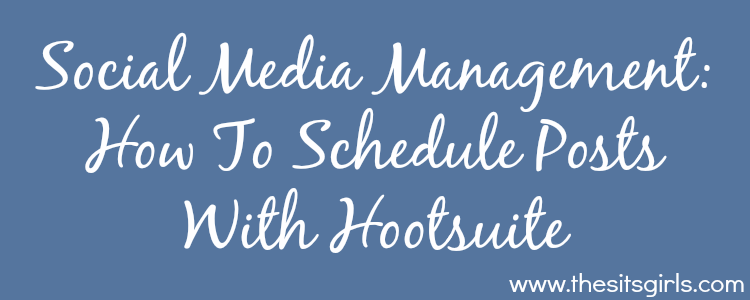 How To Schedule Posts With Hootsuite
There are plenty of occasions where scheduling social media updates in advance comes in handy, including twitter parties and paid campaigns. To get started, simply add the social channels you use to your Hootsuite profile, and get ready to take your social media management to the next level.
Scheduling Social Media Updates
Scheduling messages in Hootsuite is easy, in just 5 simple steps you are done!
With Hootsuite open, choose the social profiles you wish to send your messages to using the profile picker.
Type your message in the compose box.
Click the calendar icon in the bottom of the compose box.
Set the date and time you want your message to send, and select if you want to receive a sent e-mail confirmation.
Click the send now button. Message scheduled!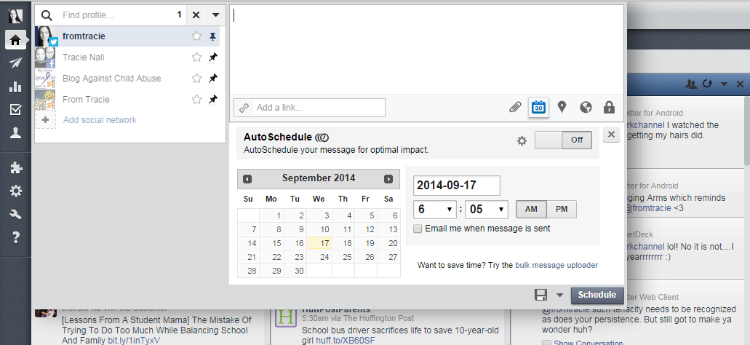 Auto-scheduling Social Media Updates
Just like scheduling your messages, choose a profile and type your message in the box.
In the drop down menu, turn the AutoSchedule feature on.
Press AutoSchedule and you're done!
Viewing and Editing Scheduled Social Media Updates
What if you make a mistake, and need to edit or view the message you just scheduled? No worries. You can edit any message you schedule, even delete them all together, through the publisher icon.
Click the publisher icon on the left-hand side of the dashboard.
Click the schedule button.
You can now view or edit any message you've scheduled by hoovering over it and clicking the edit icon.
Make your changes and click save.
Remember to schedule your social media updates thoughtfully. While it can be a helpful addition to your social media strategy, it is not a complete replacement for consistent, live engagement with your followers.
Keep Reading
Looking for more social media information? Here are a few posts you'll find helpful: