This post may contain affiliate links which may give us a commission at no additional cost to you. As an Amazon Associate we earn from qualifying purchases.
Google Authorship is a fairly new term in the blogging world. However, it's a term you want to get to know, understand and use! Setting up your Google Authorship is simple and will only take you a few minutes.
If you have a blog and a Google + account, you can set up your Google Authorship.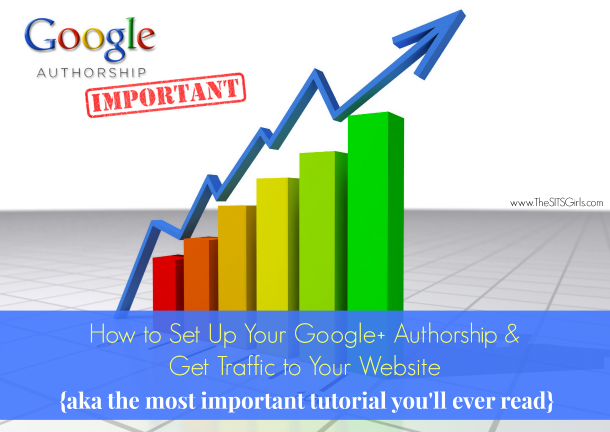 How to Set Up Your Google Authorship
You might already know that setting up your Google Authorship means having your picture next to online content you have produced. This is a great feature and one of the biggest reasons why people set up their authorship. However, there are other benefits to setting up your authorship.
Studies have shown that having an image next to your link in the search results will result in a higher click through rate. This means more traffic being brought to your site! We all want more traffic to our sites and this is an easy way to make sure that happens. Having your authorship set up also allows Google to index your site and content at a quicker rate, which means you appear in the search engines shortly after hitting publish.
Another benefit to setting up your Google Authorship is getting real time stats through Google Webmaster tools. Simply log into your Google Webmaster account, click on labs and then author stats. Your author stats will show you in-depth data for each article you have posted on the web. You will be able to look at your total impressions, click throughs and much more. This information is invaluable when it comes to understanding what types of content is getting clicked on.
Google Authorship Video Tutorial
To set up your Google Authorship watch this short video tutorial. This video tutorial will show you step by step how to set up your authorship with Google.
Your Turn
Let's chat about all things related to Google authorship!
Have you set Google authorship yet? If no, we encourage you to try. If you have, are you seeing the benefits?
Looking for More Tips?
Did you enjoy this video tutorial on Google authorship? If so, then keep reading!