This post may contain affiliate links which may give us a commission at no additional cost to you. As an Amazon Associate we earn from qualifying purchases.
Pinterest is by far one of the most active, engaging social media communities. There are tons of ways to draw traffic to your website using Pinterest, and it's typically a really great platform to engage with your readers on and deliver content that they'll enjoy and be able to save and view time and time again.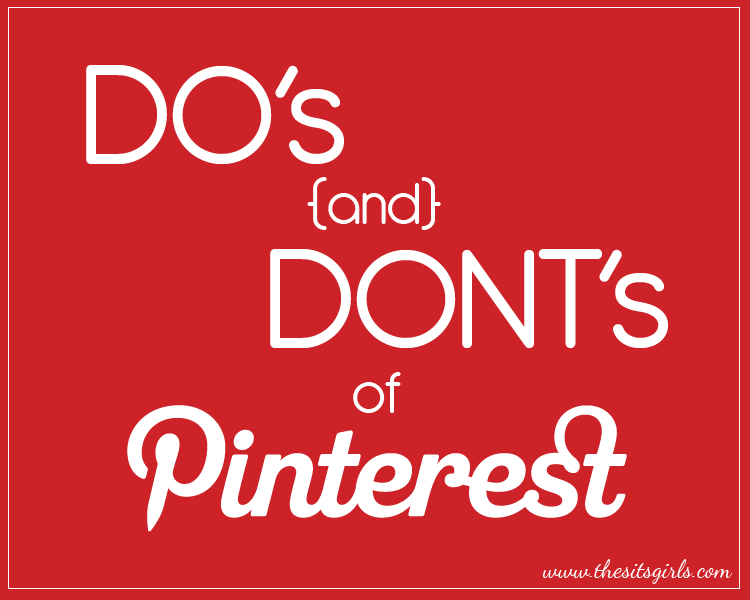 The Do's and Don'ts of Pinterest
There's a few tips and tricks when it comes to Pinterest that are absolute musts, and these do's and don'ts will be a great way to get your Pinterest traffic booming!
DO put a description in your pin.
If you've ever pinned something directly from your website, you know that it typically auto populates the title of the post, followed by your blog name. This is great, but you absolutely want to add more to that to attract engagement! Give a short description of what the post is about that way people are more intrigued to pin it to their own boards and ultimately click through to your website!
DON'T pin just any image from your post.
If you're able to, make a pin-worthy image specifically for Pinterest. This includes making a vertical image, with text, enticing colors and good quality. These are the kinds of images that pinners love to click on and re-pin, so keep that in mind!
DON'T use hash tags!
Pinterest isn't fond of hashtags, in fact, they lessen the reach of your pins. Stick with key words and search friendly language in your pin descriptions if you want your pins to be found. If you want to add some simple key words to your description, you can use a pipe (the straight up and down line) to separate them from the rest of the description, like this:
Pinterest Tips | Learn how to use Pinterest to drive traffic to your blog with these do's and don'ts. You will be amazed how easy it is to rock Pinterest if you follow these rules.
DON'T be disorganized.
Pinterest users are all about visual engagement. They love beautiful pictures, and things that are pleasing to the eye. This means alphabetical pin boards and organization are key to user preference! Try to keep it clean and organized and pin your pins to appropriate boards.
DO pin things every day!
Even if you don't pin original content every day, pin things besides just your own content. Users will react better to your pins if you're pinning good, quality content consistently rather than just pinning your own. Try to be active every day, and even be active at different times throughout the day and week.
DON'T go overboard.
Pinning every day is great, and being active is key to maintaining a great following of Pinterest users, but try not to overdo it. Anywhere between 10-30 pins a day is typically enough, and anything more than 30 can be overwhelming, especially if you pin them all in a row. Try to space them out if you intend on pinning quite a few, that way it doesn't take up your followers' entire feed, overwhelm them, and ultimately cause them to unfollow you.
So there you have it! These are the do's and don'ts of Pinterest, and putting them to use should help with your engagement and traffic!
What tips would you share with new bloggers who are just trying to get their Pinterest off the ground?
Keep Reading
Are you looking for more information on mastering Pinterest? Here are a few posts you'll find helpful: