This post may contain affiliate links which may give us a commission at no additional cost to you. As an Amazon Associate we earn from qualifying purchases.
Today, I am lost in a world of Facebook Lives and Snapchats, and I'll admit that it takes me a little longer to jump on board the "next new thing" in technology, and even when I do, I'm less inclined to immediately declare it a success.
We have reached a weird saturation point with online and offline platforms, and I think it's becoming trickier to distinguish the fun from the functional; the cutting-edge from the cutting-room floor.
Twitter, of course, has had its own ups and downs, but it is one of the rare technology platforms that I think is here to stay, at least in some variation. As a micro-blogging service, it really opened the door for sharing quick, to-the-point information, and its impact on the hashtag will never be diminished.
So, how can you embrace Twitter as part of your social media strategy? And what exactly should you look for to decide if and how it's a success?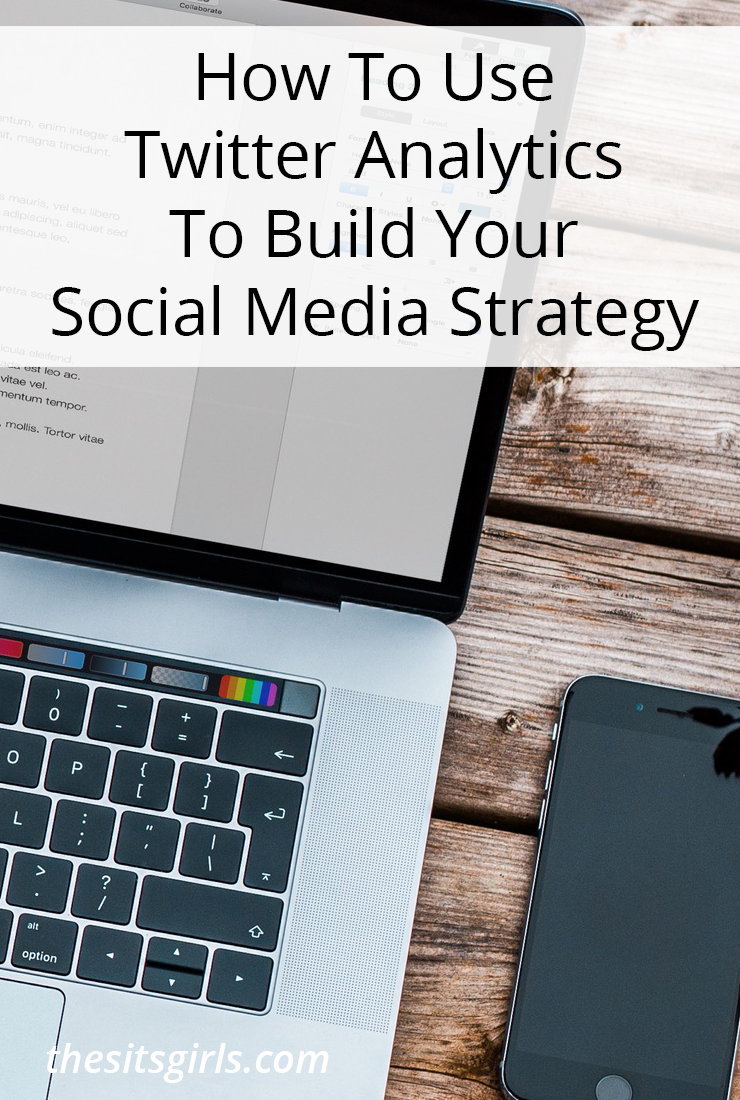 How To Use Twitter Analytics To Build Your Social Media Strategy
First, there are the analytics on Twitter itself. You can log into https://analytics.twitter.com and see a pretty user-friendly dashboard of information, including:
your top tweets and how many impressions they received
your top mentions and which account(s) they came from
your top media tweets — those that have an image or video attached
a monthly summary of activity
a look at growth or drop in followers, mentions, profile visits and more
I really believe that data is crucial, but it's only the first part of the story. The key is to look for patterns. Do your tweets do best on a certain day of the week or time? Are posts with your blog links more or less shared, on average? Who responds to you most often and is there a partnership to be explored?
Take A Look At Your Twitter Audience
You can also look at your Twitter audience. For example, my Twitter followers like movie news, speak English, like to make online purchases, have AT&T for wireless service and are 55% female. That doesn't mean that I should start tweeting about movies that star Reese Witherspoon and are sponsored by AT&T, because this demographic study is just a snapshot. But I think it gives some key insights into the people who are most likely to find my tweets interesting (and also sparks some ideas for new blog posts!).
Twitter Cards
Another more advanced feature of the Twitter Analytics is its look at Twitter cards — if you're not using them, I highly recommend you do! You can get more information at https://dev.twitter.com/cards/overview. If you use them for your blog, for example, you can really track performance (especially important if you're monetizing page views or are working on a campaign with a brand where engagement is crucial).
And then, there are the analytics for your blog — I hope you're using Google Analytics, but if not, other analytics tools can provide some insight as well. When you track your social referrals, how many clicks are you getting from Twitter? If you're seeing a lot of impressions per tweet on Twitter, but not many clicks to your blog, that could be a sign that you need to experiment with how you're wording things in your link posts. Or perhaps you need to work on making those tweets more compelling in terms of a tease.
Do certain keywords drive clicks? For me, I know that "health," "mind," and "body" perform well for me when I include them in my tweets, so I try to keep that in mind.
There are so many really fun tools to explore with Twitter, and digging into your analytics is quick and easy — and could make a major difference in your social media strategy. Don't forget to follow me @kwidrick and tweet this article if you found it helpful!
Want to get organized on Twitter? Learn how to create Twitter lists and read our top 10 tips for gaining Twitter followers.