This post may contain affiliate links which may give us a commission at no additional cost to you. As an Amazon Associate we earn from qualifying purchases.
Blogging has certainly changed since I started it as a hobby back in 2004. Social media is an important part of a blogger's marketing plan, but it can be overwhelming, especially if you only have time to do it outside of your nine to five job or whenever the kids are down for a nap or both.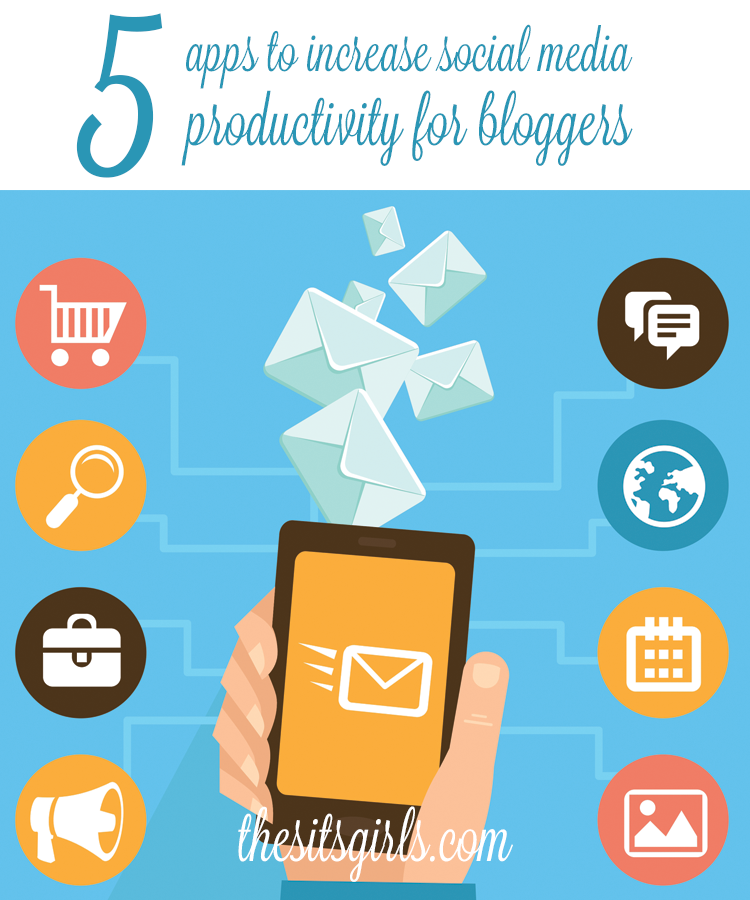 Five Apps To Increase Social Media Productivity
I've found five apps that can help you be more productive on social media, so your blog can get more exposure.
1. BufferApp for automation
Buffer is my favorite app for sharing on social media. It's so easy! The best part is that I don't have to figure out a schedule for my posts. I can create one schedule for each channel and then just add the content. I try to add a week's worth of content at a time. The free version of Buffer is known as the Individual Plan where you can add one account for each of the following channels: Twitter, Facebook, Google+ Pages, LinkedIn, and App.net. The nice thing is that you don't have to be at your computer to use Buffer. They have an iOS and an Andriod app. Plus, there's a Chrome extension, so if you are surfing the web on your computer, you can just add that page to your Buffer schedule. Also, you can share the same content on multiple accounts with a simple click.
2. Flipboard for content curation
Flipboard is an app that's great for finding and sharing content. It's like a personal magazine. They have curated content from all over the web and you can search for it by topic, but you can also add your own social media feeds into it, and you can create your own magazines of pages you find on the web. Plus, you can follow others and look at the content they've curated into their magazines and then share that stuff too. If you combine Flipoard with Buffer, you get a really powerful way to schedule content. Also, Flipboard is free!
3. Hootsuite for monitoring
Hootsuite is good if all you want to monitor your social feeds in one place. You can see things like mentions on Twitter, comments on Google+ pages, and posts to your Facebook wall. Personally, I think Hootsuite is only good for monitoring these channels and reacting to any interactions with your posts. You can't +1 on Google+ posts. You can't see any activity from Facebook Pages you like if you are in your Page account. It is good for following Twitter parties. You can follow a specific hashtag and interact with it. There is also an auto scheduling feature, but you have to input each post individually.
4. IFTTT for cross posting
IFTTT stands for If This Then That. You create recipes to automate some of your social sharing. Recipes are something like "If I like a video on YouTube, then share it on my Tumblr." Personally, my favorite is connecting my Instagram account to my Google+ Page through Buffer. I also use it to make sure my new blog posts are shared on Twitter. Sure, I use a few other things like Bloglovin' and Networked Blogs, but they seem to take a few hours to get my new content. You could spend a lot of time on this site trying to come up with different recipes for social sharing. I set up one to tweet anytime I get a new follower. I thought I was creating a recipe so that the tweet about getting a new follower showed MY new follower count, but after complaining about the odd numbers showing up in my tweets, IFTTT let me know that the numbers in my tweets were, in fact, that of my newest follower. Oops. Needless to say, I deleted that recipe.
5. Pocket for reading later
Pocket is an app where you can save various sites and pages to read later. If you're like me, you skim through blog after blog and want to read it later, but never seem to have anywhere to bookmark it. This is especially useful if you take part in the SITS Sharefest every week. I find five blog posts I want to read, get distracted by my husband, and an hour later I've forgotten what I was doing. You can even connect your twitter account to it so when you are standing in line at the grocery store and see that intriguing tweet that a has link to an article in it, you can save it to read later.
What apps do you use that help you stay sane while marketing your blog and expanding your reach?
Keep Reading
Looking for more posts about Social Media? Here are a few you'll find helpful: