This post may contain affiliate links which may give us a commission at no additional cost to you. As an Amazon Associate we earn from qualifying purchases.
Instagram is one of my favorite methods of social media.
In fact, I recently did some clean-up because I felt that I was no longer seeing the people I wanted to see. I found myself overloaded with random follow-for-follow accounts that I crossed paths with in Facebook groups or something like that.
And although that is a wonderful way to engage on social media, it's also something that can take a little away from Instagram. I find Instagram to be a way to share snippets of my true self. A way to show everyone where I'm coming from, what I'm up to, and for me to check up on people I'm interested in, too! I love visiting my Instagram feed and being inspired.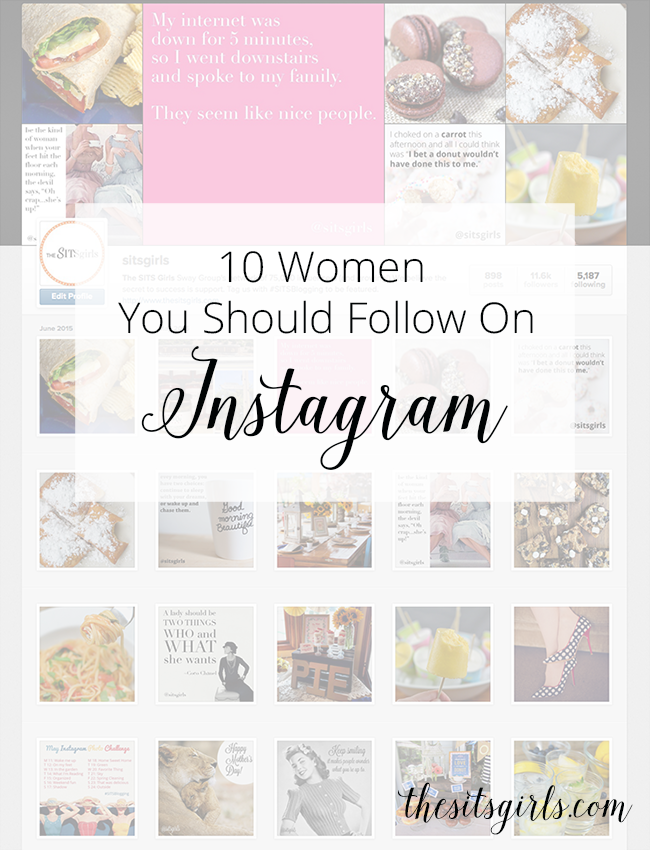 10 Inspiring Women You Should Follow On Instagram
1. @veronicaeye
Veronica is the founder of the #365feministselfie project and an inspiration to women (and men!) everywhere. Her reminder to accept ourselves as we are has been a pivotal point in my own Instagram *lifetime* and her continued encouragement to take a daily selfie has helped so many people to reflect upon how beautiful they truly are in their everyday environments.
2. @brittanyherself
Brittany Gibbons is a powerhouse among curvy women everywhere. She's someone I want to be like when I find the courage to step out of my own shadow. Founder of Curvy Girl Guide, she's established a community to support women of all sizes on their journey to be true to themselves. Also? Her. Hair. It's amazing. It could probably have its own Instagram account and I would follow it.
3. @mommyshorts
Ilana Wiles is the founder of Mommy Shorts. Although her pictures are absolutely beautiful and full of color, she also is one of the most down-to-earth mamas I've seen on Instagram. I adore the pictures of her daughters (in a totally not weird way) and she seems like such a fun mom. She is also pretty hilarious – having created some of the most entertaining memes on the Internet, like babymugging and babysuiting.
https://instagram.com/p/3BxtYNA7nq/
4. @mommasgonecity
Jessica Shyba is the voice behind Momma's Gone City. You will likely recognize her more from one of her children and the family dog. Theo and Beau are the Internet sensation that you can't help but peek in on. Pictures of a little boy and his dog are irresistible. Shyba has recently added a new baby girl to the mix, making their daily naps even more adorable.
https://instagram.com/p/3Rik1QQS-y/
5. @prettyhandygirl
Brittany Bailey is Pretty Handy Girl. She's inspiring, motivating and creative beyond belief. She's been featured in several Better Homes and Gardens magazines and her photos show not just the work that she does – whether that be around her own home or anywhere else – but also gives you decorating ideas and the inspiration to create. Brittany truly continues to completely knock down the stereotype that women aren't handy!
6. @jenniferperillo
If you enjoy pictures of incredible meals you're going to want to see what's happening In Jennie's Kitchen. Whether you're peeking in on pizza Fridays or watching her set a table you want to sit down at, you need to see what Jennifer Perillo is cooking. Her food looks amazing and seems so possible – she makes me want to cook incredible meals from scratch – and because of her I actually have! She's got a cookbook and a website that share several of her incredible creations. I love taking a virtual seat at her table here.
7. @allisonzapata
Allison's pictures of nature are some of the most beautiful shots you'll find on the Internet. I'm not sure if Instagram has featured her yet, but they really should. From birds to squirrels, with the occasional selfie tossed in so you don't forget what she looks like, Allison's account is one worth following so you can enjoy a touch of the outdoors in your everyday feed.
8. @thisismybrave
Jennifer Marshall, creator of This Is My Brave, offers regular reminders of the importance of speaking out about mental health and advocating for mental illness awareness. Her empowering images show us a little bit of her advocacy work, a little bit of her own life, and a lot of inspirational reminders.
9. @heychookooloonks
A beautiful photographer, Karen of heychookooloonks captures your eye with every shot. Whether it's a scenic photograph, a selfie with friends, or a cup of coffee – the details of each image are almost soothing. I am surely not doing them justice – but hopefully you'll get what I'm saying when you head on over to check her out.
10. @sitsgirls
If you're not already following SITS on Instagram you need to start now. Not only do we give you a heads up to what's on the site, but we'll also entertain you. We'll make you laugh. We'll inspire you. And we'll remind you we're in this social media thing together. So come on by. We're waiting for you!
And lastly, because I've been encouraged to do so, I give you a bonus account to follow – mine!
11. @goodgirlgonered
While I'm currently set to private because I was getting bombarded with spam followers and I couldn't take it one.more.minute, Instagram is truly one of my favorite places to connect and make new friends. So if you don't mind loads of love-yourself-selfies, snuggly shots of my cats and dogs, a never-ending pile of books, and my increasingly growing make-up and necklace (and maybe bracelet – see below!) collections, please do come by and say hey. I'd love to see you.
Leave the link to your Instagram account in the comments so we can see your beautiful pictures! 
If you're looking for information on how to best utilize Instagram for you and your blog, check out our Instagram archives for some great tips!