This post may contain affiliate links which may give us a commission at no additional cost to you. As an Amazon Associate we earn from qualifying purchases.
I'm sure you've heard advice to break up big blocks of text on your website to make it easier to read. We've all seen how adding headlines, bullet points and short paragraphs can make a long blog article easy to skim.
Here's the thing. This same technique applies to almost all text read online – whether on a computer screen or mobile device.
Unfortunately, formatting on Instagram isn't as easy as you might think.
No fear; I'm going to share with you some Instagram caption formatting tips and tricks to make the text within your Instagram captions look amazing.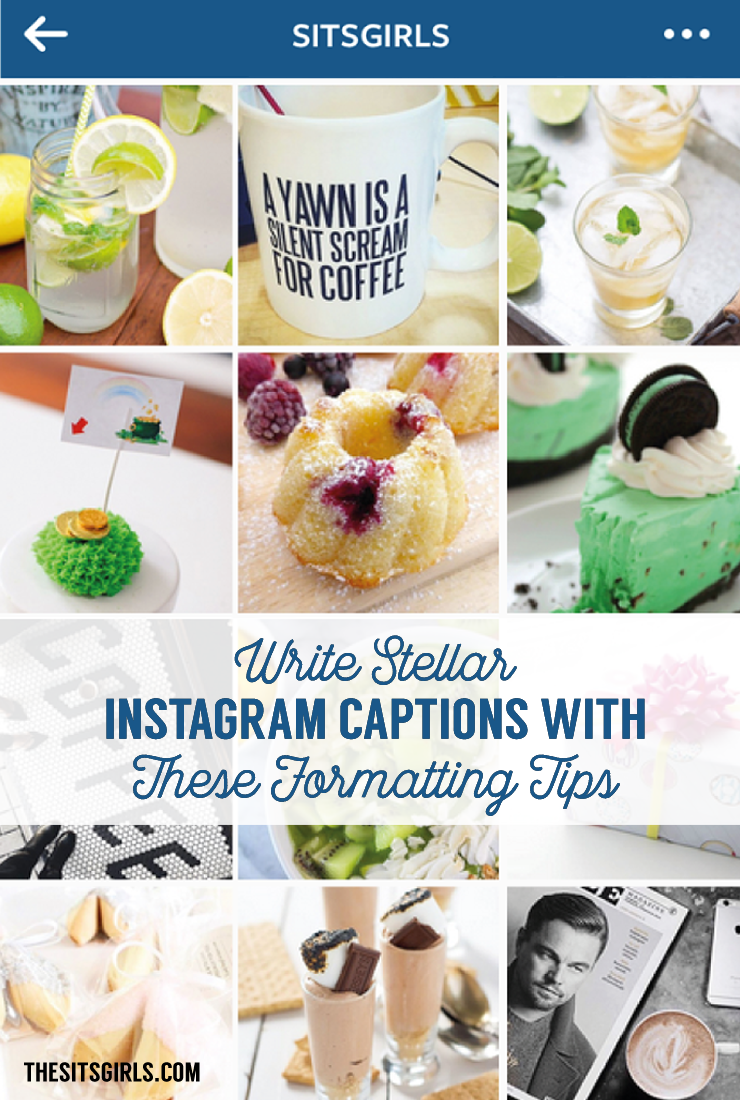 Instagram Caption Formatting Tips and Tricks
Add New Lines/Breaks
Many Instagram experts recommend writing your caption in a note on your phone and then copy/pasting it into Instagram. This is a great option for adding line breaks. In a notes document, you can easily add returns to start a new line. Easy peasy.
Mostly out of laziness, I prefer to just type the caption in Instagram.
How to create line breaks on Instagram with your phone:
Start typing your caption. When you are ready to start a new line. Hit the Return key immediately. On an iPhone and can't find the Return key? Click on the 123 in the bottom left of the alphabetic keyboard to bring it up.
It is very important to press the return key immediately after the end of your text. If there are ANY spaces, it will mess it up! This is a common mistake when you are trying to create a new paragraph, It's so ingrained in our typing habits to put a space after a period, you may not even be aware you added it.
If your spacing look wonky check for extra spaces; it's most likely the culprit.
Create Bullets
Bullet points can really help when you are writing out a list. Of course, you could go with a numbered list as on option.
But bullets can be effective, too.
One way to add pseudo-bullets is to use characters on the keyboard, such as an asterisk or dash. Place one before the first item on your list, write out your list item, hit return, and then start over.
Emojis can be a fun visual way to take the bullet idea further. You can use stars, check marks, arrows, a pointing hand…..just about any emoji that goes with your theme.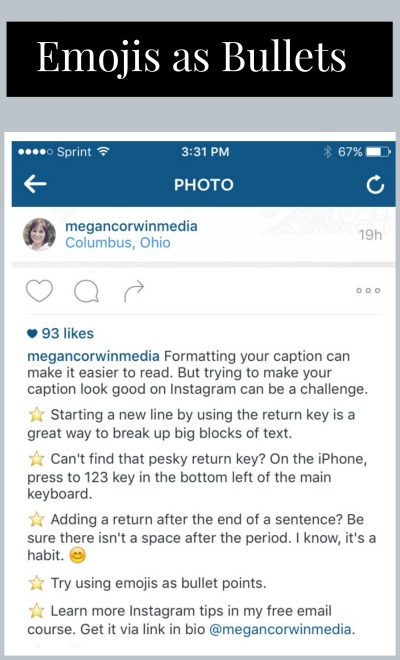 That Big Thick Line
Truth be told, I'm not a big fan of that thick black line. I find it to be too distracting.
But, lots of people use it, and if you want to incorporate it into your captions, here's how.
Find an Instagram post containing the big black line.
Click the three dots under their post. Copy the post URL and post it into your phone's internet browser. Then copy and paste the big black line into your Instagram caption or into a note to save for later.
Hiding Your Hashtags
What you DON'T put in your caption is almost as important as what you DO. You want your caption to be easy to read. Adding a long list of hashtags will make your caption look junky, so take those out!
Hashtags are best housed in the first comment of your post.
Want to know how to hide your hashtags?
Start that first comment with 6 rows, each starting with an asterisk or period. Then add your hashtags.
Once that comment is saved, it will collapse as (…).
So there you have it. The tips and tricks you need to make your Instagram captions interesting and easy to read.
Author Bio: Megan
Megan wants to live in a world where rainy days are for naps, wheat beer is not just for summer, and her dog always wants to snuggle. When she's not snapping iphone photos, you can find her either on Instagram or learning about Instagram marketing. For more information about how to grow your Instagram business account, check out megancorwinmedia.com.
Keep Reading
Want more Instagram tips? Check out these posts!