This post may contain affiliate links which may give us a commission at no additional cost to you. As an Amazon Associate we earn from qualifying purchases.
Instagram has released a new type of account in addition to their personal and business accounts – the Instagram Creator Account. Like most new Instagram features, the option to switch to the Instagram Creator profile is being rolled out, so it's not available for everyone yet. It does appear that an Instagram Creator Account is available to most users who have 10,000 or more followers and have their Instagram account linked to a Facebook page that is set up as a business page.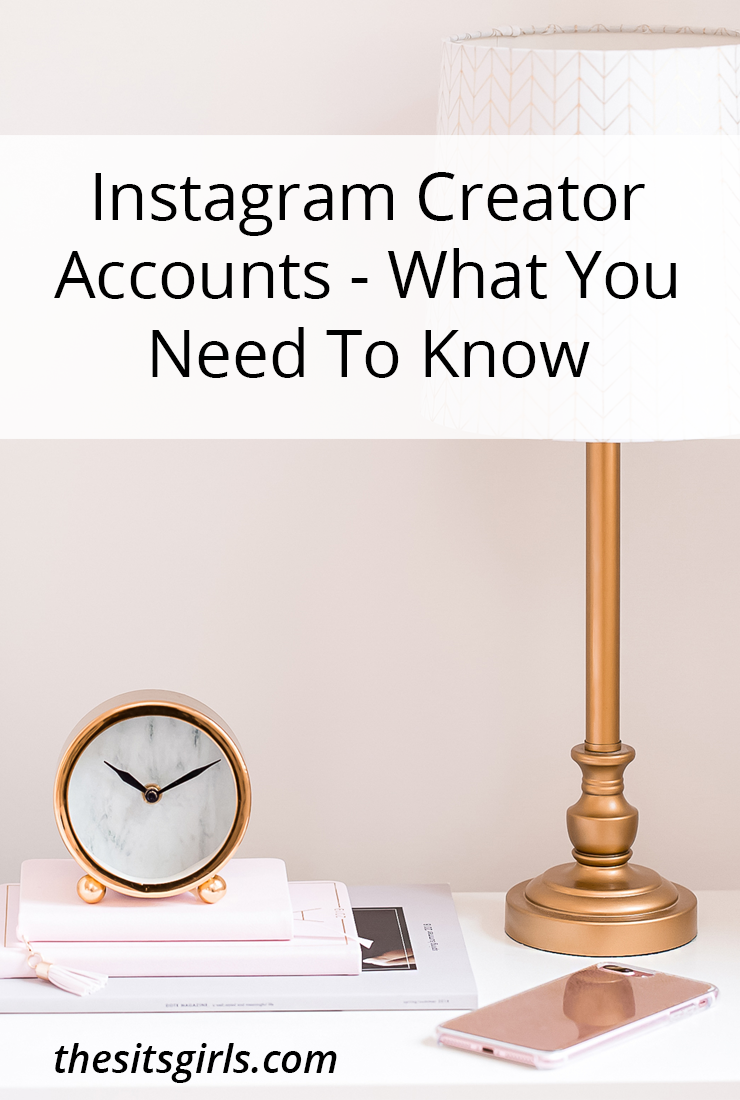 Instagram Creator Account – What You Need To Know
According to Instagram, the Creator Account includes "features that make it easier to control your online presence, understand your growth, and manage your messages." Instagram Creator profiles are similar to Instagram Business Accounts, but they have a custom inbox, expanded growth insights, and slightly different contact information and new category labels that can be toggled on or off. The Instagram Creator Account is designed specifically for influencers, with a focus on helping influencers track follower growth and engagement over time.
This isn't the only big change Facebook and Instagram have recently unveiled. They have also begun rolling out Creator Studio for both Facebook and Instagram – this is related to the changes they are making with Instagram Business and Creator Accounts. Creator Studio is also rolling out slowly. If you don't see it as an option right now, you should keep checking, because we think this is a new feature that is here to stay.
Today we are going to walk through the pros and cons of making the switch over to an Instagram Creator Account, what you can do with Creator Studio (and why we think it's an important step towards some of Facebook's larger goals), as well as our big prediction for Creator Accounts that will make them an important part of influencer marketing strategies in the future.
How To Get An Instagram Creator Account
It's easy to switch your account over to an Instagram Creator Account if it's available to you.
Go to your Instagram profile and tap on the three-line button in the top-right corner. Then tap the Settings gear icon at the bottom of the screen.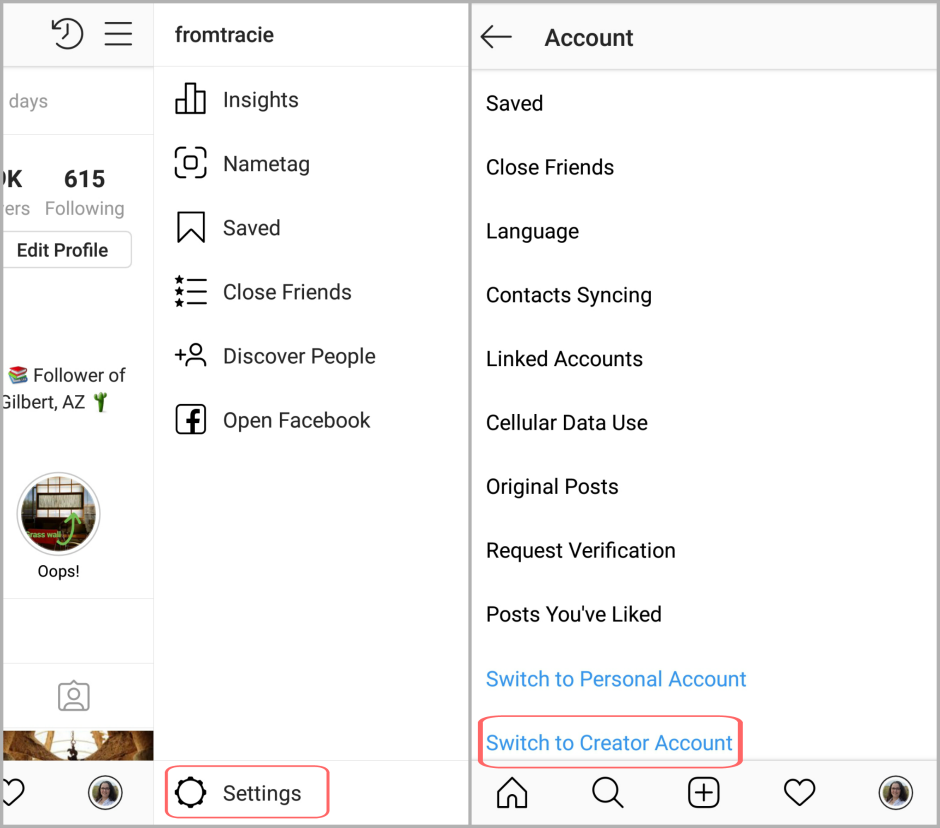 From the Settings menu, select the Account option and then tap on the Switch to Creator Account option.
Note: If you have over 10,000 followers and don't see the option to switch to an Instagram Creator Account, check to make sure your profile is connected to a Facebook page that is set up as a business page. This is a requirement for a Creator Account.
You now have an Instagram Creator Account!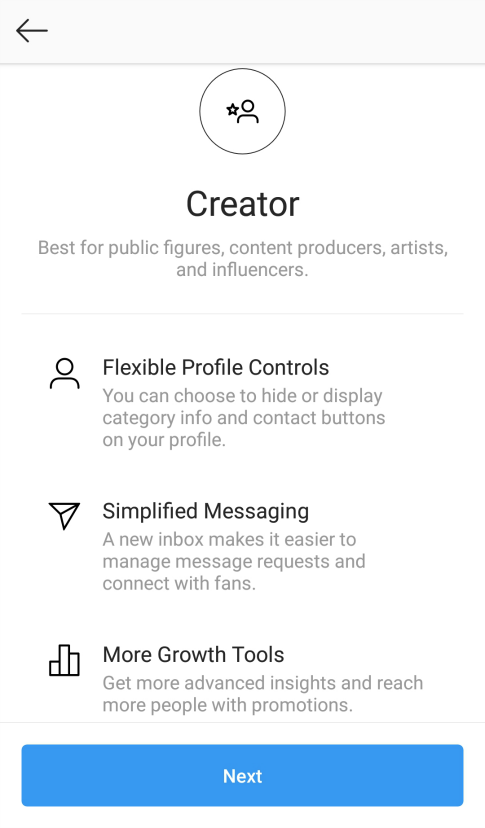 The setup process will then take you through a couple of options screens. This is when you will select a category that best matches who you are as an influencer and where you will turn your contact options on or off.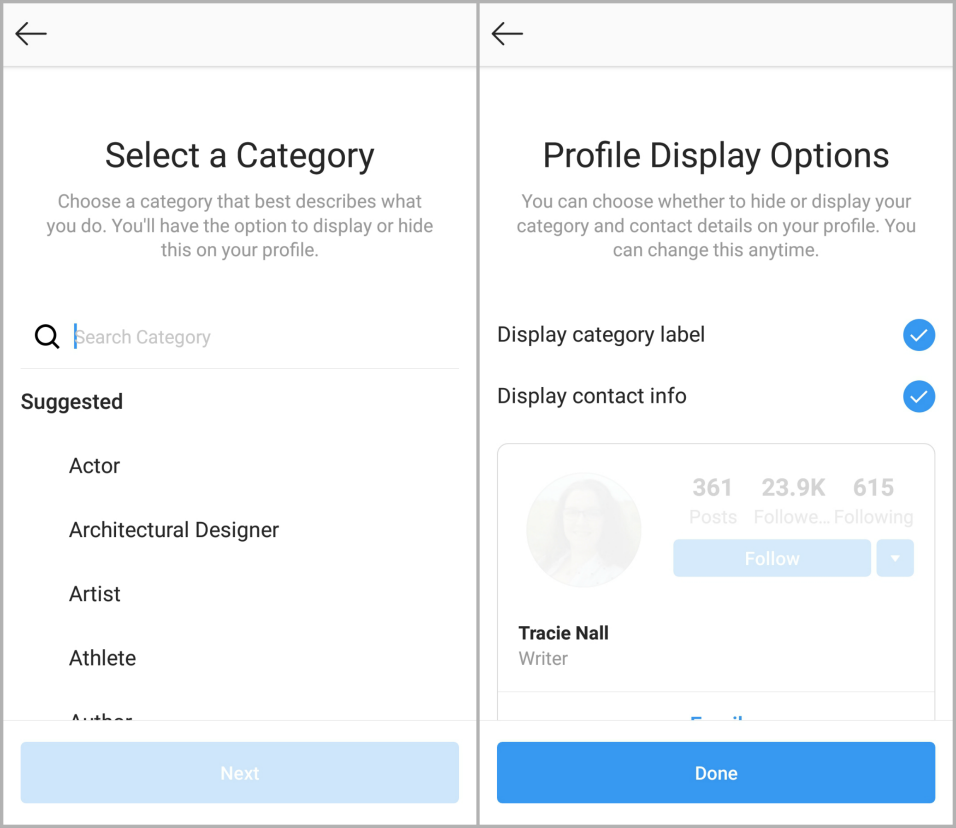 That's all you need to do! You'll start seeing new insights and direct message features on your account immediately.
Instagram Creator Accounts Offer New Insights And Analytics
Until now, only Instagram Business profiles have offered insights on your posts or audience. Currently, with a Business Account, you can see follower growth from week to week, but you couldn't dive into those audience metrics any deeper. There are some third party data tools that influencers have used to get metrics about growth and loss of followers.
With a Creator Account, you are able to access all of the insights available to a Business account as well as see daily follower growth and loss stats.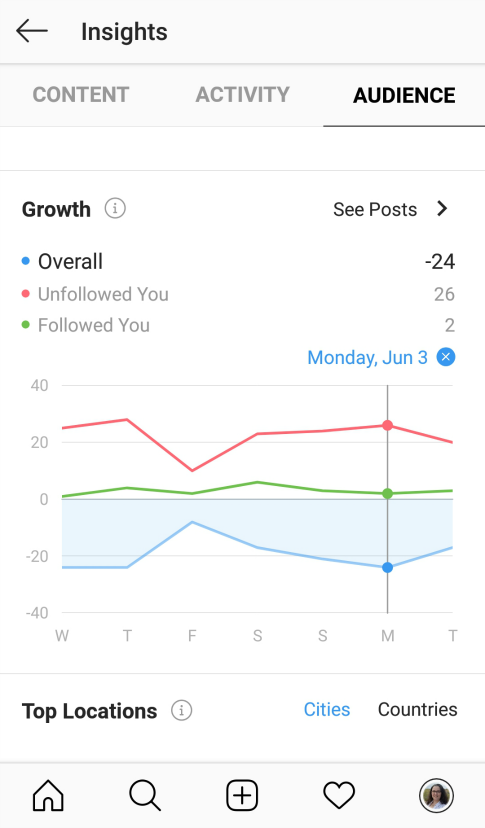 This new growth graph can give you more insight into your changing audience. By selecting a day on the Growth graph and then tapping "See Posts" above the graph, you will see all of the stories and feed posts you shared on that day. You can then determine if there was a post that led to lower engagement, or both lower engagement and loss of followers.
Over time, it will be possible to find trends in this information that can give you a better understanding of how your content is performing. If, for instance, you see a follower increase every time you are using a specific hashtag, you will be able to incorporate it into your strategy more frequently. If you notice that multiple people stop following every time you post a picture of salad, you might try chocolate ice cream next time to see if your audience has a sweet tooth.
Desktop Analytics For Instagram Business and Creator Accounts
In addition to the new analytics available for your profile in the app, you can now access your Instagram analytics on your computer using Creator Studio. As we noted above, Creator Studio is actually available for both Business and Creator Accounts, so this isn't within itself a reason to switch over to a Creator Account if you don't want to switch. The only difference you will see in Instagram Creator Studio insights between a Business and Creator Account is the existence of the new Growth Graph for Creator Accounts.
Instagram Creator Studio – What You Need To Know
Instagram Creator Studio is essentially a desktop dashboard management tool that allows you to view your Instagram content and insights.
You can open Creator Studio directly on desktop, but if it's been rolled out to your Facebook page, you will probably find your invitation on your Publishing Tools screen.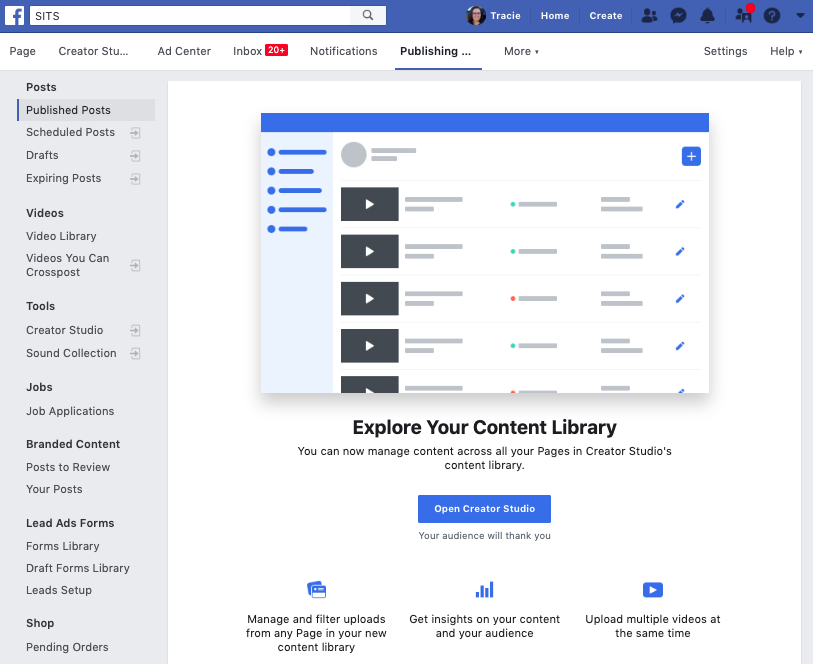 In Facebook Creator Studio, you can connect your Facebook profile and Facebook pages. You can also toggle to the Instagram section on the top of the page and add your Instagram account(s).
Within the Instagram Creator Studio content library, you can see everything you have published on Instagram. You are able to filter by date or type of post (video, photo, carousel, stories). The search function allows you to look for a post by keyword.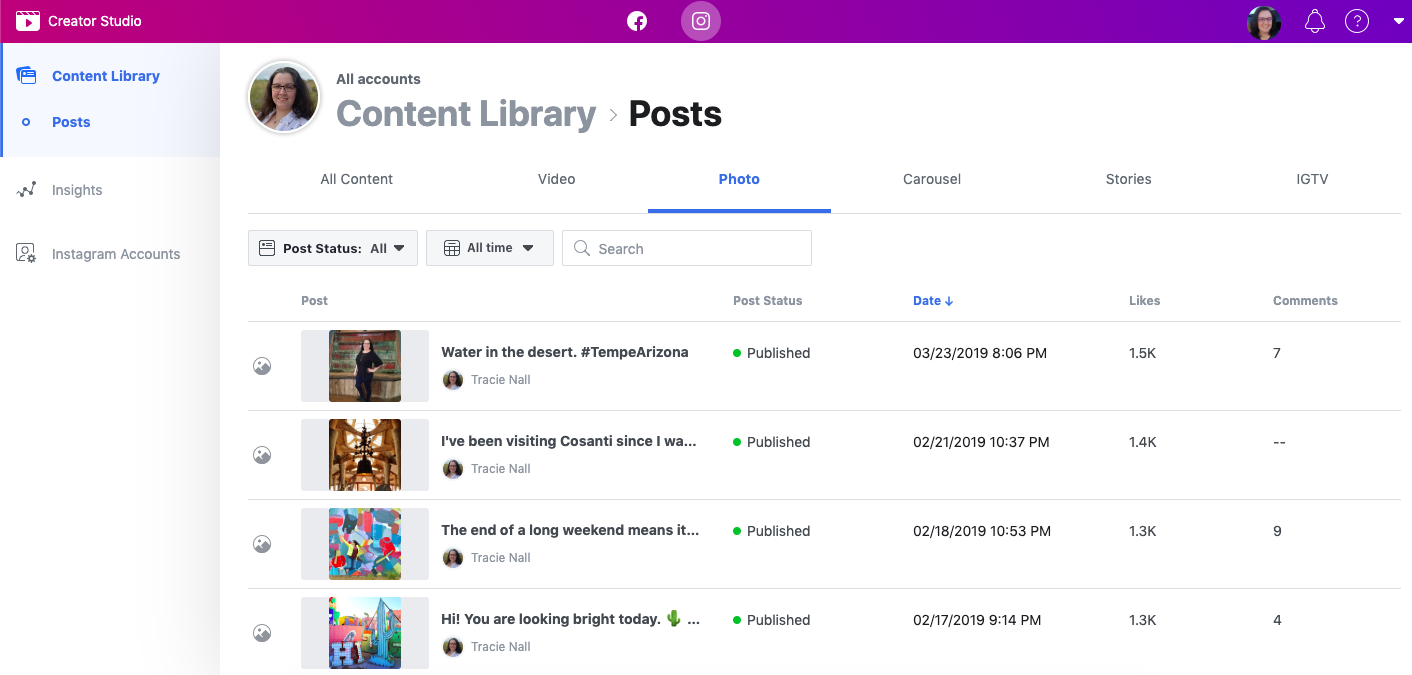 You can also access your Instagram insights in Creator Studio. Like we said above, the information isn't really different from what you see in the Instagram app insights, but it does allow you to access everything on the desktop without having to use a third-party tool.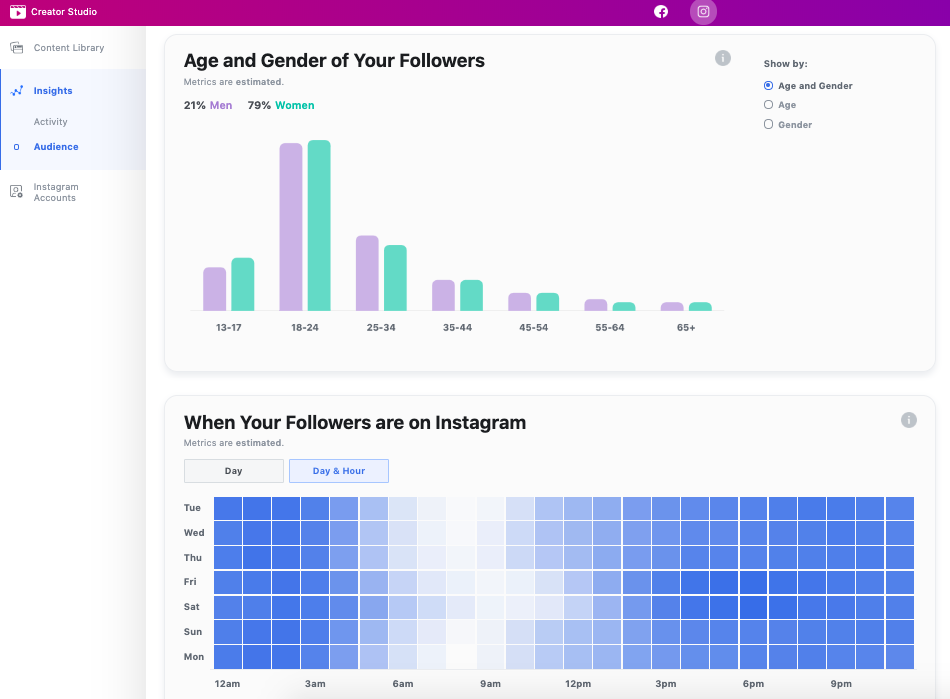 The Facebook side of Creator Studio allows you to actually manage your pages – you can schedule posts, manage videos and crossposting, access your inbox, manage monetization, and access rights manager and sound collection, as well as view insights. At this time, you can not post on Instagram or manage Instagram messages from the Creator Studio the way you can with your Facebook pages, but that may change in the future. In fact, we think the move towards Creator Studio is part of Mark Zuckerberg's larger plan to integrate the social network's messaging services (WhatsApp, Instagram and Facebook Messenger) so that people can communicate across platforms within multiple apps owned by Facebook.
Instagram Creator Profiles Have Filtered Inbox For Direct Messages
In Instagram's mind, a personal account is only receiving personal messages, and a business account is only receiving business messages. But an influencer would receive both types of messages, as well as a potentially higher volume of messages from followers who aren't personal friends, and their direct message inbox can get disorganized when all of those different kinds of messages are landing in the same place.
With an Instagram Creator account, your inbox is broken up into three sections – instead of the usual two – primary, general, and requests. This will allow you to organize your business and personal conversations. When you first switch your account over to a Creator Account, all of your existing messages will be placed in the primary inbox, but they can be moved.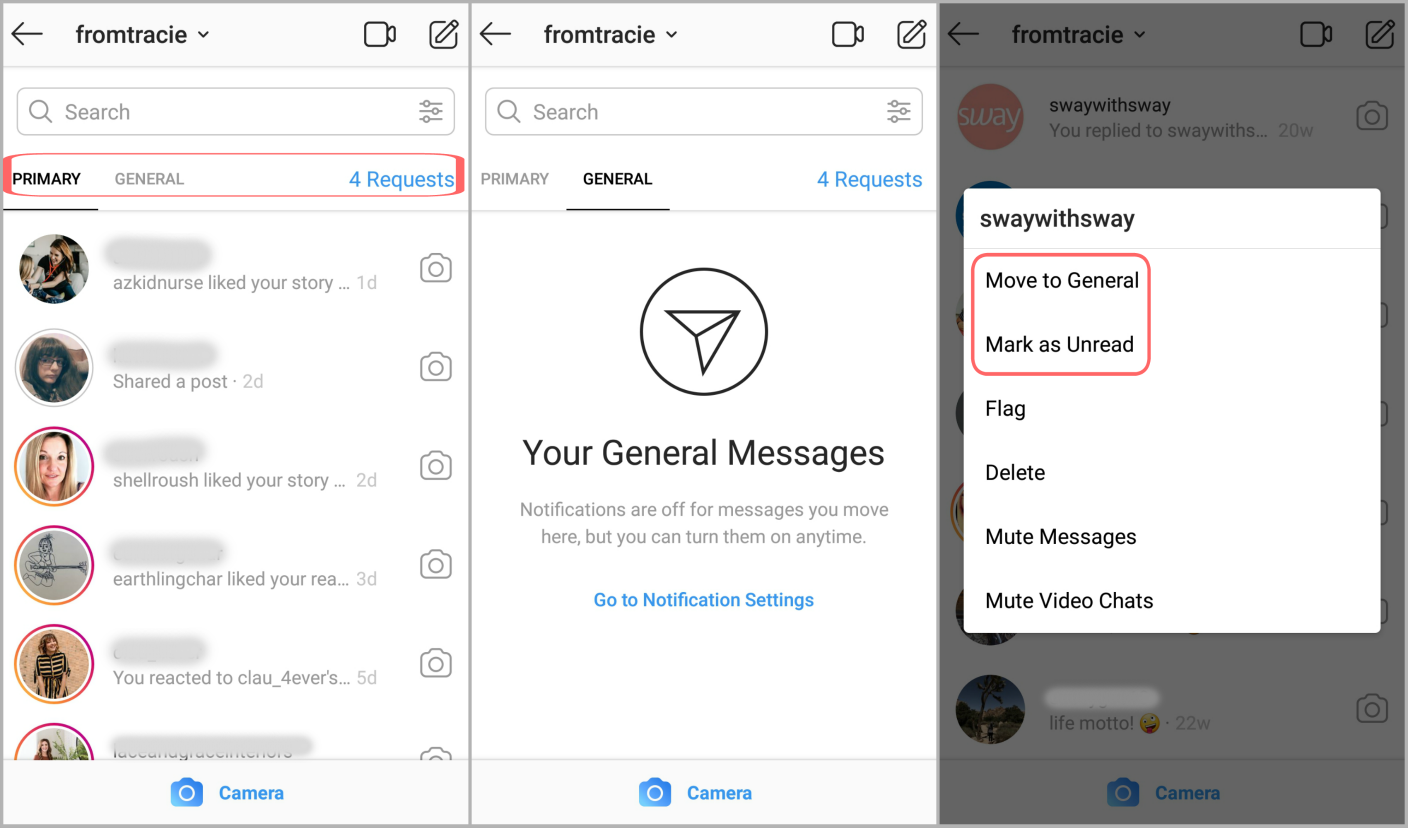 It's up to you which messages you want to live in general and which ones are primary, and messages can be moved back and forth as needed. You can also set your notifications for each inbox separately, so you can decide if you want to get a push notification for every message, or only the messages in a specific inbox.
Shoppable Posts – Coming Soon For All Creator Accounts?
This is the Creator Account feature we are the most excited about, because it is something influencers and brands have been wanting for a long time. With Shopability, Influencers will be able to tag products in their posts to make it easy for their followers to buy products within the app.
There is a catch to this feature, though. It isn't available to all Creator Accounts at this time. Instagram is currently testing it with a small, select group before they roll it out to more accounts. There is also a catch on the brand side; businesses must be part of the checkout feature which is currently in a closed beta test in order for influencers to tag their products.
As the program expands, we expect more influencers to receive access to the shopability feature and more brands to be given access to checkout. This will be a huge advantage to influencers who are doing sponsored posts on Instagram.
The Cons of Switching to an Instagram Creator Account
So far, we've talked a lot about the pros to switching over to an Instagram Creator Account. While these new features sound great, we do have a couple of cons for you to think about so you can be sure you're ready to make the switch.
Early adopters know there's always the chance of running into a bug or feature that's no longer supported. In the case of Creator Accounts, there are two known points that we're currently aware of:
For now, Creator Accounts — unlike Business Accounts — have no API connection for third-party tools. This means you won't be able to use scheduling tools, analytics tools, or any apps that require a business profile to tap into the API.
The action buttons (Start Order, Book, and Reserve) are only available to business profiles. Influencers who make use of these buttons should hold off on switching because Creator Accounts don't support this feature.
For most of you, those two cons might not have any impact on how you are using Instagram. If that's the case, go ahead and make the switch! If you find that a tool you use regularly isn't supported, or you are missing out on sales because you no longer have the full range of action buttons, you can easily switch back to a Business Account by going to your account settings.
For more Instagram Tips, check out these posts: