This post may contain affiliate links which may give us a commission at no additional cost to you. As an Amazon Associate we earn from qualifying purchases.
Several years ago I was chatting via e-mail with friend. She was sharing with me the social media avenues she was using to reach out to readers. Instagram was her favorite! She loved that she could share the before and after pictures from blog posts. It was a great way to give her followers a peek into her everyday life. She could also share pictures that related to her niche. "You have to start using it!" she said. She was right. I have loved posting pictures on Instagram! It is such fun to see what my friends, my fellow bloggers, and my readers are sharing, too.
While Instagram is a super fun place to share photos, it is important to think about what you are going to post – you know, the do's and don'ts of Instagram.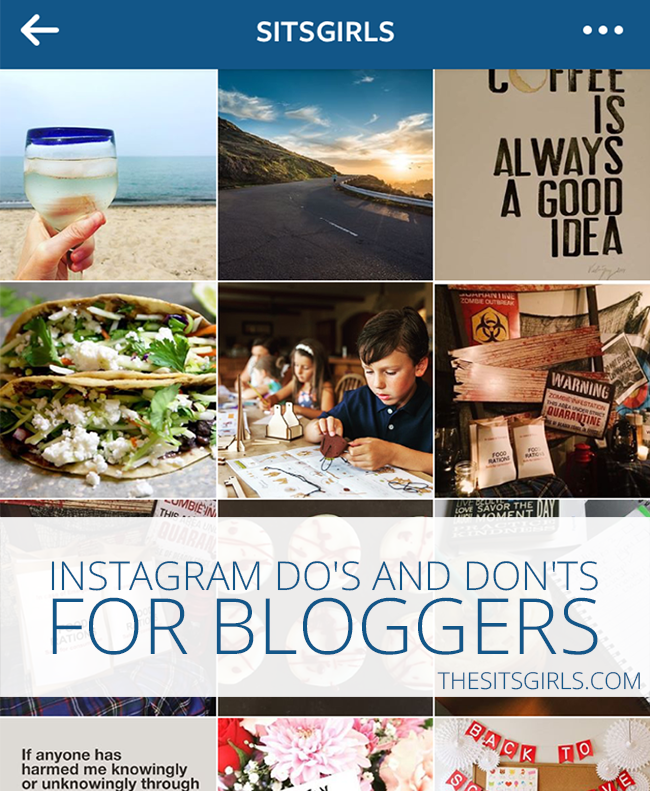 Instagram Do's and Don'ts
Disclaimer: Some of these are my thoughts and others come from research. I've listed blog posts at the end of this post for further reading about Instagram best practices.
Do Remember One Great Picture Gets Noticed — Quality Trumps Quantity
It is super easy to take a bunch of pictures and post them. A stream of random fuzzy or so-so pictures tends to be glossed over. One single picture that looks great and shares your brand will catch my attention.
Do Take the Time to Edit Your Pictures
Sometimes pictures can be posted as is. Sometimes you will need to use the editing tools to make them even better than they were when you took them.  Here are some photo editing apps recommended by the SITS Girls.
Do Choose a Filter or Photo Layout That Represents You
I try to use the same filter on all of my pictures. Despite sharing a variety of pictures, I want them to all look similar. When my picture goes up on the Instagram stream, I want people to know it is from me. Some people place a specific shaped frame on their pictures to help their followers focus in on their pictures. Experiment with editing tools and develop your signature look.
Do Post Pictures That Make People Think or Question
I recently post a fun way to practice spelling words that my son was doing with shaving cream. Not only did I get a number of likes, I got fun comments too! People shared what they thought about hands on learning.
Do Be Consistent
Try to post every day or maybe every other day. (I confess I have had several days in a row that I don't have pictures to share.) Sometimes I share pictures from blog posts or pictures from the past that I haven't posted (#latergram) if I don't have new picture to post. Sometimes just responding to comments and visiting others might draw them to your posts.
Do Post Pictures that Fit Your Brand or Blog Focus
Not every picture has to be on brand. I have found that it does help to stay in the realm of  what  I blog about, though. My blog focuses on growing and learning with my son. I try to post pictures that share those things.
Do Use Specific and Relevant Hash Tags 
Take the time to note the hash tags other people in your niche are using. Click on those hash tags to see how many pictures are being posted using it. Make sure that the majority of pictures using that hash tag fit the type of photos you will be sharing.
Don't forget to follow SITS on Instagram and use our #SITSBlogging hashtag! We love to feature posts on the SITS Instagram feed that are shared with us that way. 
I created a printable chart of hash tags for mom and kid bloggers. It took a little time one afternoon to come up with the hash tags I want to explore and use.  It was totally worth it. I have had fun breaking away from the hash tags I use all the time and finding new people to share pictures with.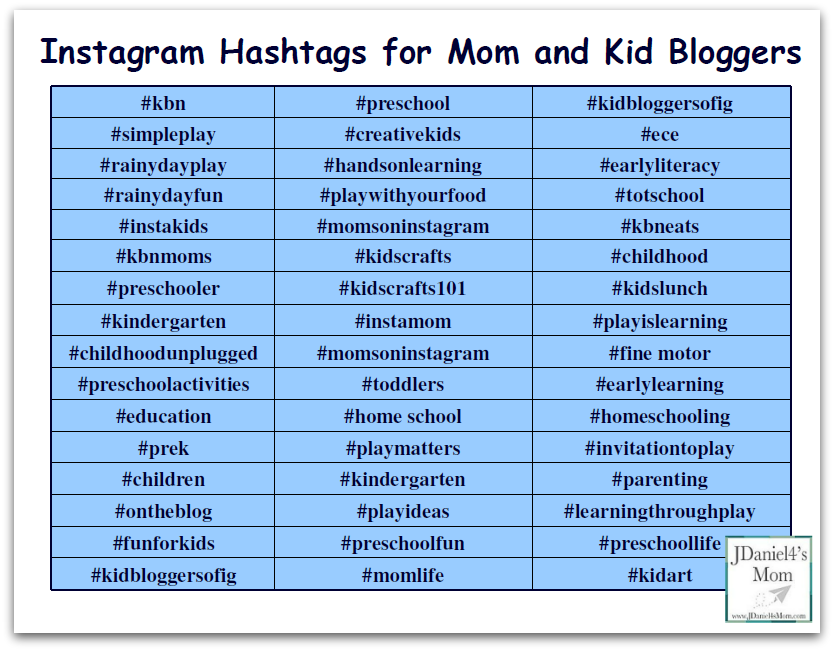 Do Visit Others That Use the Same Hash Tags Often
If your niche has a set of hash tags, take the time to like or comment photos that use them. You can find new people to follow and like that way. It is a great way to connect with people who are sharing things in your niche.
Don't Use Tons of Hash Tags At Once
Try a few at a time and see which ones seem to bring you the most interaction. When using a huge number of hashtags all at once it can be hard track how each of them is working for you.
Don't Post When You Know Your Followers Aren't On Instagram
My followers seem to be on Instagram before dinner East Coast Time and after they put their kids to bed. If I post a picture at 3 in the afternoon, they are busy helping with homework or supervising outdoor play. They won't see the new picture I have posted.
Look at the successful Instagramers you are following. When do they post? Try posting at the times they do! See what times seem to get you the most views.
Don't Forget That People Will See Your Profile Collage
When followers click on your Instagram name, they will be brought to a collage of your pictures. Think about how you come across in that collage!
Don't Forget to Respond to Comments and Likes
I try to respond to all comments. I totally want the people that leave comments to know I have seen them and value their thoughts. Make sure you mention them in your response so they will see you have commented back.
I try to visit all the people that like a picture and like one of their pictures, too. I don't always follow them back though. Why? If they have a secure profile, I can't see what kind of pictures they share. I really like to know a little bit more about someone than what is in their profile before I follow them back. If they are sharing photos I can't relate too, I don't always like one of their pictures. But I try to make a connection with everyone who finds me.
What are your biggest do's and don'ts on Instagram? Share your tips in the comments!
Great posts that share Instagram insights: