This post may contain affiliate links which may give us a commission at no additional cost to you. As an Amazon Associate we earn from qualifying purchases.
StumbleUpon can be a great way to give a boost to your pageviews and help you to better understand how to get visitors to your blog. But it can also be a bit intimidating to get started if you're not terribly familiar with how StumbleUpon works. Today, Annie from Mama Dweeb kicks off Part 1 of a 2-part series on StumbleUpon by answering your burning StumbleUpon questions!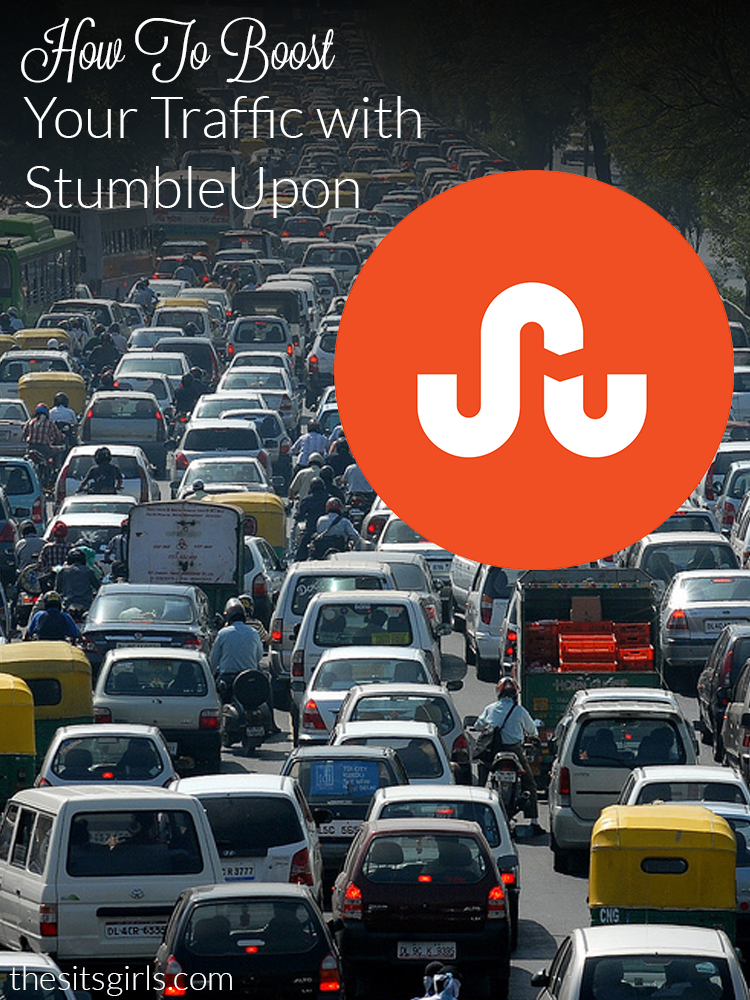 How to Get Visitors Using StumbleUpon
Can I Stumble My Own Content?
Yes you can! But be careful that you are not discovering only your own content. Discovering describes when you are the first person to "thumbs up" a post. So go through the web, find wonderful posts on other sites and discover them too. Ask your friends to discover your posts. As long as your discoveries list shows your own posts in no more than 1/10 discoveries, you are good.
The danger in discovering only your own posts is that StumbleUpon does not like spammers. You will be in danger of losing your profile or will just suffer from low traffic numbers if you do this.
Why Does My Post have 4 Reviews and Only 1 View?
The view number next to your post title on StumbleUpon refers to the amount of times your post has shown up organically in someone's Stumble-stream. For example, as you click the "Stumble" button and a new site pops up, that site's Stumble number just increased by 1 view.  You might have 4 reviews because you asked four of your friends to Stumble your posts and they did not get to your blog via the organic Stumble button.
Do I Need the Stumbleupon Toolbar?
Yes! In order to get the most out of StumbleUpon, you need to "go Stumbling" by clicking the Stumble button and browsing sites that it gives you. This is such a fun way to relax or waste a few minutes. They also have apps for smartphones and tables you can Stumble with too.
The toolbar has so many helpful shortcuts, so you really benefit from installing it. You can read more info about a post via the "info" button, share posts with other stumblers or via Facebook or Twitter, and you can go straight to your profile too.
How Do I Get People to Stumble My Posts?
The easiest way is to ask. Send out tweets, email your friends, ask in your Facebook groups.  Also, make sure you have Stumble buttons on your posts.  This helps friends that can't access the StumbleUpon toolbar to still be able to Stumble your post.
If you have any more questions, feel free to ask me! I also wrote a StumbleUpon eBook that fully explains Stumbling with screenshots, tips, and easy to follow tutorials. I'm always available via Twitter and Facebook and love to chat about StumbleUpon.  Have you started to use it? Don't let it overwhelm you!  It is just a fun way to give and take the best of the web.
More Posts About Social Sharing:
Check these additional posts out that talk about sharing your content on the social web.
About the Author:
Annie Shultz blogs in Kansas at MamaDweeb.com.  She has 3 kids under the age of 4 and thrives on coffee and chocolate.  An extrovert and a writer, she found pure bliss in the social media-infused world of blogging. She will be speaking at Bloggy Boot Camp St. Louis in April 2012 and can't wait to chat about ways to improve blogging.