This post may contain affiliate links which may give us a commission at no additional cost to you. As an Amazon Associate we earn from qualifying purchases.
There are so many social media networks out there, adding even one more to your daily routine can feel overwhelming. But each social media network brings different strengths. LinkedIn isn't just for an online resume for job searching. If used correctly, it can be a great networking tool, and drive traffic to your blog. It can also help you to build your brand, and set you apart as an authority on writing and social media management. One more nice thing is that LinkedIn does not take nearly as much time as Facebook and Twitter to manage.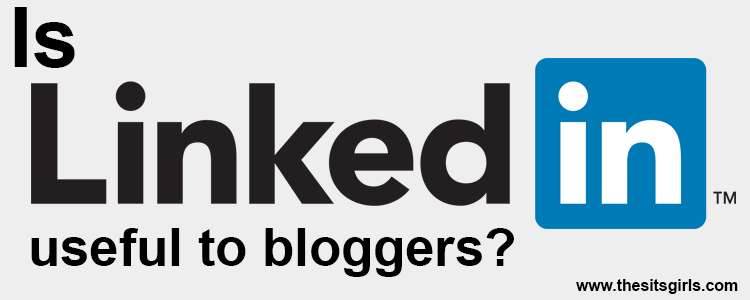 How Bloggers Can Use LinkedIn
LinkedIn is a great place to make connections.
1) Keep Your LinkedIn Profile Updated So People Can Find You
LinkedIn is a professional network, and information you share on your profile should reflect that. Make your profile stand out by adding all relevant information, and using good key words.
Use a nice headshot for your profile picture. Don't use your blog logo, or a picture that has other people in the shot with you.
Be thoughtful when choosing a professional heading. The name of your blog or employer will appear in your headline automatically, so use key words in your professional heading. "Writer, Editor, and Social Media Consultant" is much better than "I Write Stuff About Junk" or "Blogger at Awesome Blog."
Under Contact Info, make sure to add the link to your blog. Under website, choose "other" and type in the name of your blog along with the URL. People are more likely to click on a personalized link than on one that just says "blog."
Fill out the summary section with a short bio of you and your work. You can also include pictures and links.
Have you been published in a major publication or on a large website? Have you won any big awards? Include those in the appropriate sections.
2) Make Connections Personal
When you invite someone to connect with you on LinkedIn, make sure to use a personal invitation. Remind them where you met, so they know why they should connect with you. LinkedIn is a great opportunity to receive recommendations, so connect thoughtfully with people in your niche. Connect with other bloggers, past employers, people you hope to work with in the future and people you want to get to know. The more connections you have the better it is for your brand.
3) Research Contacts
LinkedIn is a great place to research companies you are interested in working with. Once you search for, and select, a company, you will be able to see employees and common connections. You can then reach out to the appropriate people.
4) Join Groups
Join groups that are relevant to your blog and interests, and participate in discussions. This is a great way to connect with new people and see what is being shared in your niche. Answer questions other group members ask. Remember not to engage in activity that could come across as spammy, and don't self-promote. As you interact, and show yourself to be an authority, people will seek you out. Dropping a link to your blog and running is never the way to make a good impression.
5) Give And Request Recommendations
LinkedIn has two different ways to interact with someone's profile – endorsements and recommendations.
Endorsements are quick and easy. When you look at the bottom of someone's profile, you will see a list of items under Skills and Endorsements. Clicking the + sign next to one of these things gives an endorsement.
Recommendations are more involved, and carry more weight. These are written testimonials. It is important to get recommendations. You could reach out to fellow bloggers, past employers, people with whom you have worked on a project, or clients. When asking for a recommendation, do not just use the form request from LinkedIn. Make your request personal – you are more likely to get results that way. Recommendations will appear on your profile under the appropriate job or project.
6) Use The Status Update Feature
Just like Facebook, you can share links and other information in status updates. Remember that LinkedIn is a professional network – this is not the place to talk about your kid's potty training mishaps or how your husband is driving you crazy. And it most definitely is not the place to share any workplace related woes. It is the place to share your own blog posts as well as posts and articles from others in your niche.
As with most things in life, LinkedIn is as useful as you make it. If you create an interesting and engaging profile, participate in groups thoughtfully, and use it as a professional resource, you can get a lot out of the time you spend on LinkedIn.
Keep Reading
Are you looking for more information about LinkedIn and other social media platforms? Here are a few posts you'll find helpful: