This post may contain affiliate links which may give us a commission at no additional cost to you. As an Amazon Associate we earn from qualifying purchases.
I discovered Reddit a few months ago after asking on Twitter, "What the heck is Reddit?" The thing is, Reddit is awesome. It's awesome because you get to connect with more people than you'd ever dreamed imaginable. It's awesome because it's a great place to share ideas. And, for a blogger, it's awesome because you can get a huge number of hits on  single blog post just by putting it on Reddit. That being said, Reddit is governed by a tight set of rules, and if you do not follow them, they will block you from posting for eternity. So, how do you become a  Rockin' Redditor? It's not as difficult as you might think!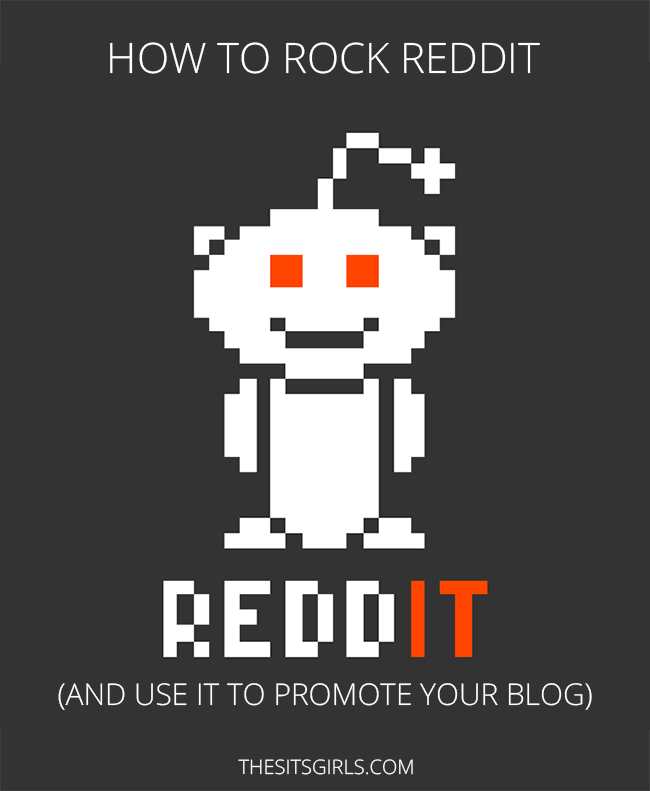 How To Becoming A Rockin' Redditor
Tip #1 – Read the Rules!
When you start, you'll want to visit the Reddiquette page first. If you fail to follow these guidelines, you will probably be banned from some subreddits. Also keep in mind that some moderators have different rules that you will need to follow. They are listed on the right sidebar of the subreddit you visit. Heed their words. Some moderators are extremely strict about guidelines, and some aren't. Don't take any chances. You'll want people to like you when you use Reddit.
Tip #2 – Find a Subreddit
What's a subreddit? Think about Reddit as a separate web browser, like Chrome. Subreddits are like bookmarks to things you really like. Personally, the autism subreddit is my favorite. They've got a great community there and I learn so much from the autistic users I meet there. They're wonderful people!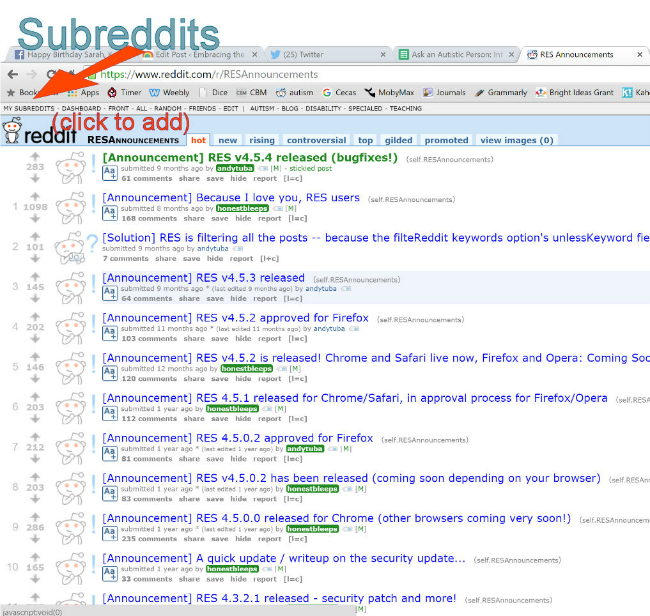 Tip #3 – Become a part of the community before self-promoting!
Trust me, you do not want to just start posting links to your blog posts without having first given everyone in a subreddit the courtesy of having read and provided useful comments to their posts. Self-promotion is a big no-no in Reddit land.
That being said, if you post your own links, it's usually okay as long as you're an active member of the community and you contribute in ways that helps others frequently. My personal rule is to respond to ta minimum of five posts first on a day when I want to post a link. I try to post daily so there's not a pattern of me coming in, commenting, adding a link, and then disappearing. Just be mindful about the process. You will reap rewards when people in a subreddit community respect you as a person.
Tip #4 – How to Submit Links/Comments
If you want to create your own link or text post on Reddit, click on either "Submit a Link" or "Submit Text" on the upper right corner of the subreddit you want to post in. Just realize that if a subreddit only allows text posts, you should not submit a link through the text. The mods do not like that sort of trickery! You can only submit a link if you're allowed to submit a link!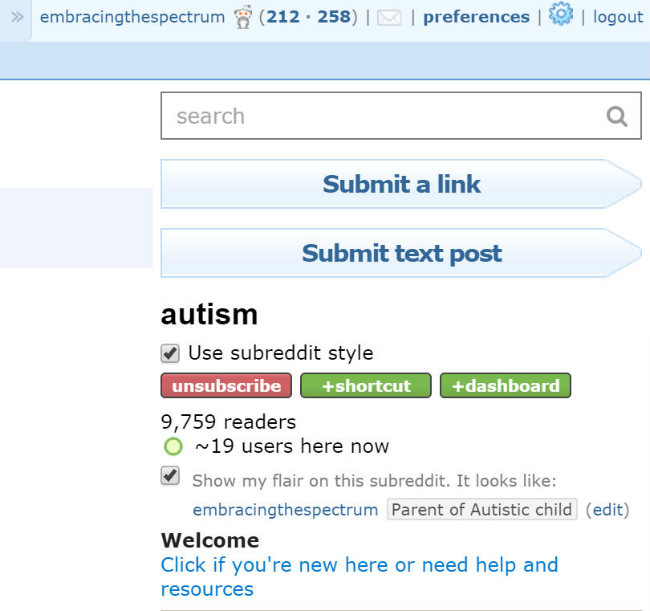 After you click on "submit a link" (I rarely submit text post), here's what you'll see: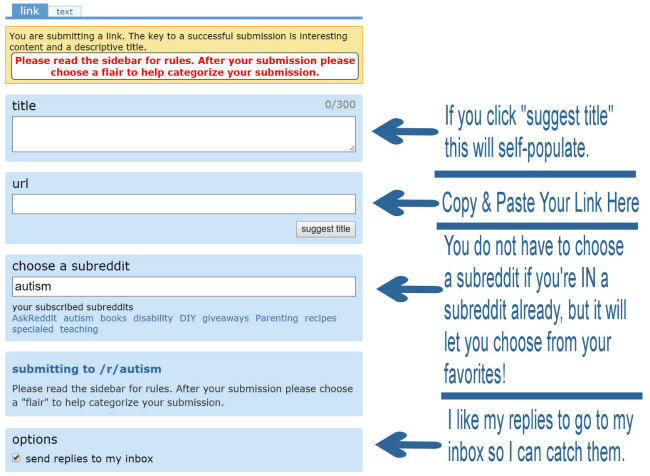 Tip #5 – Check Your Inbox
Where is the inbox? Click on the envelope icon to find it. It will appear outlined in orange or red if you have new messages. You could receive messages from moderators if they are displeased with your posting, which you should respond to tactfully and respectfully (they are the gateway to your posting).
You could receive messages from other redditors, which you definitely need to respond to if you want to create a following of people from Reddit.
Have a thick skin. Sometimes you won't like what you read. Consider your responses carefully. If you cannot respond nicely, don't respond at all. Definitely respond to people's questions, though. It's a community and communication is essential!
It's that easy!
Once you get used to the format of Reddit, you can rock that joint just as you would any online community. If you want to access it on your phone, my favorite app is Reddit is Fun. I am an Android gal, so I'm not sure which app is best on iTunes.
I have had a tremendous amount of luck with Reddit, and the bonus to using Reddit is you get to meet awesome people who like the same things you do and share your interests. You'll love it once you get used to it! I promise!
What is Your Favorite Thing About Reddit?
Tell me in the comments below!
Author Bio: Teresa
Teresa is a wife, a mother of two, an autism advocate, and a teacher. She writes about living with a child on the autism spectrum and parenting. Read more at www.embracingthespectrum.com