This post may contain affiliate links which may give us a commission at no additional cost to you. As an Amazon Associate we earn from qualifying purchases.
Instagram has always been adverse to schedulers. In the past, you were only able to post pictures on Instagram in the moment through the app. There are Instagram scheduling tools that will send you a notification that it is time to post your content, but they don't actually post for you. Not only are they not really a set it and walk away scheduling tool, people often see a decrease in reach when posting through one of the Instagram scheduling apps. We've been waiting for Instagram to allow us to schedule posts from a desktop, and that day has finally arrived!
In this post we are going to teach you how to schedule and publish posts to Instagram from your desktop without using any third-party apps.
Schedule Instagram Posts On Your Computer with Creator Studio
To start, you will log in to Facebook's Creator Studio to use the free Instagram scheduler. You'll see the accounts and pages you're connected to with your Facebook account in Creator Studio immediately. If you haven't connected your Instagram account, do so now.

You will need to have either an Instagram Creator account or an Instagram Business account to connect your Instagram profile in Creator Studio.
If you aren't sure what kind of Instagram account you want to use, you can learn more about Instagram Creator Accounts vs Business Accounts here.
If you have the option to post on Instagram with Creator Studio, you'll see a blue "Create Post" button in the top-left corner of the screen. This feature hasn't rolled out to all accounts yet, so if you don't see it, keep checking back!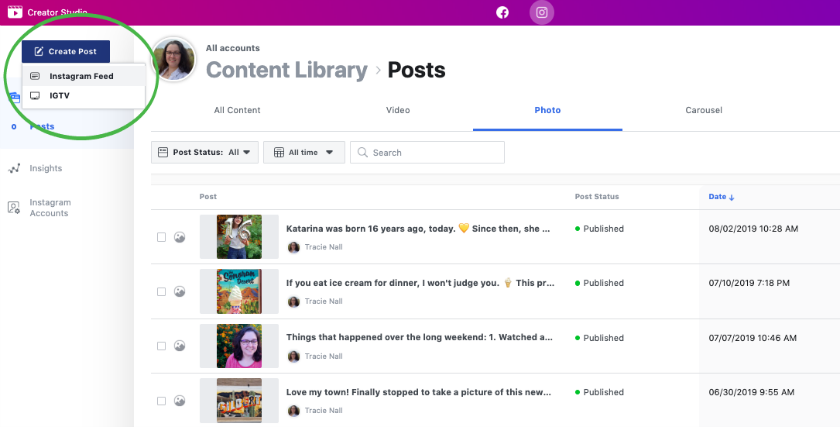 How to schedule Instagram posts with Facebook Creator Studio
Click on the Instagram icon at the top of the page in Creator Studio.
Click on the blue "Create Post" button in the top left of your screen.
Select the "Instagram Feed" option.
Select the Instagram account you want to post to.
Upload your photos and/or videos, write your caption, and add a location.
Click "Publish" to post immediately or "Schedule" to choose the date and time you want your post to go live.
It really is that easy, but we have some step-by-step photos for you so you can see the process! Let's dig in deeper.
Scheduling Instagram on Desktop: Step-by-Step Screenshots

Once you select the Instagram account you want to use for scheduling, this is the screen you will see to create your post: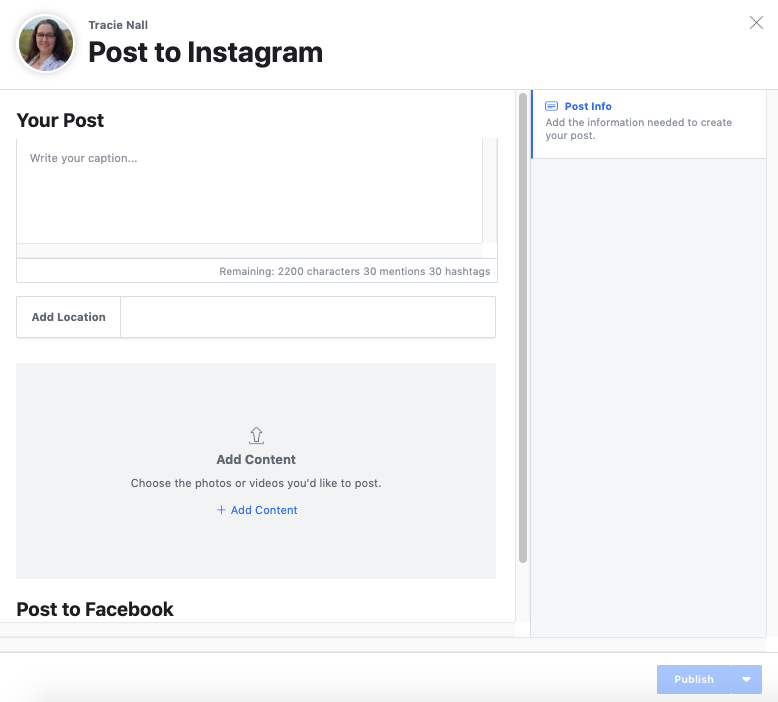 Upload your photo or video in the "Add Content" section. You will be able to make simple crops to photos after you upload.
You can upload up to 10 photos and videos into one slideshow post, but you need to select all of the photos at the same time – it will only allow you to do one file upload per post. Once your upload is complete, the progress bar in the bottom left corner will turn green and say "100%."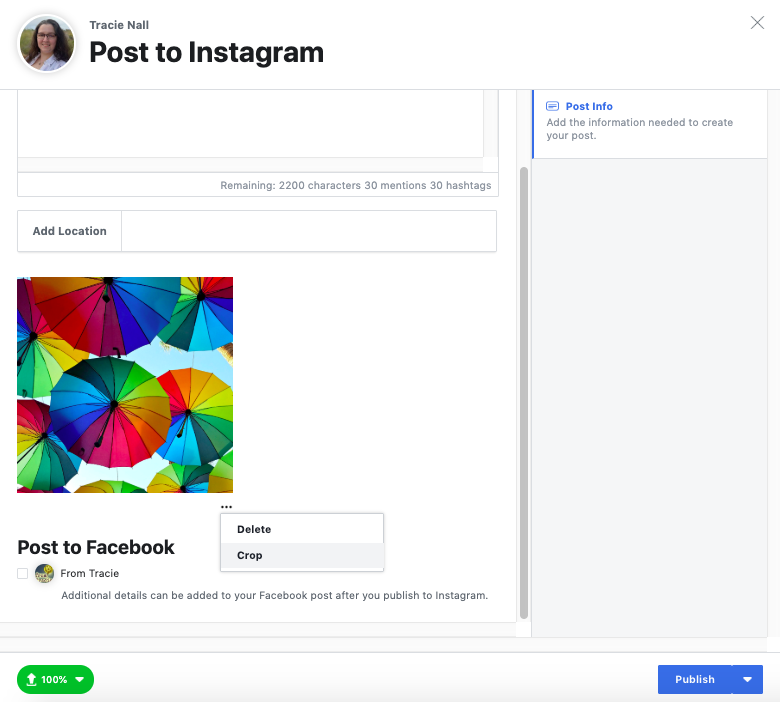 If your picture wasn't already cropped square, you might need to adjust after uploading. There are three dots under the bottom right corner of your photo that will give you the option to delete or crop the image you uploaded.
There are no editing options for videos, so make sure your video files are between 3 seconds and 60 seconds long and in either 4:5 or 16:9 formats.
Click on "Crop" under your photo, and you will see these options: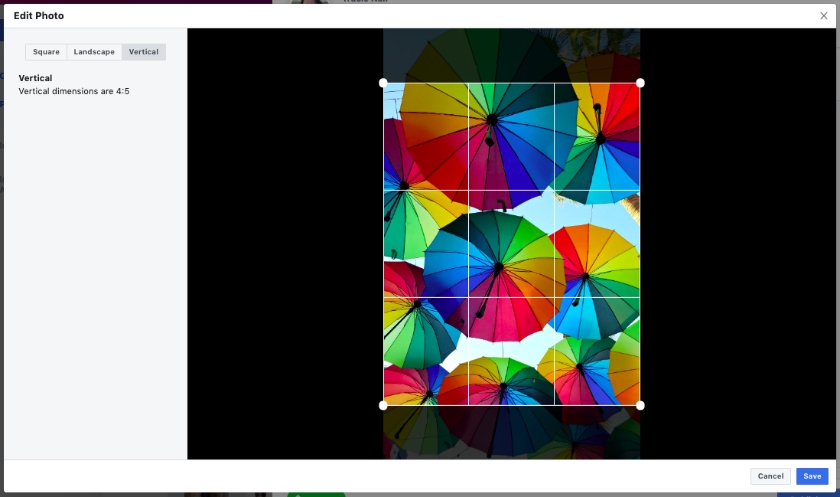 You can choose between square, landscape, and vertical on the left. You can also drag the image or resize it within the grid.
Now it's time to write your caption and add a location tag.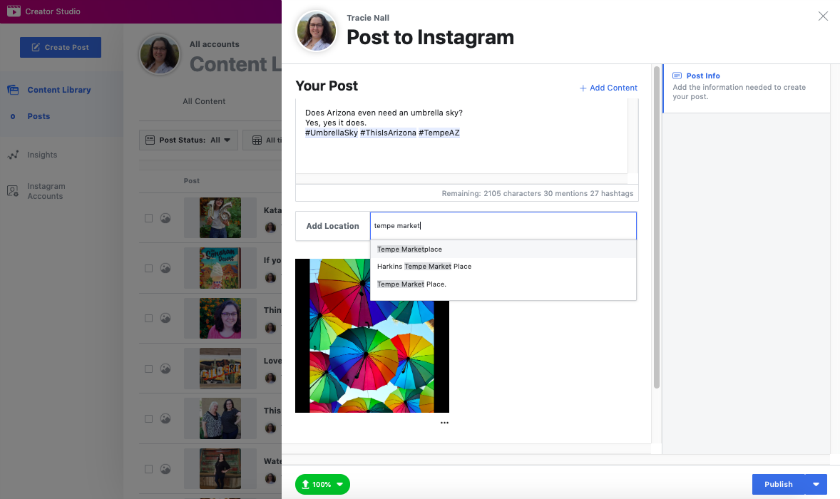 You can include spacing and formatting in your Instagram caption. Creator Studio has the same Instagram caption formatting rules as Instagram does, so you need to be mindful of your spaces. Include your hashtags in the caption. Below the caption text box there is a running count of how many characters, @ mentions, and hashtags you have left to use.
Locations are entered below the caption. When you start typing in a location, you will get a dropdown of options similar to what you see when you choose a location within the Instagram app.
You are now ready to post live or schedule!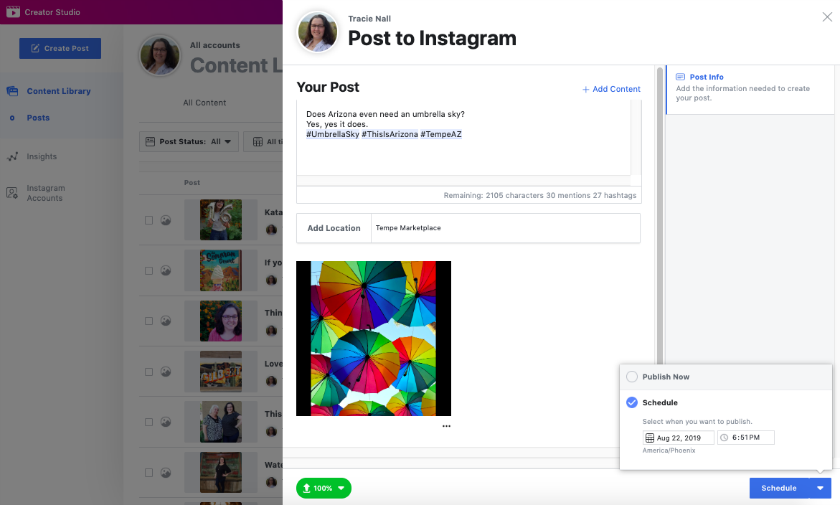 Click on the "Publish" button in the bottom right corner to post live. If you want to schedule, click on the arrow next to it, and the schedule option will pop up. Choose the date and time, and click on "Schedule" and you are finished. The post will be listed in Content Studio as a scheduled post. You can't make edits on a post from Creator Studio, so if you want to make changes, you will have to do that through the Instagram app after the post is live.
Scheduling IGTV Posts with Facebook Creator Studio
Posting and scheduling IGTV videos works in much the same way as the steps outlined above for posting a regular Instagram feed post. You will upload your video, add a title and description (don't forget to use hashtags!), and choose a cover image. You can scroll through the cover image thumbnails that populate automatically and choose your favorite, or you can click on "Upload Custom Image" to select a file from your computer.
IGTV Clickable Link Tip: Remember, your IGTV description can include any URL of your choice! This link will be clickable, and it's a great workaround for including a clickable link on Instagram if you don't have enough followers (10K) to get Swipe Up for your stories.
Before you publish or schedule your post, check the options for IGTV video placement. If your video is over 1 minute in length, you have the option to display the first minute preview in your Instagram feed. This box is automatically checked on the upload screen but you can uncheck it if you don't want a preview to appear on your feed. This is a great way to get your followers who don't normally use IGTV to watch your videos.
The best part about using Facebook Creator Studio to Schedule your Instagram posts:
You can feel confident that you aren't violating any of Instagram's terms of service, because this is the tool Facebook created. That was always a concern with third-party apps, and many people have seen their Instagram accounts suspended or shut down in the last few years when they used apps that Facebook/Instagram did not approve.
Facebook Creator Studio is also free, which we love!
Give it a try today, and let us know what you think. This is great for scheduling out your content to keep up a steady stream of new posts in your feed on busy weeks when you don't have time to write captions and edit photos daily. It also helps you make sure you don't miss an assigned posting window for sponsored content.