This post may contain affiliate links which may give us a commission at no additional cost to you. As an Amazon Associate we earn from qualifying purchases.
I've been cheating. I'll give you a moment to let that sink in…Now I'll explain. I've been cheating on Instagram with Snapchat. Let's face it, things with IG have gotten WAY too serious. There's the pressure of when to post, what to post, what to hashtag, where to put the hashtags, and now the algorithm. ENOUGH!
Enter Snapchat…hello, new friend…you're fun, and kinda pretty. BUT, I have no idea what to do with you. I've been playing with you for a couple weeks now.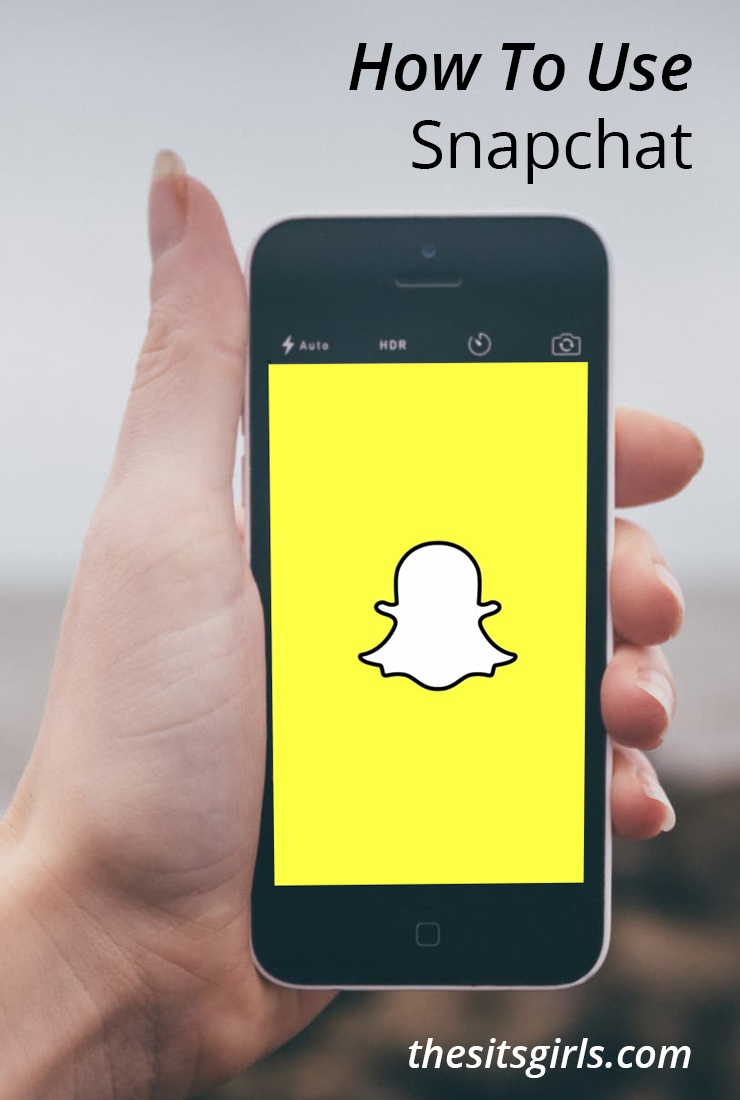 How To Use Snapchat
When you've downloaded Snapchat, you want to add some friends. You can import your contact list, or you can search by handle by clicking the magnifying glass and typing in the name. If you don't add anyone, you don't really see anything, so add some folks, it's more fun! You can find me by searching my handle @cynthiajwheeler…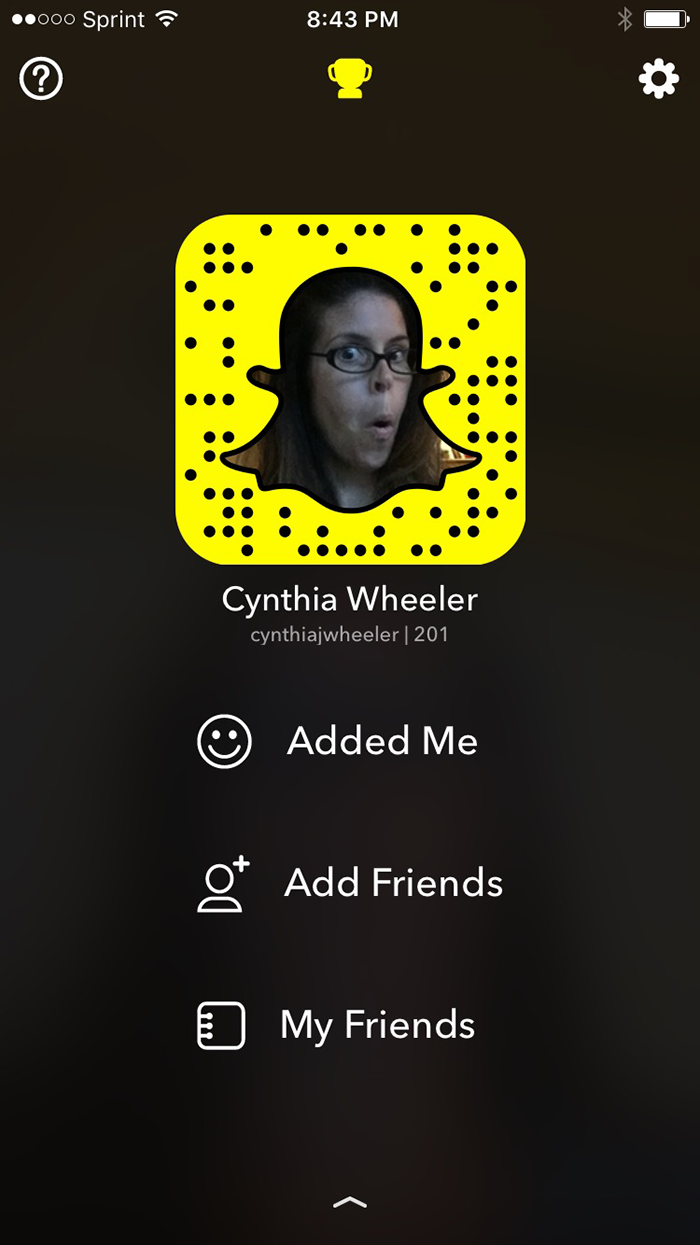 The thing to remember about Snapchat is that it's an ENTIRELY different platform than any other. What you're doing is telling little stories. Sometimes it's just a picture, sometimes it's a video, sometimes it's a series of videos, and sometimes it's all of the above. I've been watching @bloomingdales @everlane and @anthropologie just to get ideas of the different ways to tell a Snapchat story. These brands are fresh and fun on it. So if you're looking for ideas, that's a good place to start. (All of my friends told me to watch the Kardashians…to that, I had to say, just no. BUT, if that's your flavor, I'm sure they are snapping away.)
SO…once you've downloaded the app and added some contacts, it's time to snap! Unlike other apps, with Snapchat, you shoot in the app. You don't import pics that you've beautifully edited like IG. When you open the app, you are ready to snap. If you want to take a selfie, click the top right corner camera icon and it will flip the camera.
To take a pic, tap the circle at the bottom of the screen. To record video, hold the circle at the bottom of the screen. Video can be recorded up to 10 seconds long. If you want to add a fun face filter, spin the camera, hold on your face until it makes an outline. Then you want to scroll through until you find one that's fun. Snap it. I'm partial to cat face, and I'm totally bummed that while you always seem to have dog face, cat face comes and goes. I would always snap in cat face if I could! Once you have your snap, the fun begins!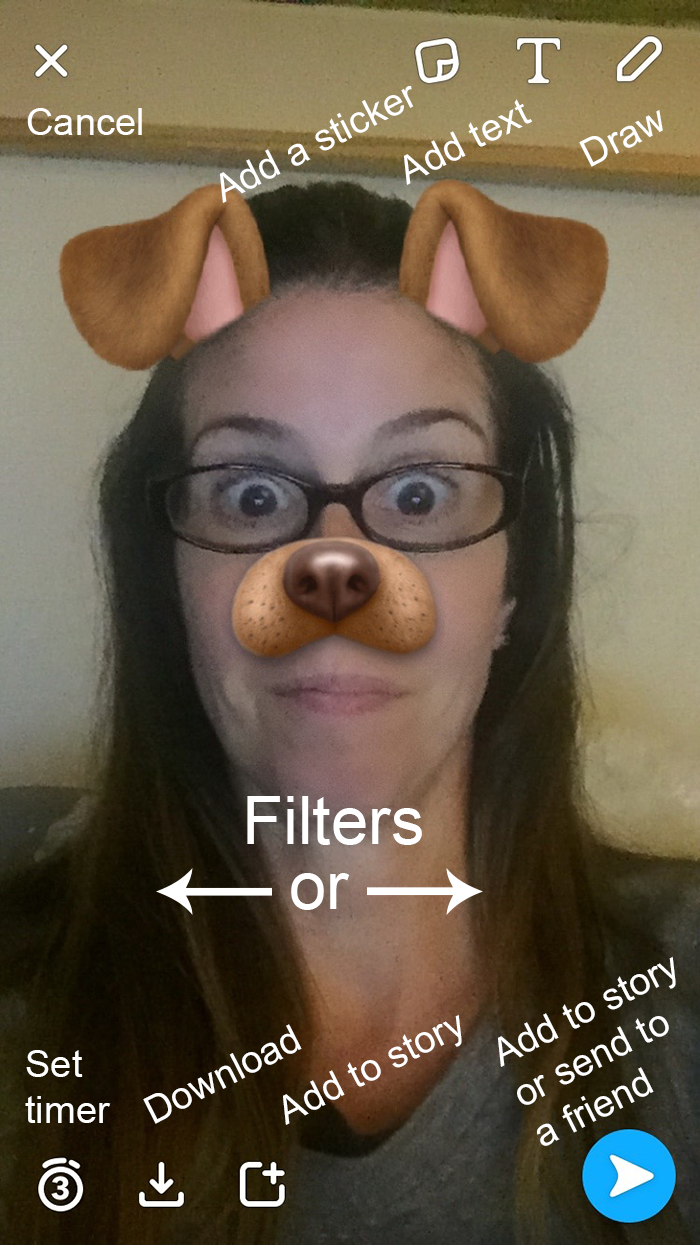 I've made this little cheat sheet for you. What you'll want to do is play around with it once you've got your snap. You can set the time, you can download your snap, post to your story, or send it to a friend (like a DM). You can add stickers, or text as well as draw on your snap. A couple tips…when you add text, if you click the text icon again it will make your text bigger. You can pinch it to size it down or up and rotate it.
If you are drawing, and you want to make a white line, hold on the color bar and swipe all the way to the left to turn the color picker white. Hold the color bar and swipe straight down to turn the color bar black. It took me FOREVER to figure that out. (I'm a slow learner ;P)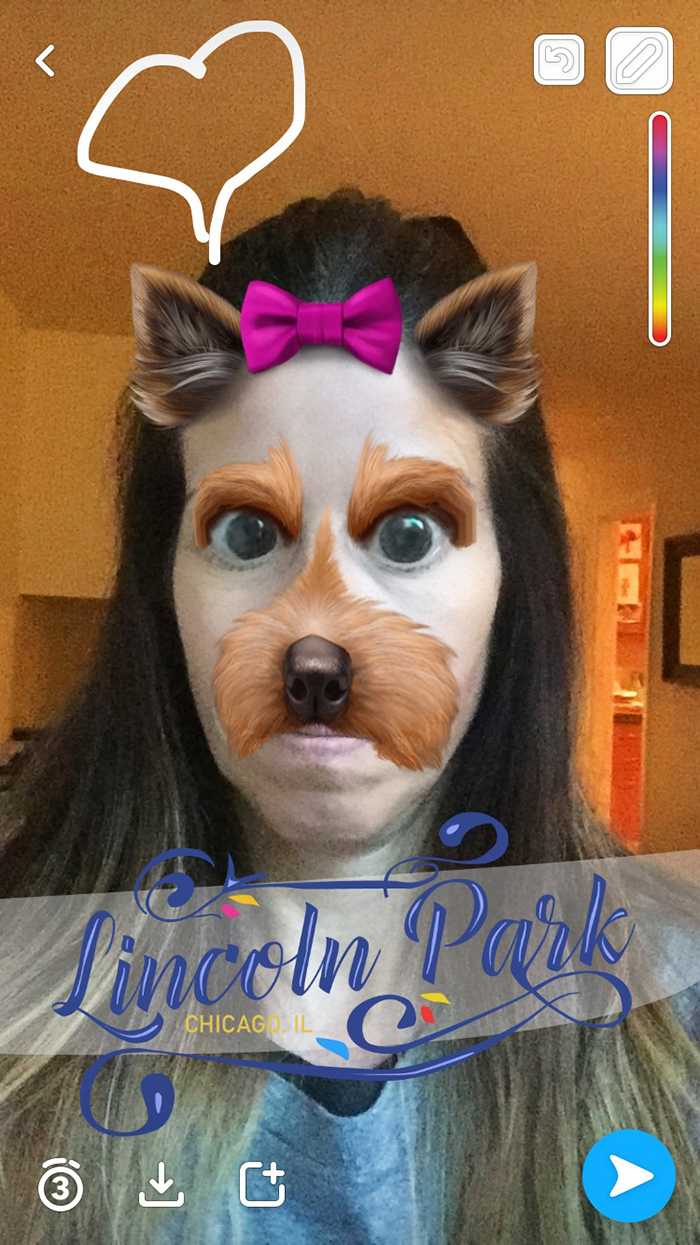 While Snapchat has nowhere near the filter options of IG…you'll want to swipe to the left or right and play with the filters they have to offer. Lots of fun. Oh and swipe for filters on video too. You can play with slow motion or speed things up in filters. Lemme tell you, TONS of fun with kids and pets!
Always remember, if you've created your snap and you decide you don't want to use it, just click the "x" in the top left corner and you can delete and start over.
If you want to view other snaps, or view your story, when you open the app, click the three dots on the bottom right corner of your screen when you open the app. Another tip, clicking the three dots to the left of your story will show you each snap you've done, and the number of people who have viewed it. If you click the eyeball icon, you can see exactly who has viewed your snap. (This is a bit humbling for me…since I have nearly 10 people following me ;P)
I'm SUPER curious to hear from you. Are you snapping? Are there any tips and tricks I've missed?
I'm such a newbie, so I'd love to hear from you. Who should I be following? Let's chat!