This post may contain affiliate links which may give us a commission at no additional cost to you. As an Amazon Associate we earn from qualifying purchases.
If you feel like social media is a constantly changing guessing game, you're not alone. Writing compelling social posts that get engagement (or, on some sites, that get seen at all) takes a lot of time and effort. But there are things you can do to make it a little easier on yourself, one of which is to plan for a good mix of different types of social media content to share. Here are 9 types of social media content you should be sharing to get the most impact for your time.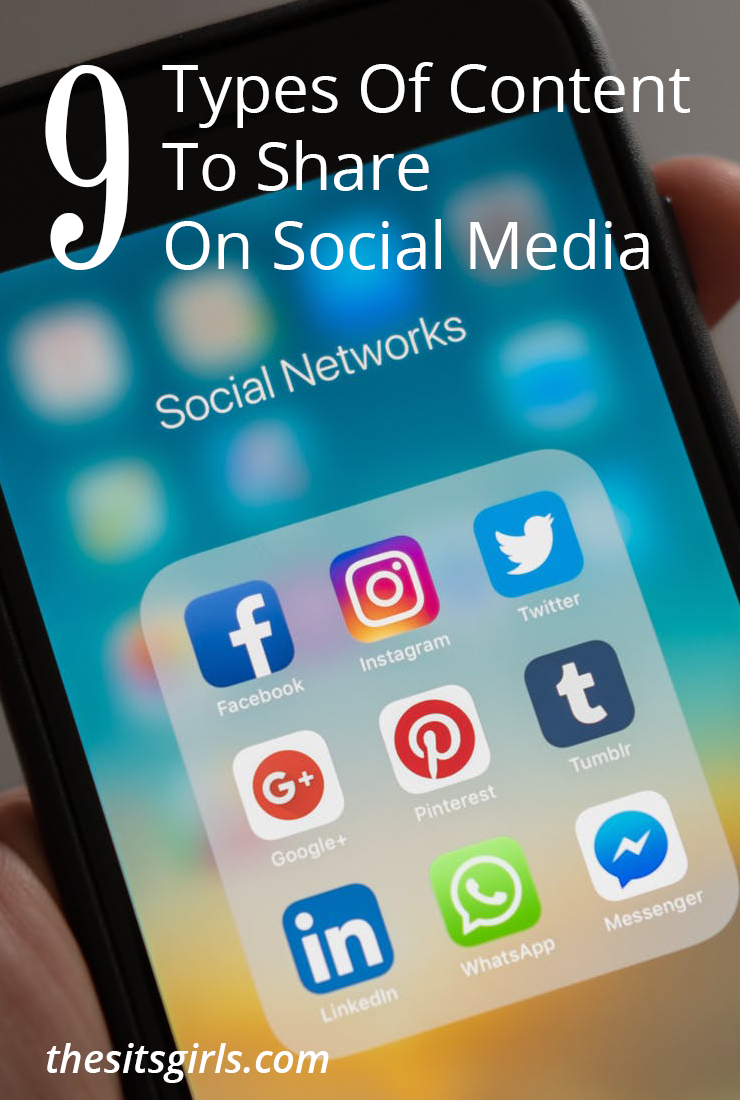 Social Media Content You Should Be Sharing
1. Your Current Posts
Okay, I know that sounds obvious, but remember, the more often you share things, the more people will see them and hopefully click, share, or otherwise engage with them. When wondering how to find content to share on social media, this is a great first place to look.
Don't just share your new blog content once when it goes live. Timely items can be shared once or twice a day for a few days, depending on the network, while evergreen items can be shared daily for a few days, once a week for the first month, then once a month or seasonally for as long as you like.
2. Your Old Content
If you haven't been in the habit of setting up shares for old content, it's time to start.
Look back at what you posted last week, this time last month, six months ago, and 12 months ago to find content to share (and clean up/correct/link to as needed before you do). Anything seasonal that you published before should be shared again this year, and of course popular evergreen content should be shared regularly, too. Going into your archives to find content for social media can have a strong impact on page views.
3. Other People's Content
Social media is a great megaphone for our own content, but it's important to share other people's work as well. First, it's just good karma, because you want people to share your stuff, right?
It gives your followers different points of view or shows them other things related to your (and, we hope, their) interests that you didn't write.
And social is a numbers game; the more you post the more potential you have for engagement, with your posts as well as those written by others.
4. Behind-the-Scenes Stuff
People love getting to peek into other people's lives. You don't have to Instagram your messy kitchen floor if you don't want to, but showing where you work or what you're up to when you aren't blogging is fun for your followers and makes them feel more of a connection to you.
You can also share what you are working on for the blog, because it's fun for your followers to be in the know or get a sneak peek of what you're doing.
5. Pretty Photos
This goes hand-in-hand with sharing behind-the-scenes stuff, but whether you're shooting your office space for an Instagram post or your latest project for a blog post graphic to promote on Pinterest, taking time to get the visuals right is more important than ever.
Posts with photos optimized for the particular platform you're sharing on get more engagement, saves and shares than plain text, too, so it's worth it to take the time to think about how you're presenting yourself visually online and do the best you can to make it look good. Unless you're taking pictures of the kitchen floor.
6. Video
Whether you take your own videos and post them to YouTube or use Facebook Live, Snapchat, Instagram Stories or whatever the next thing is, people love to watch and share videos.
Of course you can also share other people's videos, but now is a great time to try making your own videos if you've never done it in the past. It's easier than ever to make and share videos all over the web, and the engagement is huge.
Starting with something like Facebook Live is a great idea if you're afraid of doing video, because it's instant and doesn't have to be totally polished, but again, having good visuals and planning what you're going to say or do in advance is important, too.
7. Quotes
I didn't really want to include this because it feels like cheating, but I have a client I manage social for and consistently the posts with the most likes and shares include inspiring quotes.
It's not a thing I would necessarily do daily, but regular use of relevant quotes (especially if you make pretty visuals to present them) is a great way to boost shares and engagement. People love them.
8. Silly/Fun Stuff
If your blog is your business and your social media presence is an extension of that brand, you'll want to tread carefully in the silly stuff, but every now and then it is fun to post a relevant meme or make your own humorous social media content.
Check trending hashtags from time to time and see if you can fit in something that's relevant to your audience. Don't share anything you wouldn't want associated with your name, but don't be afraid to let loose every now and then, either.
9. Reviews and Recommendations
Here I'm not talking necessarily about sponsored content, but if you just finished a book you really loved, or you are passionate about how a certain stain remover is getting you through back-to-school season, go ahead and share.
This is another way of giving a glimpse into your life that readers love, and if you're naturally sharing about products and things you like, it will make your sponsored posts more authentic, too.
What social media content would you add to this list?
What are your favorite things to share on social that your followers love, too?
Keep Reading