This post may contain affiliate links which may give us a commission at no additional cost to you. As an Amazon Associate we earn from qualifying purchases.
Does it ever feel like you're spending more time on social media than you do on anything else? Between researching changing algorithms, best practices, and the newest strategies, to creating the content to share, social media can be a large investment of our time and money. Multiply that by all the various networks and it's a miracle we ever step away from our computers or put down our devices. What if it didn't have to be that way? What if you could simply walk away from a social media platform?
There is no rule that says you have to be active on all social media networks. Securing your username on them is a good step to make sure no-one else will use it, and to leave that door open to you in the future, but you don't have to be everywhere. There also is no rule that says you can't leave a social media platform that isn't working for you.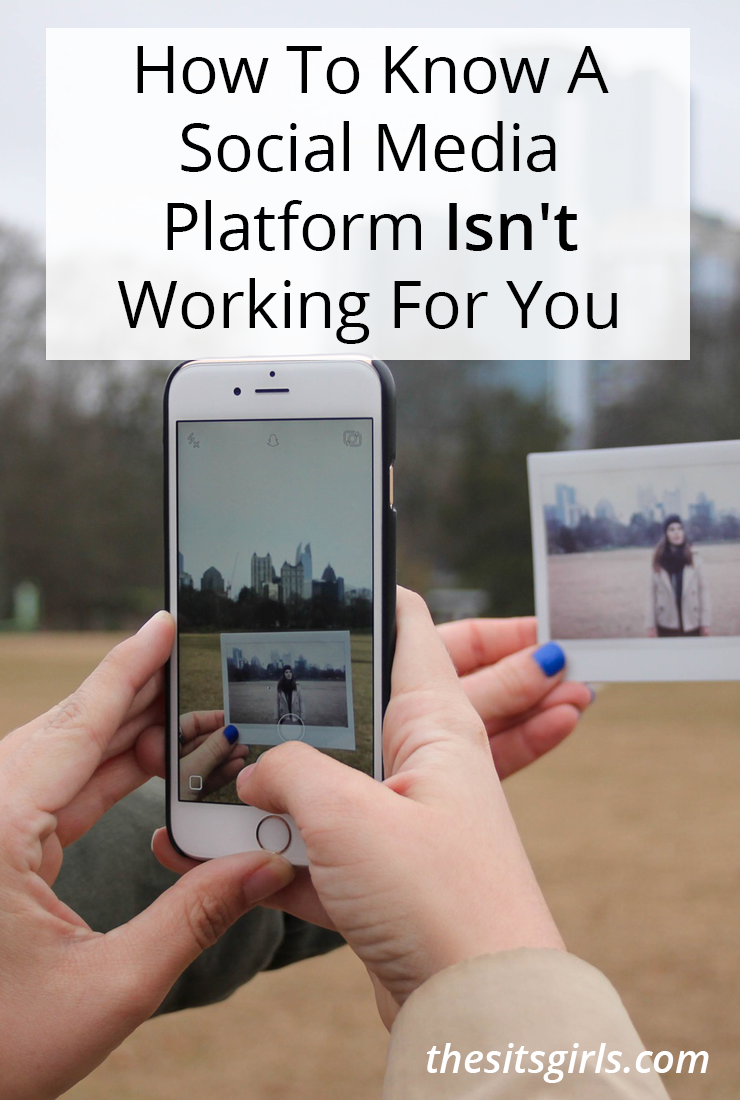 How To Know A Social Media Platform Isn't Working
Before you can know whether a social media network isn't working, you have to know what you're using it for. At the very basic level social media is used for three things:
Engagement — to get people talking and sharing, and as a way to connect with your audience
Traffic — to send people over to your website to increase your page views and hopefully get them to come back again and again
Sales — to get your product or service in front of new customers and make some sales
They may all tie in together, but generally speaking, what we hope to get from a social media network will fall into one of those three categories. Knowing which one you're targeting will help you determine if a social media network is working for you or not.
Once you know what your purpose for your social media networks is, you can then move on to determining if they're not working and make the decision to keep trying to find the right strategy or walk away.
Engagement
Are you getting likes and comments on your posts?
Are people retweeting you?
Tagging you in posts?
Watching your videos?
Are you comfortable with the amount of time you're spending to get that engagement?
If the answer to those is no, it's time to evaluate your strategy and decide if you want to continue to invest in the platform. If you decide you want to try something different to get engagement on social media remember you'll need to give it time to see if it works. Engagement takes time, but it shouldn't be taking all your time.
Traffic and Sales
How do you know a social media platform isn't sending you traffic?  Check your Google Analytics.
Set the date range to three months make a note of how many Sessions there were in that time frame.
Now go to Acquisition -> Overview -> Referrals
Compare the number from the social media network to the number of Sessions.
What's the percentage of sessions created from that social media network?  Now I want you to estimate how much time you spend working on posts for that social media network. What percentage of your work week is that? Does it line up with how much traffic you're getting from the network? If a social media network is meeting your traffic goals, the traffic it sends you should be equal to or greater than the time you invest in it.
So if a social media network is only responsible for 5 percent of your Sessions, but you spend 30 percent of your work time on that network is it really worth it? And if you're spending money on a scheduler or for a VA for that network, are you getting your money's worth, or are you spending more than you're bringing in?
Similarly, for sales of your service or product — look at how many of your sales come from your social media networks, does it match up with the time and money you're investing in that network?
If the answer is no, maybe it's time to start thinking about trying something new. Maybe you try something different to get results on social media, or maybe you decide it's time to walk away and try something else.
Why It's Okay To Walk Away
You know why it's ok to walk away? Because you're worth it! It's as simple as that.
What is so easy to forget when we're focusing on strategies and promoting and sharing, is that every platform requires some of our time, and there are only so many hours in a day.
Do not underestimate the value of your time!
With all we have to do as bloggers, being choosy about how we spend our time is a must. Often, when something isn't working, we throw more time at it. We spend more time sharing, pinning, or tweeting. We spend more time researching how to do better. All of that is okay if we're seeing a return for our investment. But if we don't see results, it's time to rethink how we could be better using that time.
Instead of spending time on a social media network that isn't working for you, you could take that time and spend it on one that is. Or you could use that extra time for creating more blog content. Or, dare I say, take that time and spend it on something that isn't blogging related at all. Time is the one thing we can't make more of, so spending it where it will serve us best is really important.
It probably goes without saying, but if you're spending money on a social media network that isn't working, you're wasting that money. Whether you're spending money paying to promote posts or on schedulers or paying for course and books to learn more, if you've been at it for a while and are not seeing results, save the money. Put it towards a social media network that is working for you, a course to learn something new, or stick it in the bank and save.
I'm not saying to completely give up without even trying. But if you've put in the time to try to find the right strategy and nothing is working, it's ok to choose to walk away. You have to do what works best for you and your blog.
I'd love to hear your thoughts. What social media platforms are working well for you? What ones aren't?
Keep Reading