This post may contain affiliate links which may give us a commission at no additional cost to you. As an Amazon Associate we earn from qualifying purchases.
Just about everyone and their dad is on Twitter. Most of you use it too: our Twitter participant list includes over 100 bloggers! It's a fabulous tool to connect to others, promote your blog and find topics of interest.
Last week, Darren of ProBlogger observed RSS is on the decline and more people are utilizing primarily their social networking accounts to find new content. If you're blogging to reach new people and help your readers, this is good news for you if you embrace it!
This article covers several social networking tips for Twitter and Flickr for blog promotion and growth as a photographer. As with any other social networking experience, you need to be present and active to get anything out of it. It also assumes a familiarity with Twitter and Flickr. If you're new to these sites, please ask any questions you have in the comments or on our forums. There are a plethora of tutorials we can point you to for getting started!
Use Twitter to Segment Interests
One of the most marvelous things about Twitter are the keywords and hashtags. Twitter's API allows software, search engines and developers to categorize this data and make it easy and fun for you to find out more about the things you love.
You can filter the content directly on Twitter's site (example: #SITSpics) and if you're logged in, you'll be able to save the search for easy access on your home page.
Free tools like Hoot Suite (web based) and Tweet Deck (desktop software) help you break Twitter into multiple streams for easier monitoring. You can spend part of the day checking out the latest #SITSpics tweets and another part connecting with bloggers in your niche from a Twitter list. If you follow more than 50 people or so, I highly recommend something to segment and filter your stream.
This can help you promote your blog by saving searches for content relevant to your blog or articles you write. Look for opportunities to respond to individuals' questions with a link to your site!

This is my Hoot Suite set up, making it so much easier to sort through Twitter!
Paper.li: More Than a Newspaper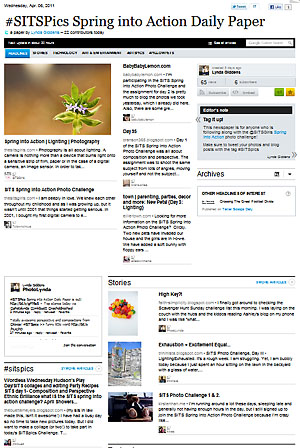 Through twitter lists, keywords and hashtags, Paper.li offers a new way to digest all the links Twitter has to provide.
For the SITS Spring into Action Challenge, I created a new paper simply searching for any link tagged with #SITSpics. From that, it creates this daily paper. Each edition of the paper is archived so you can look through past issues. You can also set up an auto-tweet for the papers you create which will include the accounts of the top contributors. Being part of someone else's Paper.li paper is how I was first introduced to it.
This site has huge potential to help you promote your blog. You can create up to 10 papers of your own using a combination of tags, keywords or Twitter lists. Maybe you want to create an inspirational spring garden newspaper? Just set up your paper to look for all three of those tags and watch the links roll in. Search out existing papers and learn what tags it collects and then use these tags in your Tweets. This will get your links included in the paper which means:
More targeted clicks to your site.
More mentions of your Twitter account.
A higher Google Ranking from backlinks.
Hub Pages has a great post with all the details on how to use Paper.li to promote articles and build backlinks.
Flickr for Photographers
I first signed up for Flickr in 2005 and within weeks bought myself a Pro account. Most of the features I'm going to discuss are available for free account holders with some limitations, but a yearly Pro account is only $25.
You can do all sorts of amazing things with Flickr besides just posting photographs:
Learn More About Photography
No matter what your interest or skill level, there's a Flickr Group for it. Groups range from being very serious to completely fun.
Are you doing Project 365 this year? Do you need Photoshop Support? Maybe you just want to share some fun photos like what you ate or what's in your bag. Or perhaps you want to get a lot of feedback on individual photos. If so, there are dozens of critique and comment groups like 1-2-3 Kids, Hit, Miss or Maybe or Score Me.
As with any other community, spend some time in the group before you start posting pictures. You want to make sure the attitude of the participants matches your own. Some groups are for "super serious photographers only" and they can be jerks to amateurs. Most photographers on Flickr are more than happy to help.
More Resources:
Host Your Photos
I've used Flickr to share photos on my blog since I first signed up with them. When you upload photos to your blogging platform, usually they are compressed so much that they lose a lot of sharpness, detail and color. Flickr doesn't overly compress their photos, plus they offer several resolution choices so your photos will always look great on your blog.
Having Flickr host your photos also means you don't need to worry about bandwidth or storage space on your web server, which can be a problem for a popular blog with lots of photographs.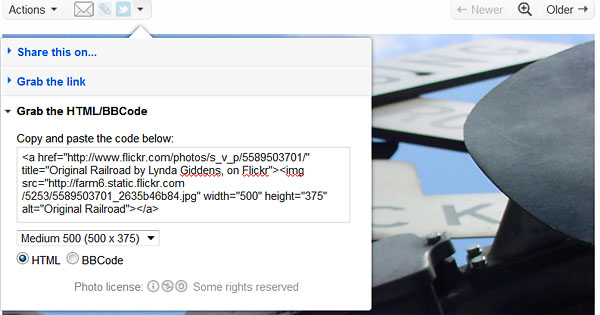 To share a photo, simply go to the drop down arrow above your photo next to the social media icons and select Grab the HTML/BBCode. Then choose your image size and copy and paste the code into your entry. It's as simple as that!
Find Photos for your Blog
If you have an article, but no image to include in it, Flickr can help! There are hundreds of thousands of free Creative Commons licensed images to choose from. Check out these articles:
Drive Traffic to your Blog
First, make sure your profile is filled out and that you appear to be a human being. Here's my profile as an example.
Choose a photograph that goes along with the post you're trying to promote. I usually use a photo I've used in the article.
In the description area of the photo, describe it and how it relates to your article. Try to focus on the keywords your article is trying to attract. Include links to your article, blog and/or social media accounts in the description area! (Here's an example) Also make sure to tag the photo liberally!
Once you have the description and your links in place, add the photo to appropriate groups. This works better with groups which require its members to leave feedback such as critique or 1-2-3 (Post 1, Comment on 2, View 3) groups.
Unless you've chosen to exclude your photos from searches, search engines will index the description and links on the photo which will improve your page rank and help more people find your blog.
Privacy
Some are hesitant to use Flickr out of a concern that their work will be stolen. Truthfully, this is a risk you take no matter where you post photos. We're going to be talking a lot more about protecting your photos toward the end of our series, however Flickr has many privacy and permissions options which are often overlooked. You have a lot of control over who can see and share your photos on Flickr!
For private photos or sets, you can generate, monitor or delete guest passes to control who can view them.
Flickr Pro accounts also offer Statistics which include referral information. If anyone is linking to your image on their blog from Flickr, you'll be able to see it.
Your Challenge!
Do you have a favorite photo sharing site like Instagram, Twitpic or Daily Booth? How does using it help you promote your blog, connect with your followers and improve your photography? What social networking tips can you share about these sites?
Today's challenge is to write a blog post discussing YOUR favorite social networking tips answering these questions.
Make sure to link up in our forum or in the comments and Tweet your link with hashtag #SITSpics. Read others' articles and try out a new social networking site or find a new use for a site you already use!
Tomorrow we'll be wrapping up the week by highlighting some of the awesome work we've seen so far in this challenge!

The
SITS Spring into Action Photo Challenge
is a two week event designed to inspire your photography and help improve your blog with photos. Follow along
in our Forums
,
#SITSPics on Twitter
,
our Flickr group
and
Facebook
! It's never too late to jump in!