This post may contain affiliate links which may give us a commission at no additional cost to you. As an Amazon Associate we earn from qualifying purchases.
Like it or not, social media has become part of the average person's daily life. The challenge for us as bloggers is to figure out how to use it to our advantage in building our brands and businesses. How do we manage to stand out from the crowd in the midst of a constant stream of media? Here are a few tips that can help.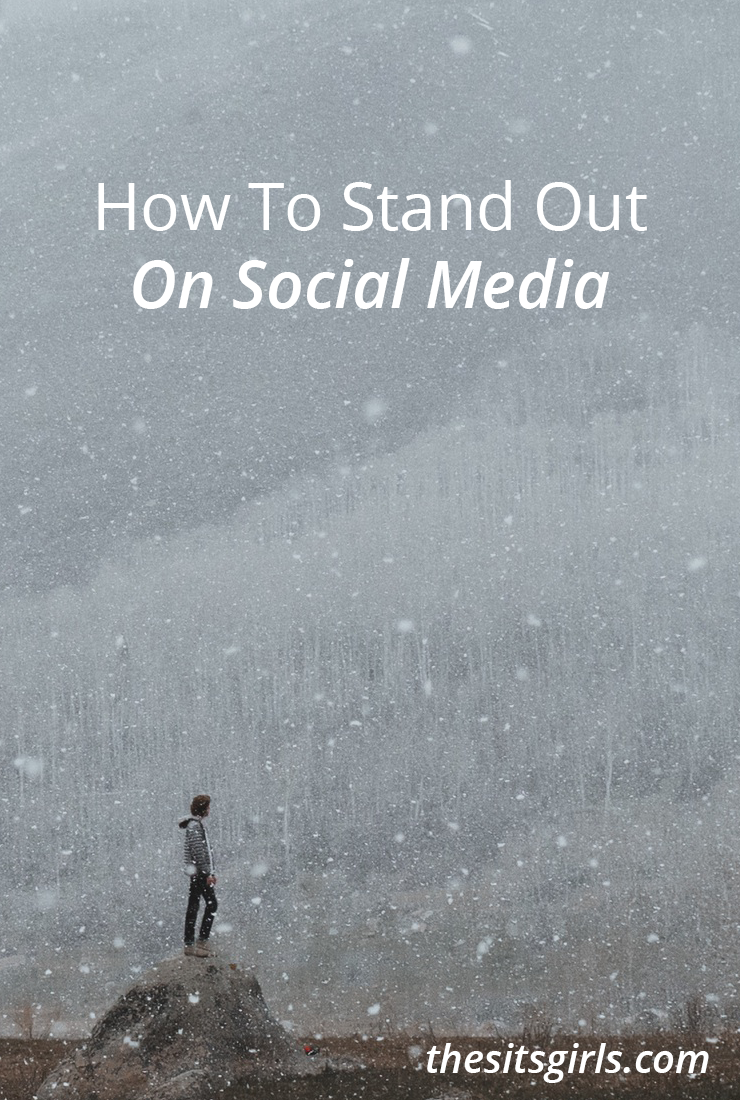 How To Stand Out On Social Media
1. Follow the 1/5 rule.
It's easy to get in the mindset that social media is just a tool to drive traffic back to our websites. So, we flood our feeds with images of our latest projects in the hopes of readers clicking through. But the truth is, we need a paradigm shift. Social media is another opportunity to build community with our audience and to be a part of readers' daily lives.
If we simply inundate them with posts we want them to click on, we're going to lose them. No one likes a salesman. Instead, focus on engaging them and fostering a relationship that goes beyond visiting your site itself. For each post you share that advertises something on your site, share four other posts that don't.
2. Be consistent.
In a world where things are constantly changing, people are looking for anything they can count on. The more consistent you can be, the better. Post to social media at regularly scheduled intervals when you know your audience is online. For me, that means a Facebook post every hour between 8 AM and 11 PM EST. On Instagram, I share four times a day; morning, noon, dinner time, and bedtime. Your schedule doesn't have to look like mine, but find what works for you and stick with it. You don't want to overwhelm your audience with constant posts, but you do want to be in front of them all day long. The more they see and engage with what you share, the more your brand becomes a part of their daily lives.
It's also important to be consistent with your handles across the board. No matter which social sites you use, you should go by the same name everywhere as well as using the same photo if possible. That way, you are very easy to find and there's no question in someone's mind whether they have found the right person or not.
3. Provide something your audience wants.
All of us have a particular niche, so our readers are looking for different things. Perhaps your audience responds to drool worthy food photos. Maybe they're young moms who are desperate for kid crafts and activities. Your job is to figure out what it is that your community wants so that you can provide it.
I've learned over time that my readers love craft and DIY inspiration but they also love anything that gives them a laugh. When I hand letter a funny meme, the Instagram likes come rolling in faster than I can count them. Pay attention to what kind of posts get the best reactions and engagement from your followers. Are they photos? Memes? Videos? Look at your likes and comments and you'll start to see patterns. Then, tailor your feed based on what readers are showing you they care about.
4. Keep the social in social media.
If your social media accounts consist of you posting and leaving, you can be sure that readers are going to leave too. Instead, use the opportunity to engage with your audience. If they comment on a Facebook or Instagram post, write a little note back! If they re-tweet something, give it a heart and say thanks. It takes a matter of seconds to do, but means the world to someone who now feels like they have actually connected with you.
Sometimes we forget that to our readers, we're a kind of celebrity. They look to us for inspiration, information, and more, so when they are actually able to connect with us on a personal level, that means something. By making ourselves accessible and responsive, we're forming a community that people will want to be a part of. You'll find the same readers coming back again, engaging more, and even referring others because they feel like they're introducing them to a friend.
5. Be YOU.
Many of us employ Virtual Assistants to help with various aspects of blogging, and that can be a big help. But keep in mind that while it's fine to have a VA do some scheduling for you, nothing can replace your own unique voice. Maybe you're funny, maybe you're sarcastic, maybe you're poetic, maybe you're sweet and sincere.
However you relate to your followers, they expect to find that across the board. The way you communicate on social media should be the way you communicate on your blog and in person, too. The best compliment you can get when meeting a reader in real life is, "You're exactly like I thought you would be!" While it's not wise to divulge too much super-personal information on your social media, letting your personality come through is key.
Of course there are other things to keep in mind too, like using big, bright, clear photos in your posts and being as creative as possible. Every platform is different, so what works well on Instagram may not perform in the same way on Twitter. Choose one or two platforms your audience seems to prefer (mine are Facebook and Instagram) and focus on building those first. For more specific tips on growing your Instagram, check out my post on how I doubled my following in just a few months.
What are your best ideas for using and growing on social media?