This post may contain affiliate links which may give us a commission at no additional cost to you. As an Amazon Associate we earn from qualifying purchases.
We're back today with Part 2 in our 2-part series on StumbleUpon. StumbleUpon can be tricky about what it likes and what it doesn't like. SITStah Annie is here again to walk you through a few important StumbleUpon mistakes to avoid so that you maximize your efforts with StumbleUpon!
Also catch Part 1 of this series, "Your Stumbleupon Questions Answered" – Learn How to Get Visitors Using StumbleUpon.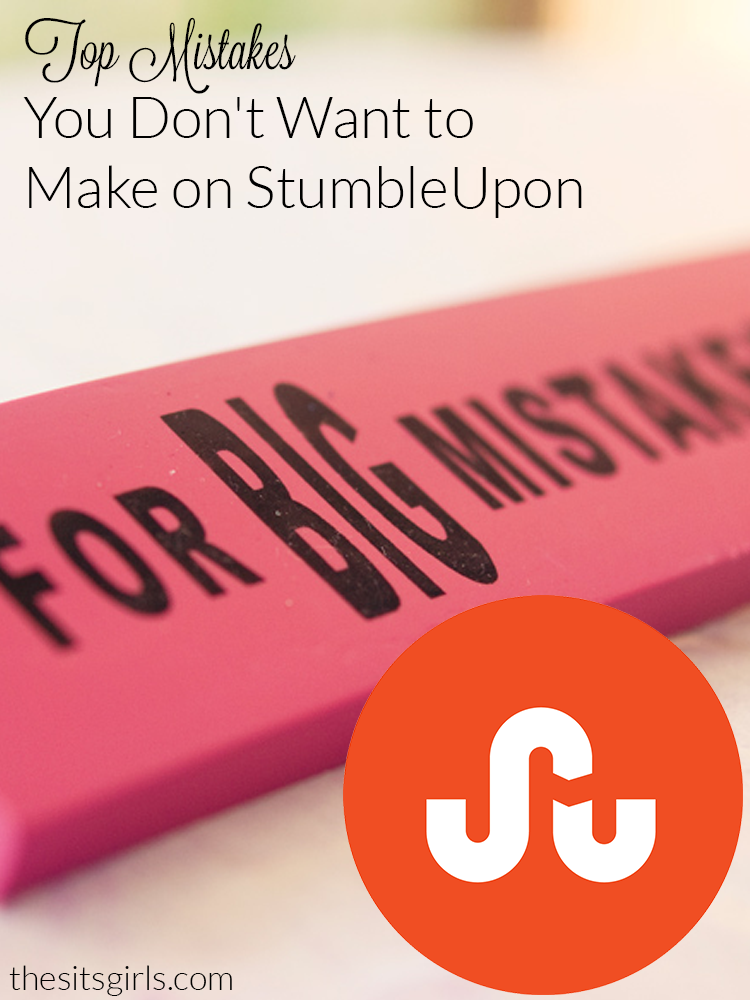 Don't Use The Wrong Label, Categorize Appropriately
The easiest way to make sure a post does not gain traffic is to label it wrong when you discover it. If you are the first person to discover a post, make sure you are choosing the category that describes the post the best.  Do not label every single post as "weblog" even though the post lives on a blog.  If it is a cupcake post, put it under Food/Cooking. If it is a funny post about a baby then label it "babies."  Make sure to categorize by topic appropriately.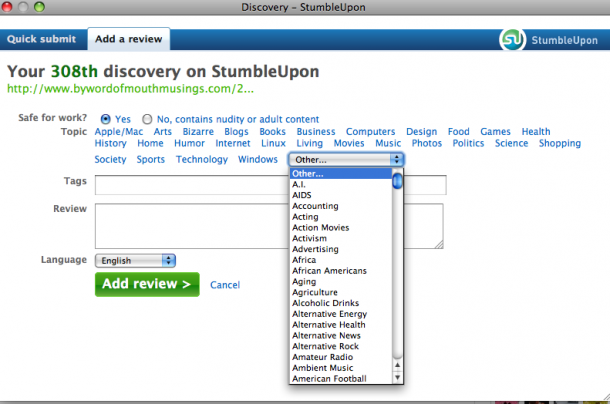 Don't Stumble Giveaways, Voting Contests, or Ads
As tempting as it might be to try and get more traffic to giveaways or followers to your Facebook fan page, stumbling these things will not attract entrants or followers. StumbleUpon has policies against spamming, and stumble enthusiasts do not like self-promoting sites popping up in their stream. You will find more success if you create a post that is timeless and then link within the post to your fanpage and current giveaways.
Don't Stumble Only Your Own Content
As I wrote on previously, you can stumble your own content, but discovering only your own posts will lead to lower traffic.  StumbleUpon doesn't like spammers/self-promoting users. As you are reading friends' posts or browsing sites you love, use your toolbar to discover a wide variety of new content.
Don't Forget To Randomly Stumble
You will learn so much by clicking the "stumble" button on your toolbar and finding fun new sites. As you see new sites pop up and click the thumbs up for posts you like, once in a while click the "info" button to see how many views these sites have. Take mental, or written note, of the qualities that might make successful stumbles popular. You can learn what posts do well on stumble and use this knowledge to make your posts more successful.  Also, pay attention to the reviews on posts too to get a bit of feedback from other stumblers.
Above all, just use StumbleUpon the way it was created – a way to give and take the best of the web. You can gain some pretty fabulous traffic spikes, but you can also find some wonderful new blogs and inspiration for more posts. If you any more questions, check out my StumbleUpon eBook – it is full of info, screenshots, tips and screenshots.
More Posts About Social Sharing:
Check these additional posts out that talk about sharing your content on the social web.
About the Author:
Annie Shultz blogs in Kansas at MamaDweeb.com.  She has 3 kids under the age of 4 and thrives on coffee and chocolate.  An extrovert and a writer, she found pure bliss in the social media-infused world of blogging. She will be speaking at Bloggy Boot Camp St. Louis in April 2012 and can't wait to chat about ways to improve blogging.