This post may contain affiliate links which may give us a commission at no additional cost to you. As an Amazon Associate we earn from qualifying purchases.
As you build your online community, based on the type of content you create, you may have to make a decision about whether you want to start Facebook pages, Facebook groups, or a combination of both for your followers.
These two options, while on the same platform, offer different levels of value and can require different forms of management based on how connected you would like to be to your community.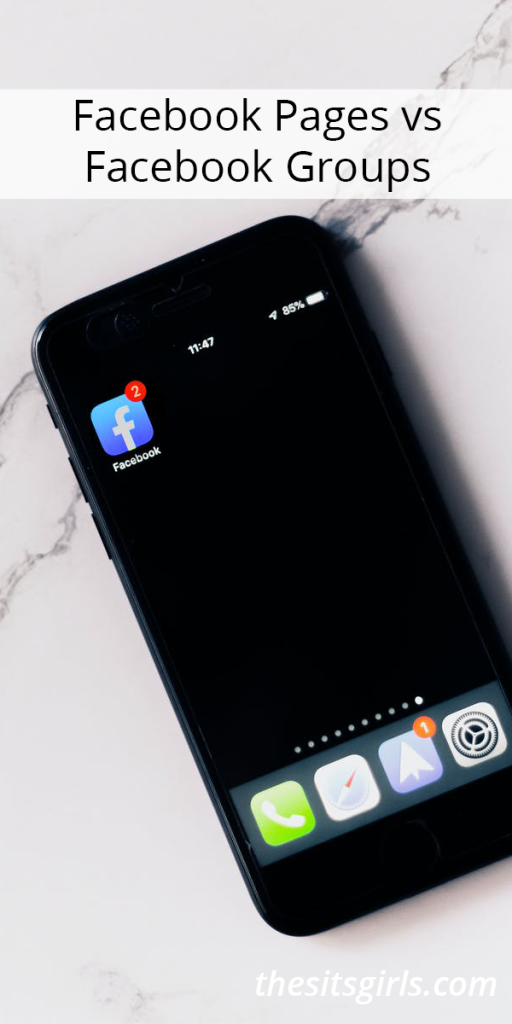 The Difference Between Facebook Groups and Facebook Pages
The main and most visible difference between the two is Facebook Pages are open to the public and Facebook Groups can be restricted requiring individuals to request admission.
Facebook Pages
Facebook pages by default are talking to a larger audience and you will post pictures, links, and information as you would on a personal Facebook profile. Facebook Groups are designed for a more personal approach and have the opportunity for greater involvement from your group members if you desire to offer that level of accessibility to your community.
Facebook Pages are great for sharing information in a timely manner, or sharing information that you would like for the masses to see. Information on Facebook pages can be shared onto individual's personal pages or into groups, enlarging your reach and possibly encouraging more people to join your public page. 
Facebook Groups
If you offer a product or service that individuals have to purchase, you may offer a value add where they have access to you to ask questions or connect with others that have also purchased. In this instance, a Facebook group would be perfect. You are able to regulate who is in the group, you can go live in the group and create a community around your product or service. People will feel more comfortable knowing that within the group are individuals who may have the same questions/interest as them. 
How to Manage Facebook Groups and Facebook Pages
Admittedly, managing a Facebook Group will likely take more time than managing a page. If you are looking to build a highly engaged Facebook Group, you will need to be present multiple times a day to encourage conversation and keep members in the group. You can schedule some of these posts ahead of time, but other tasks will require those daily check-ins. With the increased engagement there may also be a need for content moderation to ensure all members have a positive experience with your brand. You can set your group up so that you approve every post that someone creates before it goes live in the group.
Facebook Pages can be run with less hands-on attention. There are settings within Facebook that can filter out certain words and require approval of comments or posts to your page. Adjusting permissions in your account settings can avoid content being posted to the page that you don't want to be shared. Manually approving these things can be a batched activity that you tackle as often or as little as you want while you continue to share information.
When it comes to making a decision on whether to go with a Facebook Group or Facebook page, a good strategy may include a mix of both. When making the decision, think about how involved you would like to be and be honest with yourself on whether or not you have the bandwidth to successfully build a Facebook Group community that upholds the vision you have for it. If not, consider starting with a Facebook page and eventually move toward a group as you see fit.
For more Facebook advice, check out these tips for getting more engagement on your Facebook page and learn why we always say yes when a brand wants to boost a sponsored Facebook post.