This post may contain affiliate links which may give us a commission at no additional cost to you. As an Amazon Associate we earn from qualifying purchases.
Is Twitter still alive? The simple answer is YES. Twitter is quite alive.
Twitter is often the one social media network that a vast number of bloggers overlook. They feel that it moves too quickly for anyone to truly benefit from their time spent on it. Yet, it's one of the top social networks used by various top brands to reach their audiences. If your Twitter feed is void of conversations, then it's time to bring back the conversation! Through the years I have had to convince other bloggers that Twitter was still a gold mine for them. It's a matter of knowing how to use it to your advantage.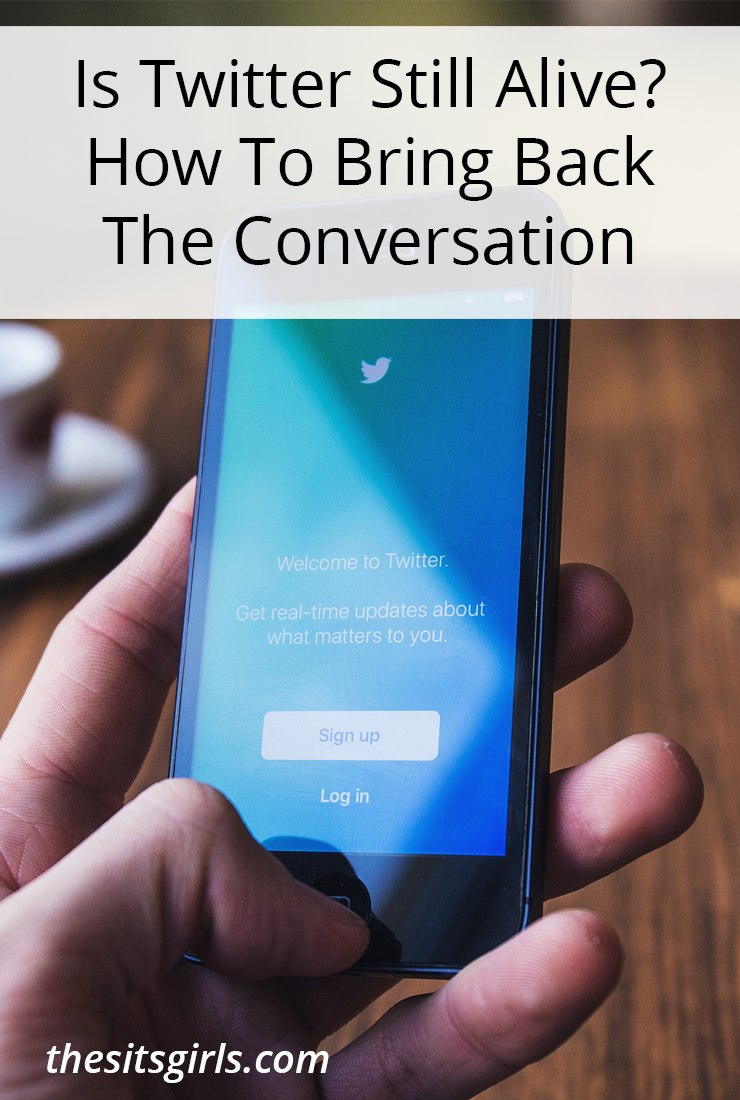 How To Bring Conversation Back To Twitter
You Have to Give to Receive
My Momma told me that in order to receive snail mail a person had to first write letters to others. It's true with social media, too. You have to be active on social media to see any kind of return from it. This is especially true for Twitter. Twitter makes it easy to find like-minded individuals by using hashtags. Imagine Twitter as a big playground, and you're the new kid in school who isn't shy about meeting new people.
The best way to ensure you have conversations on Twitter is to make sure you find people that will care about what you're talking about as much as you do. It's important that you find the right cliques to be a part of.
Make New Friends
Do a search on Twitter using the hashtag for the topic you cover on your blog the most. Find ten new people to tweet at least five times a week. Follow them and send them a tweet introducing yourself. Be sure to include why you think you should be connected. What about their profile made you want to befriend them? This may sound trivial, but I assure you it makes a positive difference.
Instead of doing a search, you can take Twitter up on their recommendations of who to follow, too. I have done that many times over. Sometimes I do the searches and also the recommendations if I'm truly working on Twitter.
Party Like You Mean It
If you haven't jumped into a Twitter party, I highly recommend them. We host one every Saturday at 10 AM EST using the hashtag #TheSwayLife. The object of a Twitter party/chat is to reply to the person asking questions each time they ask one using the hashtag. Of course, you can chat with others who are attending the chat, as well. Regardless of who you're talking to in a chat, you must ensure you're using the set hashtag. I've found that the best way to keep up with Twitter chats is to use Tweetdeck.
There is always a party happening in some form on Twitter. In many of them you stand a pretty solid chance of winning some pretty neat prizes. Mommy Blog Expert does a pretty neat job of keeping up with some Twitter parties that are happening each week. Tweet Reports also gives you a run-down of many Twitter Chats. Beware though that Tweet Reports doesn't always update their information. Of course, The Sway hosts many Twitter parties too.
Some of my favorite blogging chats include #BlogElevated (Mon. @ 9PM EST), #SheSavvy (They don't have them weekly, but when they do have them they are fun and informative.), and #IBAChat. There are many more blogging chats that happen weekly or monthly, it's always great to keep your eye out for chats your favorite bloggers are participating in on Twitter, so you can join in the fun.
Use Tools to Help You
There are many tools to help you gain the most from your time on Twitter. I recommend you start with Twitter's tools. To keep your interactions in a simple and organized manner, I highly recommend that you make Twitter lists. The creation of Twitter lists helps you to stay in touch with those you're already connected with to ensure you keep the conversations going with your current followers. (Again, you have to be a friend in order to keep a friend on Twitter.)
You can also see how well your time spent on Twitter is working by reviewing your Twitter Analytics. This report will tell you everything you need to know. I use it make goals and improvements.
One of my favorite resources is Commun.it (affiliate link). I don't use the pro version right now, but their free features are enough to obtain more followers, too. They give you 20 actions you can use. They put your top tweets, new followers, and more in one screen for easy interaction. Plus, they also give you solid recommendations with more information.
Is Twitter Still Alive? It's As Alive As You Are!
Twitter is as alive as you are. It all comes down to how you use it. You can spend an hour a day on Twitter and receive a nice return for your time there. As I stated, many brands use Twitter and if you interact with them there you may be surprised what happens. There are many other programs and services to help make Twitter a place to be, but this is enough to get you started and headed in the right direction.
Start creating conversations on Twitter by tweeting me @SLM016.