This post may contain affiliate links which may give us a commission at no additional cost to you. As an Amazon Associate we earn from qualifying purchases.
It's taken awhile for me to get used to Twitter, but I think I finally have a handle on it! Twitter can be complicated to understand and follow, but gaining followers on this social media profile is a must!
The steps below are the Twitter strategy that I have come up with to help me grow on Twitter and especially to grow my followers and audience. So much of this comes from reading articles about Twitter and keeping up with the bloggers and businesses who have larger Twitter audiences.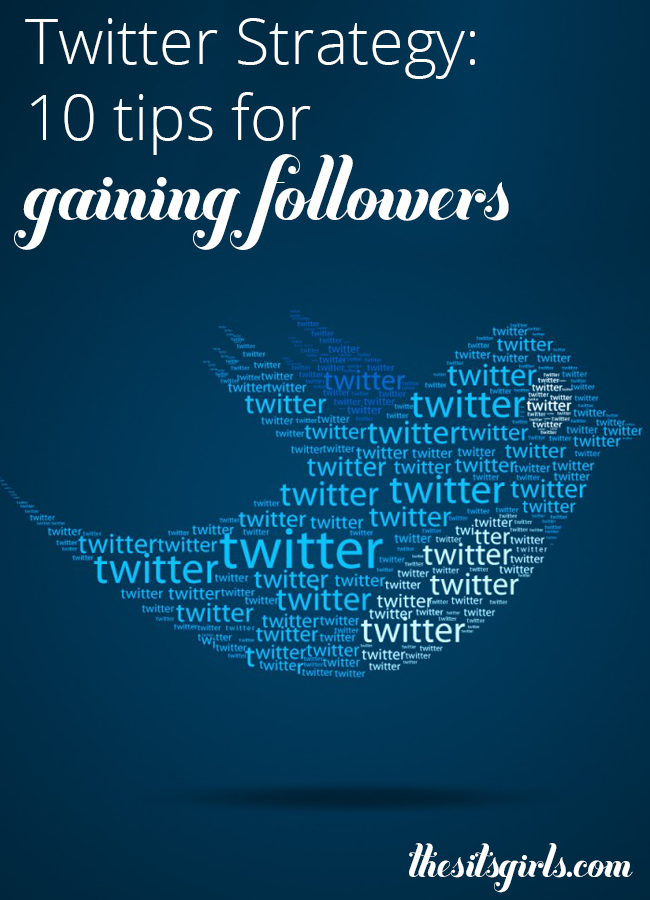 Twitter Strategy: 10 Twitter Tips for Gaining Followers
I hope that in sharing what I've learned, you will learn more about Twitter and follow these steps to grow your followers and audience as well. Good luck!
1. Get an awesome Twitter header photo.
You want people to see your brand, business, or blog as professional; having a nice header photo shows that. Make sure your header matches your website theme colors, shows off your products or tagline, and ultimately shows a little bit about who YOU are.
Twitter has changed it's header size several times, so unless you are a graphic designer I suggest having one made for you. You can find someone on Fiverr, or you can ask your favorite graphic designer.
2. Watch that follower number!
You always want your number of Twitter followers to be greater than the number of people you follow. This shows that you are a trusted brand or blog and will make others want to follow you.
3. Clean out your list.
If the number of people you follow is greater than the number of people that follow you, then it's time to clean out your list! If you haven't ever gone through your list of people you follow on Twitter, then it's time to clean out your list! Most likely, no matter who you are, it's a good chance you need to clean out your list.
4. Cleaning out your list means…
Cleaning out your list means getting rid of old accounts. You want to make sure that the accounts you follow on Twitter are up-to-date. If their last tweet was from 2012, then unfollow them. They aren't coming back, and it's clogging up your follow list! A good rule to follow for this is the 3-6 month test. If they haven't tweeted between 3-6 months, I unfollow.
Cleaning out your list means deleting those that aren't in your niche. Are there always going to be a few accounts that you want to follow that aren't in your niche? Definitely! We all have those celebrities we admire, or accounts that we like to get tips from. That's okay. Continue following those, but clean out the majority of those that aren't in your niche or have nothing to do with your niche.
Cleaning out your list means removing people that you wouldn't want to tweet or re-tweet. You may follow some great people and brands, but if you never tweet or re-tweet their content because it's not interesting or not in your niche, then it's time to hit unfollow.
Remember: You want to build a GREAT list of people that you can build relationships with!
Cleaning out your list means unfollowing those who don't follow you back. This is a good way to build your Twitter followers. Go through and unfollow people, and then go back and follow new people. After a week or two, if the new people don't follow you back, then unfollow them. Continue to repeat the instructions above. You are building your list.
5. Find your following strategy.
Once your list is cleaned out, remember to follow, follow, follow! Use lists that people have added you onto to find new people, or look at who people you admire on Twitter are following or follow their followers.
6. Get some help!
Now, you might say all the above steps are a lot to take in. Well, don't worry because there is a website that will help make this a lot easier for you! And the even better news? They have a free app too!
The website I use is Crowdfire. This is a new name for them, they used to be called Just Unfollow. Crowdfire let's you see inactive users, users who don't follow you back, and you can even copy other people! I use it on my phone with the app, but it's also available for use on your computer.
7. Tweet A LOT!
The more tweets you send out, the more people will find and follow you. Schedule tweets out every 3-5 hours using Co-Schedule, Hootsuite, Tweetdeck, or Twitter itself. Make sure to tweet each new blog post that you publish and you can use something like the "Tweet Old Post" plugin to have your old posts automatically posted to Twitter!
8. Re-tweet, heart, and reply!
Now that you have built a great list, go through at least once a day and reply to and re-tweet other people. This shows you care and gets people to notice you. Re-tweeting and "hearting" other's content is basically like a "like" on Facebook. It shows you care.
9. Don't forget hashtags!
Hashtags are words and phrases proceeded by the "#" sign. For example: #newyear or #betterblogging. You can think of them as tags. These are very good to use on Twitter, but you don't want to use too many in one status. Choose them wisely!
10. Join Twitter parties to learn and grow.
Joining Twitter parties is a great way to grow your followers, participate in fun chats, and even win prizes! This gets your name and brand out there, and let's you get to know more people personally.
Below are several twitter parties that I compiled. You don't have to participate in all of them, but maybe choose one or two per week and go from there!
#blogchat on Sundays at 9 pm EST.
#bblogers on Tuesdays at 8 pm EST.
#chicchat on Tuesdays at 9 pm EST.
#SITSBlogging on Saturdays at 10 am EST.
You can also check out my Pinterest board full of Twitter Tips!
What about YOU? Do you have Twitter tips? What things do you do to gain followers?
Author Bio: Kathryn
Kathryn is a 20-something military wife and mother to two special needs kids. She is a blogger, social media coach, and virtual assistant. She is also the author of the book Journey Through Deployment. When she's not blogging and working online she loves hanging out with her family making new friends.