This post may contain affiliate links which may give us a commission at no additional cost to you. As an Amazon Associate we earn from qualifying purchases.

Does your calendar look full for the holidays? There are so many things to do: class parties, shopping, cookie swaps (just let us know if you need a cookie taster!), decorating, work parties, food to cook, winter concerts, family get togethers, dishes to wash, more shopping for last-minute gifts, volunteering in your community, cards to address and send, more food to cook, and that big project teachers always seem to assign over the school holiday. Whew. We might all need a nap just thinking about it. And our calendars just get more full and more crazy as the days barrel towards the end of December.
With this in mind, Big Lots has asked us to share a great idea with you – National Decorate Your Home For The Holidays Week on November 16-22, 2014. The idea is to encourage families to plan ahead, decorate early, and take away some of the holiday stress by turning their homes into a holiday wonderland this week. Can you imagine what it would be like to not have to fit in decorating your home on the day after Thanksgiving? You could spend that time relaxing around the table with your family and eating left-over pie. More time for family (and pie) is always a good thing.
Inspiration For Your Holiday Decorations
To give you some inspiration, Big Lots invited Jennifer from Tatertots & Jello to take on the #BIGHoliday Challenge. She visited her local Big Lots with a $250 gift card, and purchased everything she needed to decorate a room for the holidays.
Look at Jennifer's kitchen, and all the small holiday touches she added.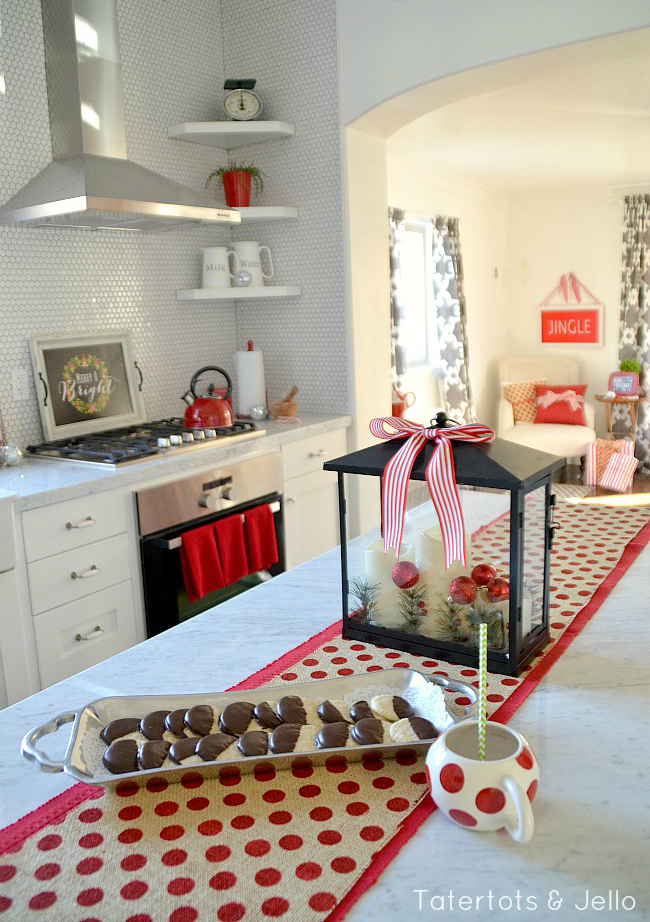 We really loved that she wasn't afraid to incorporate holiday decorations that weren't matchy-matchy. They some together to make a cohesive look that is pleasing and fun.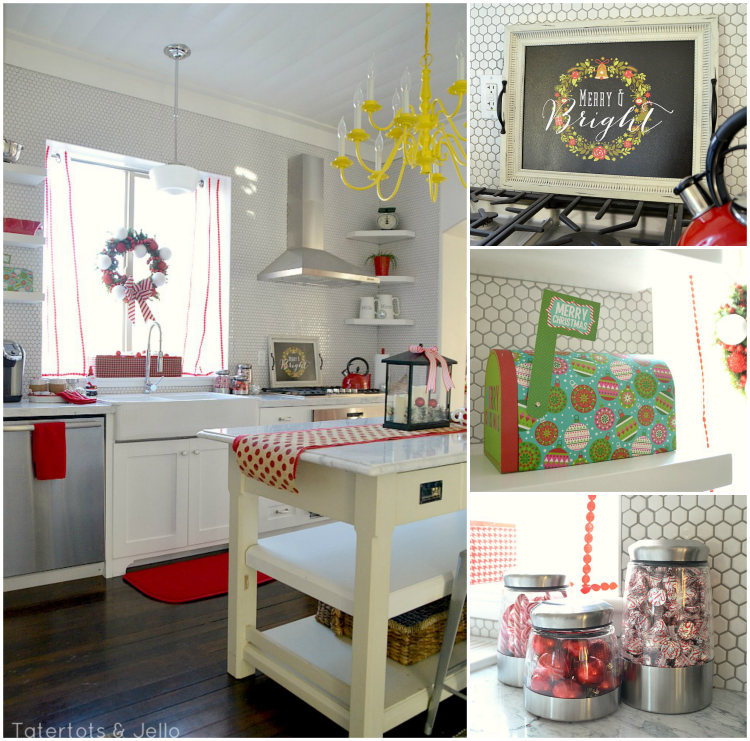 Her kitchen is absolutely merry and bright, so this sign was a perfect pick.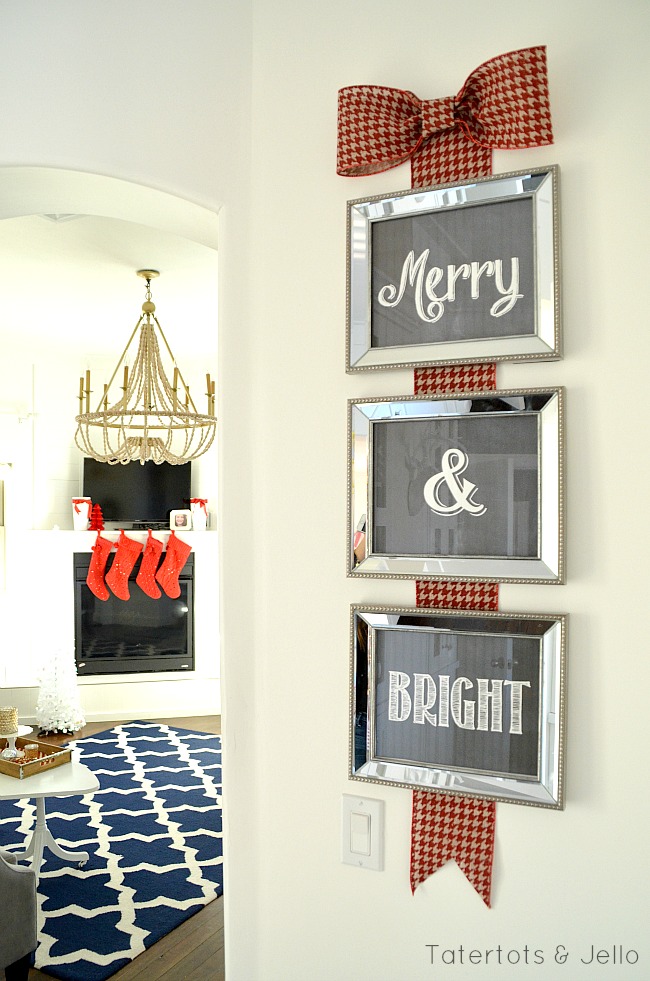 And we loved this reading nook. It is so cozy.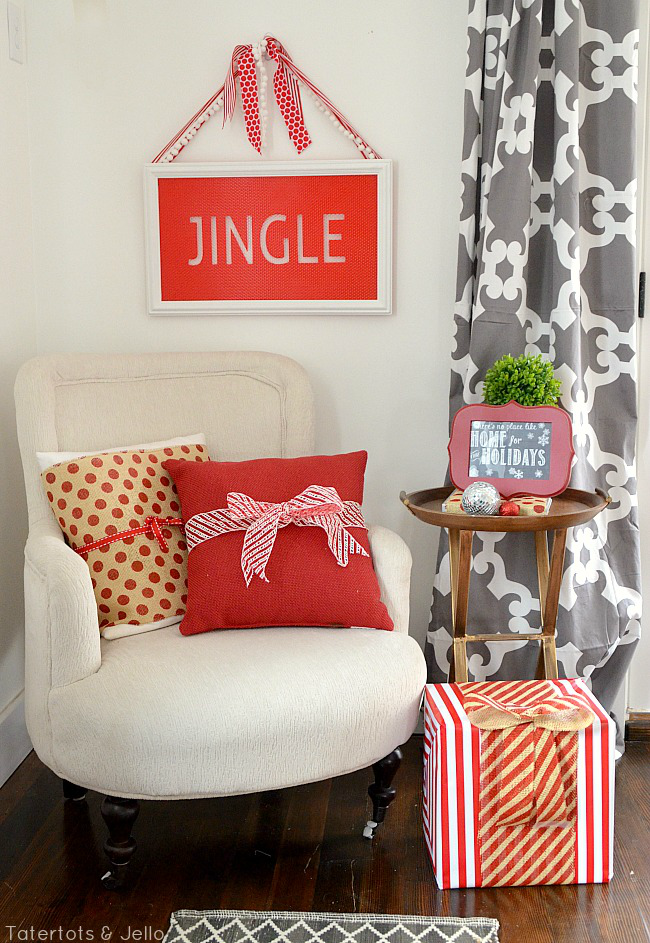 Jennifer wasn't the only blogger who took on this challenge, there were six others. To take the fun up a notch,
the bloggers' engaged in a little friendly competition
 with their holiday decorations. Big Lots awarded each blogger a special title, and chose one overall winner.
The results were announced today. Jennifer was awarded the title "Tinsel Trendsetter" for having the most fashion forward room.
The winner of the #BIGHoliday Challenge was Jessica from Mom 4 Real!
After looking at all of the great rooms these bloggers decorated, you are sure to be inspired for your own holiday decorating.
Twitter Party And Selfie Sweepstakes
Are you ready to get in the holiday mood? Big Lots has some holiday goodness for you with a Twitter Party and Selfie Sweepstakes that are sure to be fun.
Twitter Party Details:
Join Big Lots on Monday, Nov. 17 from 9 – 10 p.m. EST for a #BIGHoliday Twitter party to kick-off National Decorate Your Home for the Holidays Week.
The Twitter party will feature conversations about holiday décor with the opportunity to get advice from the #BIGHoliday Master Holiday Decorator Jessica from Mom 4 Real!
Prizes will include 30 $10 Big Lots gift cards and one grand prize – a $500 Big Lots shopping spree!
Participating consumers must RSVP to the Twitter party, follow Big Lots and tweet @BigLots + #BIGHoliday at least once during the party. You can find all the rules and elegability requirements here.
Selfie Sweepstakes Details:
Head to Big Lots from Nov. 17 to Dec. 14 and snap a selfie with your favorite holiday merchandise for a chance to win a $500 or $1,000 Big Lots shopping spree!
Enter your selfie on Facebook, Twitter or Instagram. Be sure to mention @BigLots and tag #BIGHoliday and #SweepsEntry.
You may enter once per day. Each entry must include a different photo.
Share on Facebook or Twitter and receive one bonus entry when one of your friends enters!
This post was sponsored by Big Lots.