This post may contain affiliate links which may give us a commission at no additional cost to you. As an Amazon Associate we earn from qualifying purchases.
In continuing our celebration of P&G's Thank You Mom campaign in honor of the London 2012 Olympic Games, I had the pleasure of interviewing Margie Walsh, mom to Kerri Walsh-Jennings, a two-time gold medalist in beach volleyball.
Before we dive into the specifics of the interview, check out this video of Kerri and Margie. Not only does it give you a bit of background on who they are, but it is yet another tear-jerker from P&G about what it means to teach your children to believe in themselves.
During our conversation together, Margie was exactly who you saw in the video: warm, friendly, and passionate about her family.
Here is a bit of her story:
In the video, Kerri refers to you as a "lioness". Where do you think you got your "play to win" mentality?
I was one of 8 children and, from a young age, my parents instilled a sense of do everything to the best of your ability. In later years, I passed this mentality onto my own children, helping them to understand the importance of being a role model.

All of our kids played college sports, and all loved it. Kerri stood out in our family because of her success from an early age and her willingness to give a little more for what she loved.
When did you first recognize that Kerri had the potential to go to the Olympics?
Kerri was always a gifted athlete. In 5th grade, coaches asked her to try out for the club volleyball team.

There are many people with natural talent, but what sets Kerri apart from the rest is her love for being a part of a team and her dedication to helping them be successful. It has made made her who she is today. Kerri is accountable and willing to do whatever it takes for the team to win.
What's your favorite memory of Kerri as a child?
There are so many memories! Her birth definitely stands out. She was born in 20 minutes. Kerri's brother, Marty, is 11 months older. There was a period of time when I thought I couldn't love another child as much as my first, but after Kerri was born, I realized that just wasn't the case.

From an early age, I watched Kerri quietly become successful at things. She followed her brother around a lot. It was wonderful to watch her play with my husband, her siblings, and later her friends.
How did Kerri get connected with her beach volleyball partner, Misty May-Treanor? How long have the two played together?
Misty and Kerri have played together since 2001. They actually played against one another in high school! Kerri idolized Misty from a young age, watching her and wanting to be as good as her.

In later years, the two played against one another in college. Kerri was at Stanford and Misty was at Long Beach State. They are different people, but the two compliment one another well, making a great team.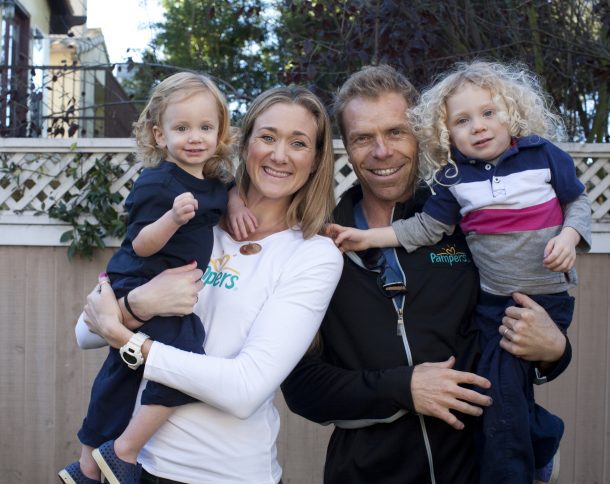 What's one piece of advice you have for moms who are raising aspiring athletes?
This has got to be their dream; something they want. For me, I almost had to reign Kerri back and let her know that she didn't have to win every time. I had to remind her to be a kid.

Sure, there will be sacrifices along the way; the road to success is never easy. But if this is something they want, then take a breath and let them know they are going for something amazing that few people ever come close to. You've got to give it everything you've got.

If you make it, fantastic! And if you don't, it's OK to do something else.