This post may contain affiliate links which may give us a commission at no additional cost to you. As an Amazon Associate we earn from qualifying purchases.
As we gear up for a busy holiday season, it can become easy to spread ourselves too thin, cutting out exercise, nutrition, and even sleep!
That's why we're excited to be partnering with NUTRILITE®, to educate our community about their new Supplement Recommender Tool.
The Supplement Recommender is a quick and simple tool that is scientifically supported and will help you discover the supplements that are right for you. We were fascinated by how answering a series of simple questions resulted in reliable, complete AND personalized supplement recommendations.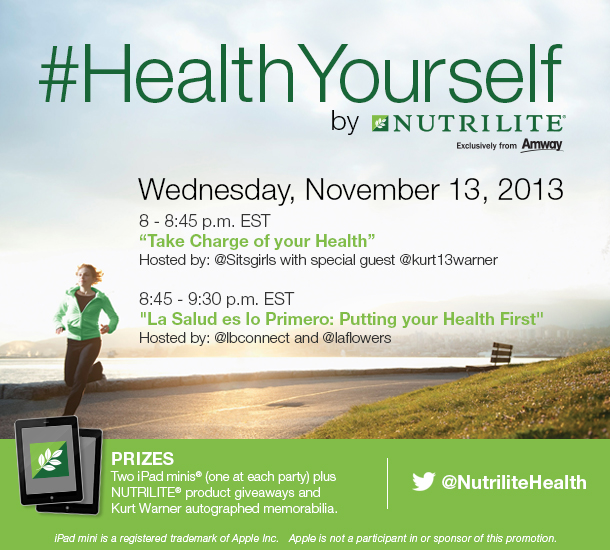 This holiday season is the perfect time to take charge of your health and jumpstart a supplement routine you are confident is safe and healthy.
Twitter Party Details
We've teamed up with @lbconnect (Yay!!) to bring you 90 minutes of motivational and healthy tips.
And to make things even more fun, we're also giving away two mini iPads!
Two Twitter Parties for the Price of One
There will be two back-to-back parties! @SITSGirls starting at 5:00 PM PST/8:00 PM EST
AND our good friends, @lbconnect starting at 5:45 PM PST/8:45 PM EST.
Read all of the details below and RSVP to both!
#HealthYourself Twitter Party Details
Date: Wednesday, November 13
Where: On Twitter, using the hashtag #HealthYourself
Time: It all starts at 5:00 PM PST/8:00 PM EST
Special Guests: Football legend @kurt13warner and @NutriliteHealth
At 5:45 PM EST, the party will turn be turned over to @lbconnect and will be in English and Spanish! RSVP here.
Prizes
Our Twitter party starting at 5:00 PM PST/8:00 PM PST will include the following prizes:
One iPad mini
One athletic bag packed with Nutrilite products
One set of Kurt Warner autographed memorabilia (jersey, mini helmet and mini football)
The @lbconnect party staring at 5:45 PM PST/8:45 PM EST will also be giving away:
One iPad mini
Two athletic bags packed with Nutrilite product (RV: $330)
Special Guest: Kurt Warner
BIG fun awaits! Joining us as a special guest during the Twitter party will be former Arizona Cardinals & St. Louis Rams Super Bowl-winning quarterback Kurt Warner.
Passion, integrity, and dedication are what make Kurt Warner unstoppable. NUTRILITE®, exclusively from Amway, is proud to partner with not only an amazing athlete, but an amazing man.
In preparation for next Wednesday, be sure that you are following not only @SITSGirls, but also @lbconnect, @kurt13warner and @NutriliteHealth.
3 Ways to Win
To enter to win one of the items from our bucket of goodness, you must be present during the Twitter chat and participate with an original Tweet (no retweets) using the hashtag #HealthYourself in response to the Twitter party questions.
3 winners will be selected at random from those that reply to the questions.
OPTIONAL Entries
To increase your chance of winning, we're giving you two optional entries:
Tweet out the link to this post! Make sure to use the hashtag, #HealthYourself, and leave a comment below with the URL to the tweet.
Use the NUTRILITE® Supplement Recommender Tool & leave a comment on this blog post detailing your results.
Looking forward to this!
This is a sponsored post on behalf of Amway Corp.
Giveaway is open only to U.S. residents and will run from November 8 to November 13, 2013 at 5:45 PM PST. To read more about the giveaway policies for this promotion, go here.