This post may contain affiliate links which may give us a commission at no additional cost to you. As an Amazon Associate we earn from qualifying purchases.
Parents spend a lot of time talking and researching nutrition and making sure their kids are eating organic. Stonyfield Organic takes this topic seriously, and has long been a go-to brand for parents. Parents know that when they choose Stonyfield, they are giving their kids a healthy organic option that will fuel their little bodies during play time. Now Stonyfield is taking organic to the next level with their #PlayFree Initiative.
This post has been sponsored by Stonyfield.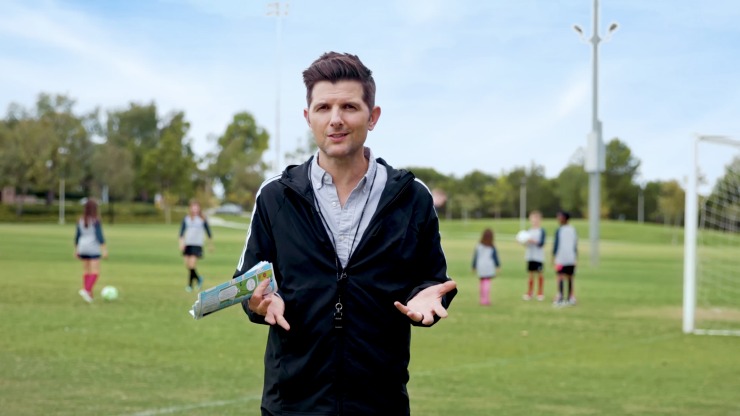 Stonyfield Play Free
Did you know that public fields and play areas are often sprayed with toxic chemicals? It seems crazy that our kids would be running, rolling, and jumping around on potentially dangerous pesticides, but it's happening every day.
Stonyfield is addressing this issue in their hilarious video "Rewriting the Rules" featuring the very funny Adam Scott. It only makes sense that he would join the revolution after his hit TV show!
This new video and the #PlayFree Initiative are all about helping communities rewrite their approach to grounds management. Organic food is so important to kids and families, and organic grounds should be, too! As a parent of two kids who play sports and spend time on parks, Adam Scott, was happy to lend his voice to encourage other parents to look into the cause.
This year Stonyfield marks 35 years as the country's leading organic yogurt producer. To celebrate, Stonyfield's #PlayFree Initiative will be offering 35 communities across the nation expert resources and funding to support the move to organic grounds management. In addition to this amazing program, there are two donation programs to help communities like yours make the shift to organic.
Over 26 million kids play on public grounds and parks. With that large of a number, it is imperative that parents be aware of what is happening on the fields.
For more information and to check out the #PlayFree Initiative head to www.stonyfield.com/playfree.