This post may contain affiliate links which may give us a commission at no additional cost to you. As an Amazon Associate we earn from qualifying purchases.
Of the many ways brands are now engaging online using social media, Procter & Gamble stands heads and shoulders above the rest for us. Not only are they working to support a phenomenal event such as the London 2012 Olympic Games, but their Thank you, Mom campaign is one of the most impressive and heartfelt efforts we've had the privilege to be a part of.
It all started with a video that brought us to tears.
And now, they're at it again, ensuring that moms to this summer's participating athletes are able to see their kids reach for their dreams in person.
Helping Families at the London 2012 Olympic Games
Procter & Gamble, a Worldwide Olympic Partner, will give each mom of the nearly 800 U.S. Olympians and Paralympians who will comprise Team USA at the London 2012 Games a $1,000 Visa reward card to help offset travel costs.
This act of generosity is part of P&G's "Thank you, Mom" campaign, which focuses on the role moms play in raising Olympians.
We believe that behind every athlete is an even more amazing mom – who has been supporting her child every step of the way," said Melanie Healey, P&G Group President, North America, and herself a mother of two. "Because P&G is in the business of helping moms and families, we are proud to support moms of Olympians and Paralympians during the Games by enabling them to see their children compete on the world's stage.
"The gift from P&G is a wonderful surprise," said Joy Robles, mom of weightlifter and U.S. Olympic Team member Sarah Robles. "I have watched Sarah work toward this moment since she was a child, and thanks to the generosity of P&G I'll be able to be in London to share her Olympic dream."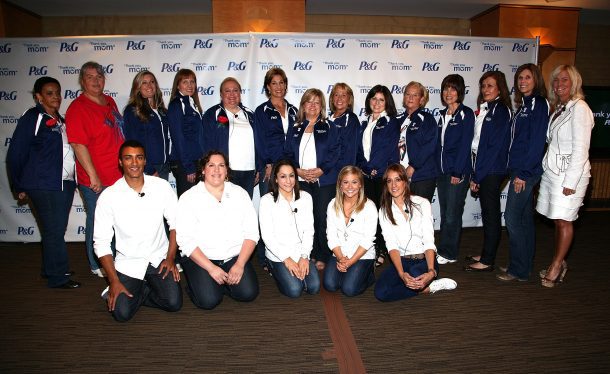 The Thank you, Mom campaign not only supports moms of U.S. Olympians and Paralympians, but also moms everywhere who do whatever it takes to help make her child's life the best it can be. P&G even created a "Thank you, Mom" digital app to help people share a personalized "thank you" message to their moms, or other mothers who have positively impacted their lives. You can check it out at https://www.facebook.com/thankyoumom/app_355982491091876.
Go on! Click over to the app. You're gonna thank us for it. 😉
This post is a part of sponsored series on behalf of P&G. You can read more about our sponsorship policy here.