This post may contain affiliate links which may give us a commission at no additional cost to you. As an Amazon Associate we earn from qualifying purchases.
This Mother's Day, Cardstore, the popular custom greeting card website from American Greetings is encouraging people to take the extra step to celebrate mom, which is just plain music to our ears.
That's why we happy to be teaming up with Cardstore for a Twitter Party this Thursday, May 1 at 10:30 AM PST/1:30 PM EST.

#WorldsToughestJob Twitter Party
Cardstore wants us to celebrate amazing mothers everywhere by creating the perfectly personalized Mother's Day Card.
Come join us Thursday, May 1 from 10:30-11:30 AM PST / 1:30-2:30 PM EST as we talk all the things that make being a mom the toughest and most rewarding job in the world.
DETAILS
Who: Us, @Cardstore, @amgreetings and YOU!
Where: On Twitter, using the hashtag #WorldsToughestJob.
When: Thursday, May 1 starting at 10:30-11:30 AM PST/1:30-2:30 PM EST
Prizes: But of course! See below for the goodies we'll be giving away.
TWITTER PARTY PRIZES
During the #WorldsToughestJob Twitter Party, we'll be giving away one fab grand prize, a $300 Etsy gift card!
We'll also be giving away TWO additional prizes, $150 Etsy gift card.
Fun!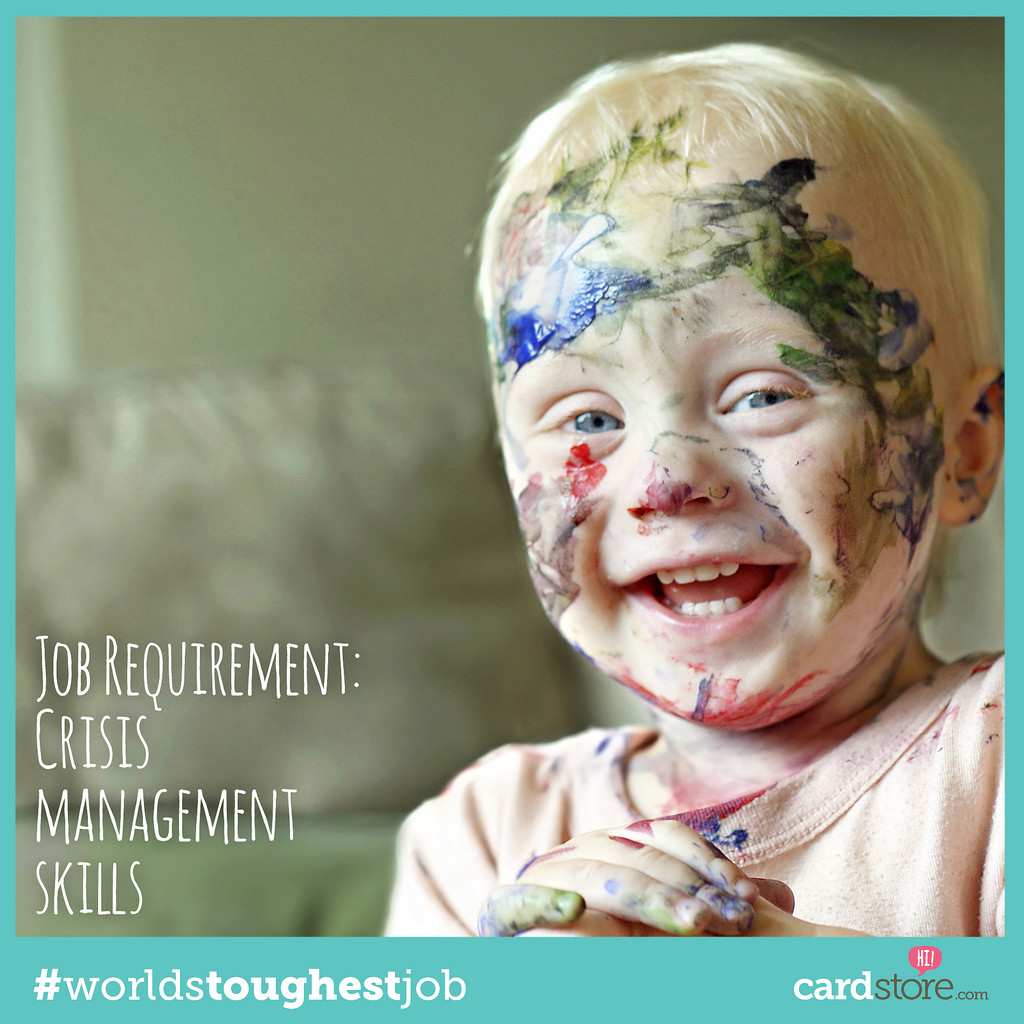 What's This All About?
We're so glad you asked! Cardstore created a real job posting for a company called Rethom Inc. and promoted the job post across 27 markets, 14 newspaper ads and 2 Google sponsored ad units. This promotion resulted in 2.7 million impressions! Yet only 24 people applied.
Wondering why this kind of promotion resulted in such a low turn out?
The job description American Greetings put together was based on everything a mother does under the title "Director of Operations" proving that a mother's job is the World's Toughest Job.
Cardstore is encouraging everyone to read the job description located here and watch the below video. Cardstore wants to know what they missed in the World's Toughest Job description.
Get Your Cardstore Coupon Code Here!
Ready to start creating your perfectly personalized Mother's Day Card? Head on over the Cardstore website and make sure to use coupon code CCF4249. The code is good for $2.49 Mother's Day Cards (regularly up to $3.69) and valid until May 5.
ENTER TO WIN
To enter to win, you must be present during the Twitter chat and participate with an original Tweet (no retweets) using the hashtag, #WorldsToughestJob, in response to the Twitter party questions. (3) winners will be selected at random from those that reply to the questions.
RSVP HERE
Bonus time: We'll be randomly selecting one winner from the below Linky to receive a $25.00 Amazon gift card.
Simply add your Twitter ID to the below Linky and you'll automatically be entered to win.
IT'S EASY TO PARTICIPATE
At party time, be sure to come back to this post or head over to our Twubs landing page here. The Twubs tool allows you to easily jump into the #WorldsToughestJob conversation, while avoiding the background noise of other Twitter streams. This can be especially useful if you are new to using Twitter.
This is a sponsored post on behalf of Cardstore. For Twitter Party Terms & Conditions, go here.