This post may contain affiliate links which may give us a commission at no additional cost to you. As an Amazon Associate we earn from qualifying purchases.
Dwayne "the Rock" Johnson recently took to the Instagram world to introduce his newest additions to the family, and of course a handsome picture to accompany it.
Two french bulldog puppies were recently blessed into Dwayne's household, and tested his puppy-patrol skills as one took a dive to the bottom of the pool. Dwayne jumped in after him, rescuing the young pup, sacrificing his clothing (not complaining) and his phone.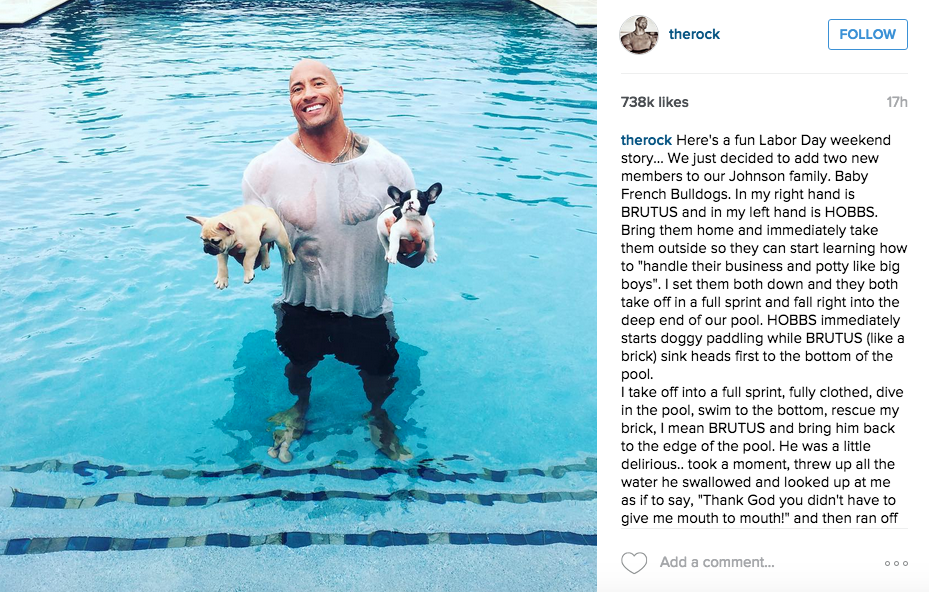 Brutus and Hobbs were outside learning how to take care of "their big boy business" when they experimented with the pool.  Hobbs (on the left) was quick to doggy paddle, whereas Brutus (on the right) sunk to the bottom. Brutus earned his nickname "the Brick" with his lack of swimming.
We are very thankful the puppy is alive and well, and so thankful for this heart-warming picture. Men, take notes!
What do you think of this handsome picture & swoon-worthy story?