This post may contain affiliate links which may give us a commission at no additional cost to you. As an Amazon Associate we earn from qualifying purchases.
We are so excited for the new movie about Mister Rogers, A Beautiful Day In The Neighborhood.
Here's the synopsis: A Beautiful Day In The Neighborhood is based on the true story of the friendship between Fred Rogers (Tom Hanks) and journalist Tom Junod (Matthew Rhys). Junod is a jaded magazine writer assigned to write a profile of Fred Rogers. This story is a celebration of kindness triumphing over cynicism, during the course of the movie Junod overcomes his skepticism, learning about empathy, kindness, and decency from America's most beloved neighbor.
A Beautiful Day In The Neighborhood Movie Trailer
A Beautiful Day In The Neighborhood will be released the week before Thanksgiving 2019.
If you want more Mister Rogers in your world before A Beautiful Day In The Neighborhood is released, here are some ideas…
Mister Rogers on Film
Won't You Be My Neighbor is a beautiful documentary about Mister Rogers and his work that was released in 2018. Make sure you have a box of tissues nearby when you watch it!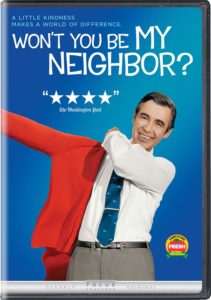 Mister Rogers' Neighborhood – the classic show with Mister Rogers we all watched as kids – is available on Prime video. If your kids haven't had the chance to be introduced to Mister Rogers, or if they have only seen short clips or random episodes, today is a great day to sit down and start watching through a classic season of Mister Rogers' Neighborhood. You can also find collections of episodes on DVD.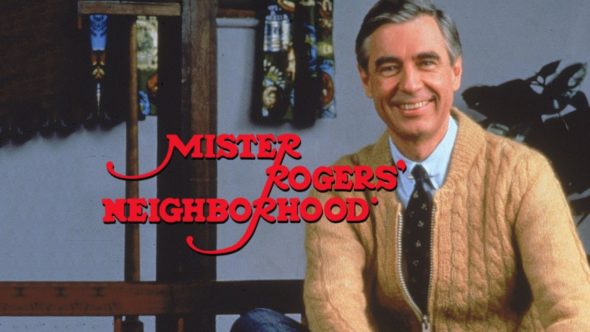 When the show originally aired, most of the "Neighborhood of Make-Believe" segments had storylines that continued through the week, from the presentation of the problem or issue on Monday, to the resolution on Friday, so watching the episodes in order makes these stories more enjoyable and useful as teaching tools.
Mister Rogers in Books
The Good Neighbor: The Life and Work of Fred Rogers is a full-length biography of Fred Rogers. Drawing on original interviews, oral histories, and archival documents, the author traces Rogers's personal, professional, and artistic life through decades of work, including his surprising decision to walk away from the show to make television for adults, only to return to the neighborhood with increasingly sophisticated episodes, written in collaboration with experts on childhood development.
Mister Rogers' Neighborhood: A Visual History is a visual celebration of Mister Rogers' Neighborhood. It includes a foreword by Tom Hanks and a peek at the making of the feature film A Beautiful Day in the Neighborhood. This is an amazing behind the scenes look at everything that went into making Rogers' show a success.
I'm Proud of You: My Friendship with Fred Rogers is a great book detailing the friendship between Fred Rogers and journalist Tim Madigan and details how Rogers helped Madigan through periods of life-threatening depression, the tragic death of a sibling, and helped him heal his difficult relationship with his father.
The Poetry of Mister Rogers is a beautifully illustrated book for kids with 75 beloved songs from Mister Rogers' Neighborhood and The Children's Corner.