This post may contain affiliate links which may give us a commission at no additional cost to you. As an Amazon Associate we earn from qualifying purchases.
With the selfie generation growing rapidly, we find a lot of people relying on makeup, filters, and even photoshop to get a picture-perfect look. Super model, Tyra Banks, posted a bare-faced photo of herself on Instagram to show followers that you don't need to do all of those things to look beautiful. She wanted her followers to know, even though they are used to seeing her through photoshop and makeup, underneath it all she is just like the rest of us – raw and real.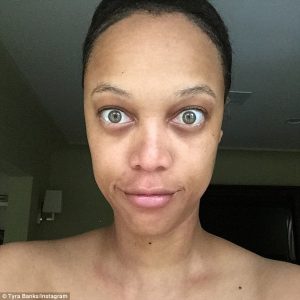 Tyra Banks On Instagram: #RawAndReal
The caption to her photo really stressed the exact reason she posted it.
You know how people say #nofilter but you know there's a freakin' filter on their pic? Or maybe there's a smidge of retouching going on but they're lying and saying it's all raw & real? Well, this morn, I decided to give you a taste of the really real me," she shared, adding, "I wanted to smooth out my dark circles so badly!!! But I was like, 'Naw, Ty. Show 'em the REAL you.' So…here I am. Raw. And there YOU are…looking at me, studying this picture. Maybe you're thinking, 'Whoa, she looks ROUGH.' And if you are, great! You deserve to see the REAL me. The REALLY real me. #RawAndReal.
Tyra is known for letting women know that we all have flaws and it is perfectly okay to not be perfect, and we respect her for that.
What do you think of Tyra's all-natural photo? Was it a great way to show women they don't need all the editing and make-up to feel beautiful? Leave us a comment down below to share your thoughts, and let us know how you handle selfies! Do you share them in the moment or put a lot of work into filtering and fixing them first?