Today we've got another collaborative blog- we just love it when gals work together. Plus they are college friends. How cool is that?
Welcome The Crazy Simple Life to the spotlight!
Hello, friends! We are three thirty-something creative women who met in college waaay back in the 90's. Our lives have changed in big ways through the years, so the best way to sum up this current phase is The Crazy Simple Life. We try to enjoy it all daily as women, moms, parents, friends, bloggers, and (unofficial) dance floor divas. Can you relate at all?

We hope to make life a bit easier for you by sharing some things we've learned along the way. Come by and say hi!

Ellie, Amie and Molly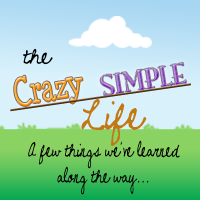 Take a peek at these gems:
Bring it! Essentials for a Week Away with Friends
Confession: Yelling Doesn't Work
Now, leave a quick comment below to roll call and then head over to The Crazy Simple Life and comment for them!