This post may contain affiliate links which may give us a commission at no additional cost to you. As an Amazon Associate we earn from qualifying purchases.
Figuring out what you should keep and discard when it comes to creating a vlog can be tricky. Just like editing a traditional written blog post, you have to figure out what is vital, entertaining and intriguing information for your video. When you really analyze and edit, you'd be surprised at what you can truly get across in a short amount of time.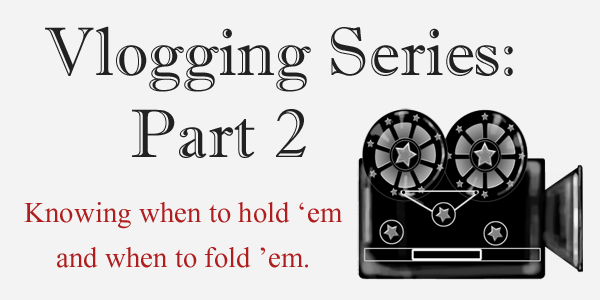 How To Do a Video Blog
Today we would like to offer some tips on how to create a great vlog, while keeping length and information overload in mind.
Record as much as possible initially
I always try and record a lot of clips for any video I'm making. I might tape 10 minutes worth of content for a video that I'll eventually make into a 1 minute video. It's nice to have options when you sit down to edit. You just have to be able to pick and choose on what you should really keep.
Ask yourself: What is really necessary to include?
My husband always jokes with me that when I tell a story, I should cut it in half and I would still get the same point across. That's holds true for a blog; whether you're doing a simple sit down & chat video or a choreographed video skit.
Watch the video before posting
This point can't be stressed enough. Watch your video over and over before you publish to your video sharing site. You want to be sure that not only is it well produced, but that it is the perfect length for what you are trying to convey.
Gather the idea first
I always find that if I figure out the direction of my vlog first, then I have a better chance at editing it down properly in the end. I always come up with ideas and shots that I want to get and then gather everything I need, especially if I'm doing a skit video. I set a time length in mind before I edit and then I do my best to stick to it. Knowing what your direction is in the beginning will definitely help you produce a better video.
First impressions
It's like the old saying where you never get a second chance to make a first impression. The same holds true for your videos. If your video is lengthy, repetitive and doesn't hold a lot of direction, the viewer may not be back to see the rest of what you have to offer.
Every video should be a teaser trailer, not the full movie
We all love watching a movie trailer that leaves us wishing for more. Your videos should do the same. When you make a vlog, it's not necessary to give your life's story. Tell your audience a little bit and leave them wanting more. After viewing one video, they may even be intrigued enough to head over to your YouTube or Vimeo channel to check out what else you've posted.
When it comes to figuring out that sweet spot for length, it can be tricky. Some videos are longer than others, simply because there may be more information that is necessary to share.
Whether you're doing a video tutorial,
or an all around fun video,
There are many ways to keep it short and sweet and still get your point across.
About the Authors
VlogTalk is a site dedicated to getting bloggers out from behind their computers and in front of the camera. Each week, 3 prompts are offered on Thursdays and the linkup for vlog posts is open for one week starting Monday nights. The masterminds behind VlogTalk are Jessica from My Time as Mom, Elena from Mommy is in Timeout, and Kim from Mama's Monologues. VlogTalk can be followed on Twitter @vlogtalkmeme and on Facebook.