This post may contain affiliate links which may give us a commission at no additional cost to you. As an Amazon Associate we earn from qualifying purchases.
With video, it's often best to record more footage than you need and to edit the clips together, just like we discussed in the second post in our series on how to create a vlog.
But once you have your clips all pieced together, there is still a little more work to do to be sure you have all the elements of a great vlog.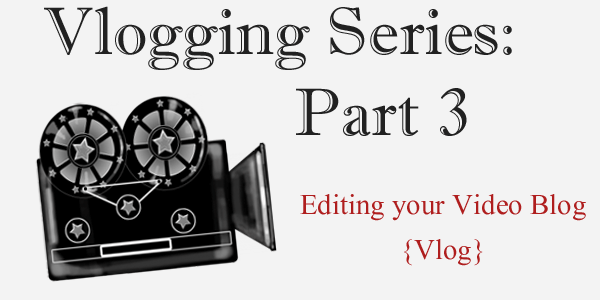 How to Edit a Video Blog
Most computers come bundled with video editing software. PCs have Windows Movie Maker or Windows Live Movie Maker and Macs have iMovie. Each one is different in how they are used but essentially they have the same editing functions.
Here are a few editing tricks that can be used to make your video entertaining and keep your viewers from clicking away.
Transitions
It is good practice to use transitions between two clips. A smooth transition from one clip to the next will help your viewers follow along as your video progresses. Videos that have several clips with no transitions can sometimes become choppy and confusing to your audience. The software that comes bundled with your computer will have several transitions to choose from. Play around with the different transitions to see what fits best in the video you are making.
Tip: Transitions add to the length of your video so always add transitions before text and music. Watch your run time (if you have a specified time limit).
Text
Adding words to your clips and photos can be beneficial for different reasons depending on what your video is about. If you are making a photo slideshow, text will tell your viewers what each photo is. If you are doing an instructional video then it's often good to add text so that readers can pause the video to write down whatever steps you just showed them (like in the beginning of this Bloody Mary video). Text can also be used if you want to repeat what was said in the video, poke fun at yourself, or add other commentary.
Tip: When adding text to video, make sure that it is on the screen long enough for your viewers to read the words.
Music
Just as in the movies, music can add depth to your projects, engaging viewers emotionally and set the tone for your videos. Music can also break up any silent points you might have due to title slides, credits, or other transitions. Try to use music in vlogs that relate to what your video is about. If it's a slideshow about a tropical vacation, use music that is upbeat. If the video is about Halloween, use spooky music.
Tip: Sometimes YouTube doesn't allow copyrighted music in videos so it's always a good idea to have a Vimeo account as a backup for uploading your videos.
There will be times that you find that your video needs no editing. But most often, adding transitions, text, and music will enhance your video. Always watch your video after adding any editing to make sure that your text is spelled right, the video flows together, and that you are happy with the final product.
Over at the VlogTalk site we have tutorials for various editing techniques using iMovie, Windows Movie Maker, and Windows Live Movie Maker.
More on Vlogging:
If you are ready to take the leap into becoming a vlogger, then be sure you do not miss these posts:
About the Authors
VlogTalk is a site dedicated to getting bloggers out from behind their computers and in front of the camera. Each week, 3 prompts are offered on Thursdays and the linkup for vlog posts is open for one week starting Monday nights. The masterminds behind VlogTalk are Jessica from My Time as Mom, Elena from Mommy is in Timeout, and Kim from Mama's Monologues. VlogTalk can be followed on Twitter @vlogtalkmeme and on Facebook.