This post may contain affiliate links which may give us a commission at no additional cost to you. As an Amazon Associate we earn from qualifying purchases.
My love affair with the blogosphere started years ago.  I was deeply in love in the beginning, but like all great infatuations, things cooled down over time.  My brilliant post ideas did not come as fast and furious.  I was faced with the challenge of figuring out how to continue to discuss topics that mattered to me, while still capturing my readers' interest.
Lucky for me, I discovered vlogging.
What is a vlog? Video blogging (aka vlogging) is pretty much like Internet TV.  Bloggers can film themselves on video, upload the clip to a host site like YouTube, and then embed a link (or HTML code) on their blog to share with the world.
It sounds easy, doesn't it?
And it is.  You just need to know how to get started – how to create a vlog.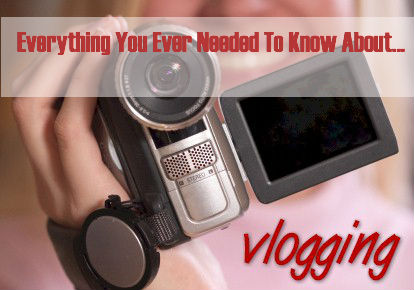 How to Vlog
Bloggy Boot Camp routinely features speakers who share their tips and secrets when it comes to vlogging.  For today's post, we've compiled their best advice below…
10.  Get Vlog Savvy
Before you get started, take some time to check out what vloggers are doing.  Learn what type of equipment they are using, how they are framing their pictures, and how they are connecting with their audience.  Mimic what you like and feels most comfortable to you.
9.  Prepare
Spend some time thinking about what you want to say before you turn on the camera.  Maybe even prepare a few notes or an outline that you can refer to during filming.
8.  Avoid an Earthquake with Your Camera
Rather than trying to film yourself while holding your camera, invest in a tripod.  Doing so will prevent your audience from getting dizzy from strange camera angles.  A tripod doesn't have to be expensive.  You can pick one up at Target or Walmart for between $10 and $20.
7.  Be Yourself
Remember that your viewers are watching because they already like your blog.  Keeping this in mind will help you to create an engaging vlog and avoid becoming a robot behind the camera.  Relax, smile and talk about what you know.
6.  Ask a Question
Similar to a blog post, the intent behind a vlog is to engage your audience.  You can accomplish this by asking your viewers their opinion on a topic or maybe a question for an upcoming video. How to do a vlog best is to generate engagement.
5.  Get Off the Couch
Keep your audience interested by getting creative with where you film your vlog.  Go outside, head to a coffee shop, or close yourself off in your laundry room or bathroom.
4.  Stay Focused
Say what it is you have to say and then stop filming.  People have an incredibly short attention span.  The second you find yourself starting to ramble, end the clip.  A great vlog is usually only a couple of minutes long.
3.  Build a Vlogging Community
Similar to the way you connect with fellow bloggers on your blog, connect with fellow vloggers.  You can do this by commenting on vlogs that address similar topics to yours, subscribing to YouTube channels, and inviting vloggers to watch your content. How to be a successful vlogger depends on your goals, what you take it, and what you put out to the community.
2.  Create Your Own Video Channel
Interested to learn how to vlog on YouTube? Set up a video channel on YouTube and add tags to your videos.  This will make your vlogs infinitely easier to find.
1.  Just Do It
Don't over think this!  You will learn and improve as you go.  Taking the first step can be nerve-racking, but what do you have to lose?  The more vlogs you create, the more comfortable you will become in front of the camera.
How To Become a Vlogger
In August 2010, Jessica Bern joined us at Bloggy Boot Camp in San Francisco to give her take on vlogging.  Here is a fun clip on what she has to say when it comes to how NOT to vlog.  Enjoy!
More On Vlogging
If you're looking for more great info on how to vlog, then be sure you do not miss our 5 Essential Elements to a Great Vlog post! I hope you've learned about how to make a vlog!