This post may contain affiliate links which may give us a commission at no additional cost to you. As an Amazon Associate we earn from qualifying purchases.
Happy Wednesday!
Can you believe we are already at the halfway point in our Spring Into Social Media Event? We've tacked Twitter and Pinterest, already, and those linkys are still open if you haven't had a chance to add your profile.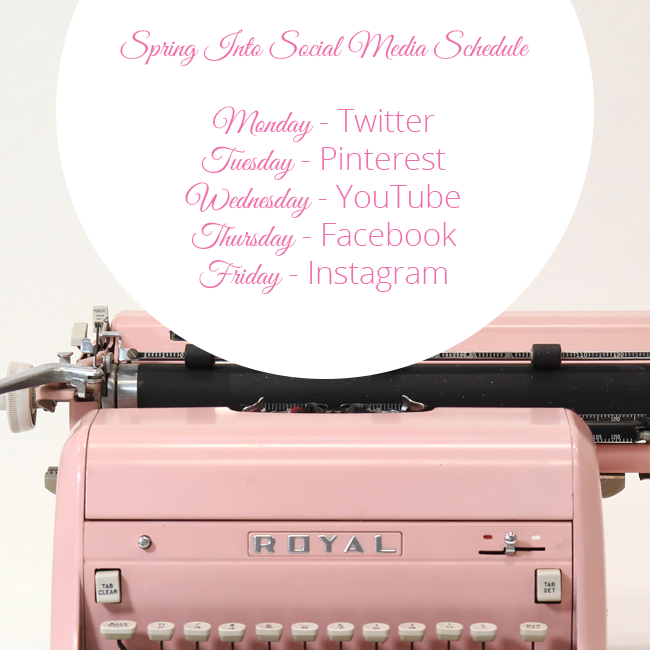 When you think about social media, do you ever think of YouTube? I bet it rarely crosses your mind. In fact, if you're like a lot of bloggers I've talked to, the idea of doing videos scares you a little.
I totally get it! The idea of putting your face and voice out there for the world is a little nerve-wracking. (Seriously, don't we all hate our own voice?) But there are some good reasons why you should be using YouTube in your social media strategy.
According to YouTube, they have over 1 Billion users, watching hundreds of millions of hours of video daily.
300 hours of video are uploaded to YouTube every minute.
85% of adults (outside of China) consider themselves to be regular YouTube visitors, helping to make it the 3rd most visited website on the entire internet.
And what's more, because Youtube is owned by Google, videos rank really well. In fact, YouTube itself is the 2nd most used search engine, after Google. Think about that for a minute. This is a social media platform you really don't want to skip!
YouTube Tips
If you're ready to get started on YouTube now, here are a few tips to help maximize your success:
1. Give Your Blog Its Own YouTube Channel.
It makes it much easier for your fans to find if your channel is named after your blog, and really, it's kind of impressive looking to have a cool channel page!
2. Keywords Are Important in Video Too!
You want to use your main keyword in your video title, just like you would on your blog. It's also important to use keywords in your video description, too. In fact, you should include a transcription of your video in the description for maximum SEO benefits.
3. Remember To Show Your URL.
You can have a live link to your blog, to your opt-in page, or even a sales page in your video description, also. But don't forget to add your blog address to the actual video. I like to put it for about 5 seconds at the beginning, and 5 seconds at the end.
4. Add a Video Call-To-Action.
Just like on your blog, at the end of every video you should tell the viewer what to do next. I usually say "Click on the link under this video!"
5. Create Playlists for Related Topics.
If you have several videos on the same topic, use them to make a playlist. Playlists show up in search separate from single videos, so this gives you one more chance to be found. Remember that YouTube has niches just like blogging does.
Now that you know what to do, your challenge is to create a YouTube channel for your blog and record a welcome video for new viewers. It's easy to do – you can use your phone or tablet, no special equipment needed!
We'd love to connect with you.
Follow The SITS Girls on YouTube here, and check out all of our posts about vlogging here.
Link Up Your YouTube Profile
Link up your YouTube channel below and follow at least 3 people. Don't just follow and run! Visit one of their videos and leave a comment. Share the video on Twitter or Facebook with #SITSBlogging.